2008 Preis der Besten Qualifier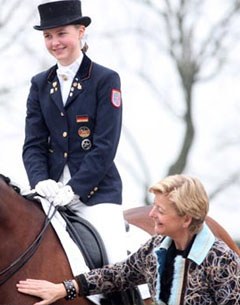 Sanneke Rothenberger has dominated the 2008 Preis der Besten Qualifier in Kronberg, Germany. She won the pony division and finished at the top in one out of two junior rider classes. The Kronberg qualifier is the first German selection trial
for the German youth riders for team selection for the 2008 European Pony, Junior and Young Riders Championships.
Only two Preis der Besten qualifiers are held this year nationwide in Germany for the 2008 "Preis der Besten," an official pony, junior and young riders championships held in Warendorf. While the years before, several locations were check marked as qualifier shows, this year the German Equestrian Federation decided to hold only two in Germany: one in Kronberg and one in Vechta.
"There used to be four or five qualifiers nation wide for all interested riders. Of course you had riders competing there, who were not ready for that level. For the team trainers and judges, who have to travel to all qualifiers, this is quite demotivating. That is why we decided to hold four selection clinics where the team trainer could select the riders who would be allowed to compete at the two show qualifiers," team trainer Heinz Gunther Scholten explained.
The Preis der Besten qualifier held at Ann Kathrin Linsenhoff's Schafthof in Kronberg was won by Sanneke Rothenberger who won the pony division, one junior riders class and placed second in her second junior riders class. Aboard the 18-year old German reitpony Konrad (by Constantin), Rothenberger totalled 73.77% and 75.33%, twice beating Katharina Weychert who took over the ride this year on the 2007 European Pony Champion Dornik B.
In the junior riders division, Rothenberger was neck to neck with Kerpen based Louisa Luttgen. Sanneke won the first class on her 2007 World Young Horse Champion Deveraux OLD (72,25%) but Luttgen won the second class with her Donnerhall offspring Dreamy (72.08%).
Victoria Michalke and her Sachsen Anhalt gelding Zelano (by Zenturia) reigned supreme in the Young Riders classes, winning both the team test (68.81%) and Prix St Georges (70.91%).
Photo courtesy: J.Rau for Linsenhoff.de
Results
Pony Riders - L-level test
1. Konrad - Rothenberger, Sanneke - 841.000
2. Dornik B - Weychert, Katharina - 816.000
3. Wimbledon - Rothenberger, Sönke - 808.000
4. Golden Derano C - Weychert, Katharina - 787.000
5. Deinhard B - Rothenberger, Sönke - 765.000
6. Dance of Joy - Frenzen, Michelle - 758.000
7. Voyager - Braun, Viktoria - 757.000
8. Going East - Kienbaum, Florine - 752.000
9. Lettenhof's Element of Surprise - Anselstetter, Annkatrin - 745.000
10. Choose-Me - Laubscher, Marina - 740.000
11. Deshima v.S. - Voßbeck, Karolin - 734.000
12. Dustin - Ley, Marisa - 729.000
13. Dein Freund - Braun, Viktoria - 725.000
14. Lettenhofs Lovely Princess - Anselstetter, Annkatrin - 720.000
15. Holsteins Offizier - Betz, Elena - 718.000
16. Dinarion Don´t - Overmann, Nathalie - 713.000
17. Disney Dancer Son - Schmitz, Mercedes Helena - 712.000
18. Mon ami Chameur - Dauber, Selina - 709.000
18. Best Before Midnight - Schilling, Hannah - 709.000
20. Bonaparte S - Distler, Lisa Charlene - 706.000
21. Edelmann's Dondolo - Dauber, Selina - 694.000
22. A.P.Kensington - Keens, Stefanie - 675.000
23. Chevallier- Homolka, Daniela - 668.000
24. Valentina - Kroh, Kim - 655.000
Pony Riders - L-level test
1. Sanneke Rothenberger - Konrad - 75,33 %

 

2. Katharina Weychert - Dornik B - 72,88
3. Sönke Rothenberger - Wimbledon - 71,91
4. Florine Kienbaum - Going East - 68,7
5. Viktoria Braun - Dein Freund - 67,75
6. Michelle Frenzen - Dance of Joy W - 67,50
Junior Riders - M-level test
1. Deveraux OLD - Rothenberger, Sanneke - 867.000
2. Dreamy - Lüttgen, Louisa - 862.000
3. Paso Doble - Rothenberger, Sanneke - 853.000
4. Mitchell - Krause, Nicola - 814.000
5. Fürst Charly - Krause, Nicola - 801.000
5. Royal Gala - Pytkowjat, Laura - 801.000
7. Highway - Müller, Thea Felicitas - 800.000
8. Champagner 4- Gotzens, Antonia - 791.000
9. Loesdau's Loriot - Kniha, Karoline - 790.000
10. Roval Investment - Beck, Susanne - 788.000
11. 5 Little sweat - p Binder, Josephine - 785.000
12. Royal Rubin - Frenzen, Annabel -780.000
13. Feingold - Adam, Doreen - 767.000
14. Magic old time - Camp, Lydia - 760.000
Junior Riders - M-level test
1. Dreamy - Lüttgen, Louisa - 865.000
2. Paso Doble - Rothenberger, Sanneke - 841.000
3. Deveraux OLD - Rothenberger, Sanneke - 831.000
4. Mitchell - Krause, Nicola - 812.000
5. Fürst Charly - Krause, Nicola - 800.000
5. Highway - Müller, Thea Felicitas - 800.000
7. Roval Investment - Beck, Susanne - 770.000
8. Royal Rubin - Frenzen, Annabel - 764.000
9. Champagner - Gotzens, Antonia - 762.000
10. Royal Gala - Pytkowjat, Laura - 755.000
11. Feingold - Adam, Doreen - 754.000
12. Loesdau's Loriot - Kniha, Karoline - 746.000
13. Little sweat - Binder, Josephine - 727.000
14. Magic old time - Camp, Lydia - 688.000
Young Riders - S-level test
1. Zelano - Michalke, Victoria - 929.000
2. Vendor Go - Hörnke, Victoria - 916.000
3. La Diva - Ewen, Gillian - 910.000
4. E-Mail - Söffing, Carlotta - 901.000
5. Don Boy - Koser, Jacqueline - 900.000
5. Dr.Snuggles - Schneider, Katharina - 900.000
7. Pollay - Kirschner, Felicitas - 898.000
8. Lancia - Bingmann, Tiffany - 888.000
9. Farmen's Marcia - Spilker, Julia - 874.000
10. Polaria - Grimminger, Madeline - 869.000
11. Wyatt Earp - Klemp, Clarissa Anna - 866.000
12. Cornetto - Briel, Tina von - 864.000
13. Dondolo - Altenhofen, Juliane - 855.000
14. Don Dee - Michalke, Victoria - 852.000
15. Amazing Me - Penninger, Johanna - 832.000
16. Ashley - Roth, Stella Charlott - 823.000
17. Dom Perignon - Dopf, Hannah - 820.000
18. Wonneproppen - Isser, Nicole - 820.000
Young Riders - Prix St Georges
1 Zelano S - Michalke, Victoria - 851.000
2 E-Mail - Söffing, Carlotta - 825.000
3 La Diva - Ewen, Gillian - 823.000
4 Vendor Go - Hörnke, Victoria - 808.000
5 Dr.Snuggles - Schneider, Katharina - 802.000
6 Don Dee - Michalke, Victoria - 797.000
7 Pollay - Kirschner, Felicitas - 796.000
8 Polaria - Grimminger, Madeline - 794.000
9 Don Boy - Koser, Jacqueline - 792.000
10 Lancia - Bingmann, Tiffany - 785.000
11 Amazing Me - Penninger, Johanna - 765.000
12 Cornetto - Briel, Tina von - 764.000
13 Farmen's Marcia - Spilker, Julia - 760.000
14 Wonneproppen - Isser, Nicole - 758.000
15 Wyatt Earp - Klemp, Clarissa Anna - 755.000
16 Dondolo - Altenhofen, Juliane - 727.000
17 Ashley - Roth, Stella Charlott - 722.000
18 Dom Perignon - Dopf, Hannah - 707.000
Related Links
Report from the 2008 Preis der Besten Qualifier in Vechta
2007 Rhineland Selection Trial for 2007 Preis der Besten Qualifier
2006 Preis der Besten Photo Report