What's Happening in the Dressage World?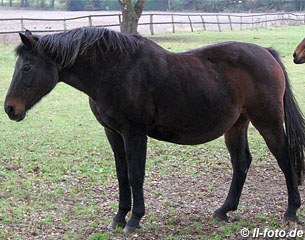 Quote of the Week by Animal Behaviour scientist Andrew McLean: "I always tell people: just cut the reins mentally and ask yourself: does anything change in the balance? If so--there is a need for more self-carriage."
Danish team pony rider Sille Engermann has acquired a second junior rider's horse in Germany. Her parents bought the Westfalian branded Fernet D (by Furst Heinrich x Fagott) which was previously competed by Sebastian Albers. Engermann can now prepare herself for the junior tests with two horses: Sunset Hit and the 1.78 m standing Fernet.
On Monday 12 November, British Grand Prix trainer David Pincus was our guest columnist of the week with a witty column on the different types of trainers. Days later he shared his unsalted viewpoint on the tumultuous affairs the FEI is dealing with at the moment.
British pony rider gone junior Erin Williams has bought a second junior riders' horse as a back up for her schoolmaster Fleurie (by Florestan x Akzent II). Williams acquired the 6-year old Belgian bred Oldenburg stallion Billionaire (by Romanov x Donnerhall), which was previously shown by Cindy van den Berg in The Netherlands.
In Sweden equestrian photographer and dressage aficionado Goran K. Josefsson died unexpectedly in his house on the weekend of 15 - 17 November.
Animal Rights' Organization PETA is continuing its publicity stunt with its latest attack on celebrated movie director Peter Jackson for abusing horses in making The Hobbit. Jackson's production conducted "swift and immediate investigations in to any concerns of any kind over the treatment of animals under its care. A prompt and thorough investigation into the recent unsubstantiated allegations by the American organisation, PETA, in to the 'hobbling' of a horse during the making of The Hobbit was undertaken." Read More here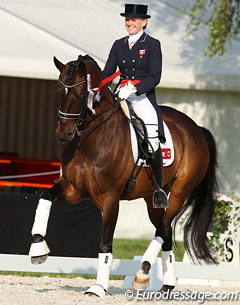 The 19-year old Danish Team Young Rider Nanna Skodborg Merrald made her Grand Prix debut on Millibar, scoring no less than 70% at the Blue Hors Dressur Festival CDN in Vilhelmsborg. A very proud trainer Michael Sogaard wrote," how many 19-year olds have trained their horse to Grand Prix themselves and score 70% on their debut?!"
Skodborg Merrald won the class with 70.426% ahead of Maik Kohlschmidt on Blue Horse' former top GP horse Gredstedgards Casmir. The horse was in Florida last year to be trained and competed by Lars Petersen but the Hanoverian gelding by Continue has now returned back to Denmark and is in the management of Blue Hors' rider Kohlschmidt.
Horse and Hound reported that Laura Bechtolsheimer will be testing her athletic abilities against the best in the world in a one-off episode of the BBC's Superstars programme. Laura will join 15 other Olympic medal winners, including runners Mo Farah and Christine Ohuruogu, compete in eight disciplines (100m and 800m on the track, javelin, archery, 50m swimming, kayaking, a cycling hill-climb and a gym test). Laura told Horse and Hound: "There haven't been many equestrian athletes over the years who have taken part in Superstars so I am looking forward to representing the riders, hopefully without causing too much embarrassment!"
Carl Hester's former Grand Prix ride Donnersong (by Donnerhall x Pik Trumpf) has passed away. Bred and owned by Kate Carter, Donnersong came into Carl's life as a three-year-old when Carl moved to the Carters' yard in Stow-on-the-Wold, where he ran his own training business at the time. Carl started competing Donnersong in 1998 and achieved his biggest successes with the horse in 2000 in the small tour. The pair dominated the 2000 Sunshine Tour and finishing well at the CDI Munich, Arnheim and Hickstead the same year. They made the transition to Grand Prix in 2001 and competed at the 2002 and 2003 British Dressage Championships. Carl's last competition ride on Donnersong was in 2006. Donnersong was 22 years old.
Renowned German FEI pony Dein Freund will have a new rider for the 2013 show season. Luca Michels' former pony will be trained and competed by Francesca Heil, who has been riding Viktoria Braun's first FEI pony schoolmaster D'Artagnon.
Italian junior rider team member Chiara Prijs-Vitale has acquired a new horse, the liver chestnut Hanoverian Del Rey (by Dancier). Congrats!