Hanoverian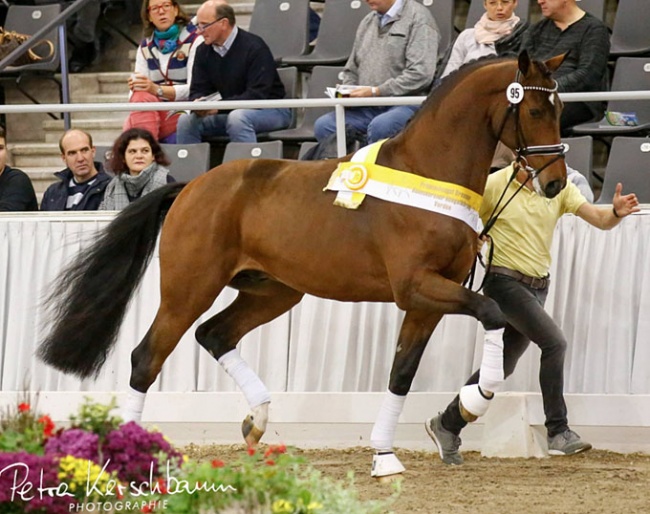 The KWPN bred and licensed sire Vivaldi (by Krack C x Jazz) has stamped the 2018 Hanoverian Stallion Licensing in Verden, Germany, where the licensing verdicts were cast on Friday 26 October 2018.
Ninety-nine stallions were pre-selected to appear at the 2018 Hanoverian Licensing and the licensing committee was generous in their verdict approving no less than 60 of them! Forty-six dressage bred stallions got the green light for breeding, and 14 show jumping bred colts.
The stallions were first presented in hand in walk and trot, then seen jumping in freedom and on the lunge line and finally they were inspected moving in freedom.
Twelve dressage bred stallions were named premium stallion and it stands out that Dutch blood ruled this year's edition of the licensing! No less than six of those 12 premium stallions have Vivaldi blood running through their veins!
The premium stallions are:
38: Bon Coeur x Rohdiamant
42: Bon Coeur x Vivaldi
49: Dancier x Wolkenstein II
56: Dimaggio x  Sir Donnerhall I
57: Dimaggio x Scolari
78: Lord Leatherdale x Boston
81: Morricone x Sir Donnerhall I
94: Veneno x Fidertanz
95: Veneno x Fidertanz
97: Vivaldi x Dancier
98: Vivald x Desperados
99: Vivaldi/Hohenstein
The auction following the licensing will take place on Saturday 27 October 2018. As Hanover no longer proclaims a licensing champion, it is the market and the stallion owners which determine the highlight of this year's crop. The price highlight is now considered the licensing champion.
Photo © Petra Kerschbaum
Related Links
Ninety-Nine Colts Selected for 2018 Hanoverian Stallion Licensing
Previous Licensings
Christmas Came Early at the 2017 Hanoverian Stallion Licensing, So Unique Top Seller
Quantensprung Stamps the 2016 Hanoverian Stallion Licensing
Rocky Lee Son Claims the Spotlight at 2015 Hanoverian Stallion Licensing
D'Avie Dominates Premium Ring and Auction at 2014 Hanoverian Stallion Licensing
Strong Crop and Big Prices at 2013 Hanoverian Stallion Licensing
Form or Function at the 2012 Hanoverian Stallion Licensing
Dancier x Rotspon Stands Out at 2011 Hanoverian Stallion Licensing
Ten Premium Dressage Stallions at 2010 Hanoverian Stallion Licensing
No Top Collection at 2009 Hanoverian Stallion Licensing but Super Price Highlights
Belissimo M x Weltmeyer Colt Impresses at 2008 Hanoverian Stallion Licensing
Hanoverian Verband Abolishes "Licensing Champion" Title
Soliman de Hus, 2007 Hanoverian Licensing Champion
Lauries Crusador xx x Raphael Son, 2006 Hanoverian Licensing Champion
Hotline, 2005 Hanoverian Stallion Licensing Champion 
Dancier, 2004 Hanoverian Licensing Champion
Liberty Gold, 2003 Hanoverian Licensing Champion
His Highness, 2002 Hanoverian Licensing Champion, Sold to the United States
Nobleman, Champion of the 2001 Hanoverian Stallion Licensing
Don Crusador, Champion of the 2000 Hanoverian Stallion Licensing