2018 German Youth Riders Championships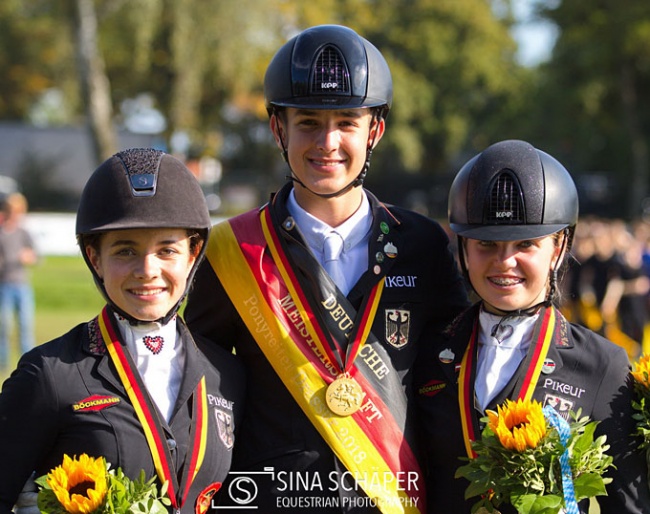 Pony rider Moritz Treffinger, junior rider Valentina Pistner, and young rider Lia Welschof became the winners of the 2018 German Youth Riders Championships which were held at the 1982 Olympic equestrian venue in Munich, Germany on 7 - 9 September 2018. 
Pony rider Moritz Treffinger closed off his last years on ponies in style. After winning triple gold at the 2018 European Pony Championships in Bishop Burton in August, the rider also scored gold at the National Pony Championships. Aboard the 10-year old liver chestnut mare Top Queen H (by Top Anthony II x Dark Rubin) he scored an overall total of 229.952 points for the title. He was second in the team test (73.333%) and won the individual (75.244%) and Kur to Music (81.375%). The silver medal went to Jana Lang aboard Nadine Krause's palomino Cyrill (by Champion de Luxe x Power Man) . She led the team test with 74.060% and placed second in the individual (74.837%) and Kur (77.850) to finish second overall on 226.747 points. Anna Middelberg and the 10-year old Drink Pink (by Don't Worry x Golden Highlight) proved consistency and finished third overall after placing third in all three rounds (72.436%, 71.951% and 75.250%). The bronze medal was sweet revenge for Middelberg who was not selected on the German Team for the 2018 European Pony Championships, while in 2017 she was part of the team and won the National Pony Championship. Biggest absentee in the pony class was Lucie Anouk Baumgurtel on both her ponies. The 2016 and 2017 European Pony Champion was not on form at the Europeans and now skipped the German Nationals.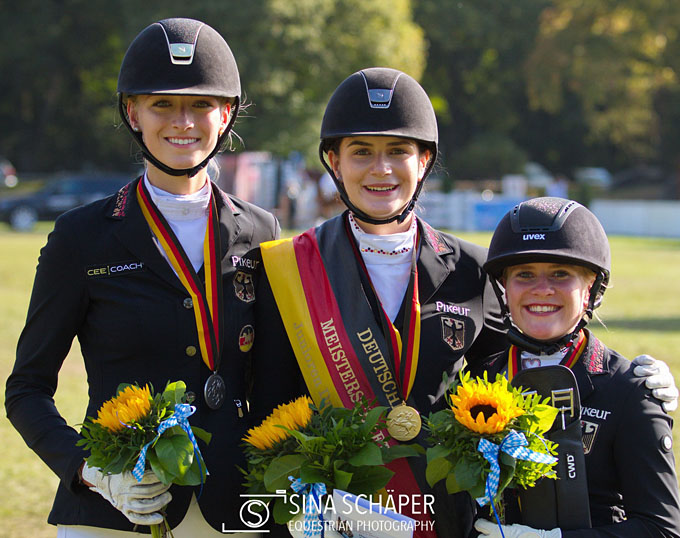 In the junior division, European Championship individual medal winner Valentina Pistner continued her strong streak on the 10-year old Oldenburg bred QC Flamboyant (by Fidertanz x De Niro). She convincingly won all three rounds with 74.820%, 75.965% and 78.050%. European Championship team mate Linda Erbe and the 8-year old German Sport Horse bred Fierro (by Furst Wettin x Eskadron) were on form and landed second place overall after placing second in all three rounds with solid scores of 74.099%, 74.211% and 77.725%. The bronze medal went to team mate Marlene Sieverding on the 10-year old Oldenburg Furst Levantino (by Furst Romancier x Sandro Hit). She was third thrice with 72.164%, 72.368% and 76.425%
In the young riders division Lia Welschof was the convincing winner of the gold medal. Not riding her European YR Championship team gold and individual test bronze medal winning Don Windsor, but opting for her second horse Linus K, Welschof's decision paid off. With her 11-year old Hanoverian gelding Linus K (by Locksley II x Prince Thatch II) she totaled 224.278 points for the highest step on the podium. The pair started off well with a fifth place in the Prix St Georges (70.965%) but then upped their game and won the individual test (75.088%) and Kur to music (78.225%). The silver medal went to come back kid Kristin Biermann on the 14-year old Dutch warmbood Zwetcher (by Sir Sinclair x Jetset D). After riding on the German team at the 2015 European Junior Riders Championships, the combination was remarkably absent on the international scene. An injury kept them grounded and then they only rode a few select shows in Germany. At the nationals this weekend they earned silver with 219.377 points after scoring 71.009 (4th), 72.193% (3rd) and 76.175 (2nd) in the three rounds. European team gold and Kur bronze medal winning Paulina Holzknecht and her 15-year old Hanoverian Wells Fargo (by Welser x Fabriano) were good bronze at the Nationals. They totaled 218.603 points after posting 74.167 (1st), 71.711% (5th) and 72.725 (6th).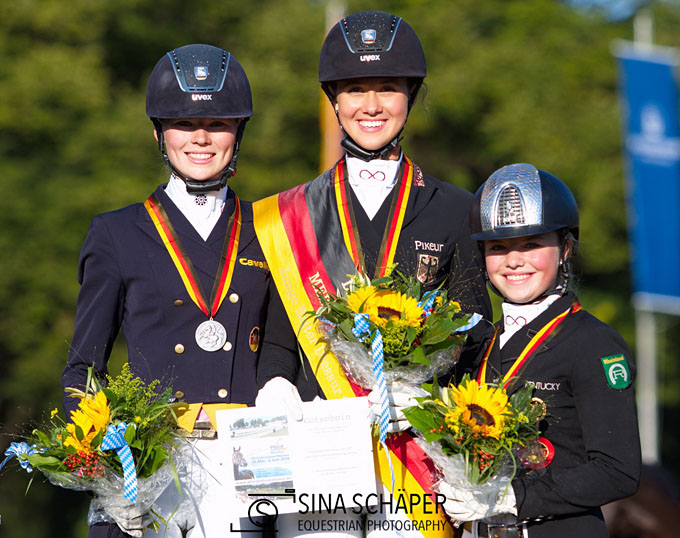 Biggest absentee in the division was German team member Semmieke Rothenberger, who won team gold but who atypically missed out on any individual medals at the 2018 European YR Championships in Fontainebleau. Semmieke opted to fly to Tryon, U.S.A instead to go root for elder brother Sönke who will compete on the senior German Grand Prix team with Cosmo.
Photos © Sina Schäper
Related Links
Scores: 2018 German Youth Riders Championships
Middelberg, Allard, Rothenberger Win the 2017 German Youth Riders Championships
Erbe, Horstmann, Becks Win 2016 German Youth Riders Championships 
Rothenberger and Nowag Win 2015 German Youth Riders Championships
Mende, Abbelen, Rothenberger Win 2014 German Youth Riders Championships
Rothenberger, Abbelen, Niemann Win 2013 German Youth Riders Championships
Rothenberger, von Platen, Kienbaum Win 2012 German Youth Riders Championships
Walterscheidt, Voigtlander, Rothenberger Win 2011 German Youth Riders Championships
Photo Report: All the Action from the 2010 German Youth Riders Championships
Scores: 2009 German Youth Riders Championships
Photo Report: 2008 German Youth Riders Championships in Hannover
Photo Report: 2007 German Youth Riders Championships in Steinfeld
Photo Report: 2006 German Youth Riders Championships