2018 CDI Leudelange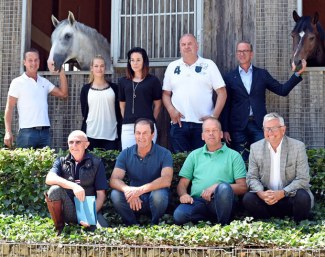 Leudelange is preparing for a dressage festival of the superlatives. At the first CDI on a 4* level in Luxembourg there will be over 30 competitions on the program. 175 horses will be competing from 3 - 8 July 2018 on the grounds of Écuriés des près from family Sunnen which has been prepared to a peak.
"Apart from the Children's class we will have every classification imaginable – up to the new tour for amateurs" Christof Umbach, head of the CDI4* from the executing Riders Club Luxembourg, explains. The highly requested dressage judge and trainer cares especially about the last entries of the amateurs: "Our sport depends on the amateurs. Therefore we have to do something very special for them."
As a special treat Christof Umbach announces the Grand Prix tours with the Grand Prix freestyles on Saturday evening and the special on Sunday. If it comes to the hoped for duel between the World ranked first, Isabell Werth from Germany, and World ranked second, Laura Graves from the USA, is not 100% sure: "Due to an operation in Isabell's family there is still a small question mark, but we hope to welcome the World's most successful dressage rider to our event."
The dressage fans with a little less experience will get their money's worth at the CDI4*.
"With the Schlemmereule from Trier we got a well-known caterer taking care of the well-being of our guests. Together with the free entry to our event we hope to attract onlookers from neighboring companies who might want to spend their lunch breaks here and become more interested in dressage."
This concept includes the sportainment programme on Saturday evening with the famous host and singer Sarah Bennett. Instead of a classic show program there will be a multimedia evening with live music to entertain everyone, according to Christof Umbach.
The first horses will be arriving this weekend, among them the horses of the American team, who will be having their sighting for the World Equestrian Games in Tryon/USA. The stars of the Luxembourg dressage scene won't have to travel as far, most notably the qualifiers for the World Championship Sascha Schulz and Nicolas Wagner. While Sascha Schulz, as chief trainer of Dressage Grand Ducal, is already at home on Écurié des près, the younger Nicolas Wagner only has to travel a few kilometers.
CDI4* Leudelange 3rd-8th July
Écuriés des près
Free entrence
For further information please visit: www.dressage-grand-ducal.com
Related Links
Eurodressage Coverage of the 2018 CDI Leudelange
2018 CDI 4* Leudelange With Record Starters Field
Stallion at Stud: Dragao das Figueiras
Stallion at Stud: For Sure
Stallion at Stud: Freischütz
Stallion at Stud: Rock on Top
Stallion at Stud: Equador MVL
Stallion at Stud: Flash Dancer I.M.
Oldenburg Society Approves First Lusitano Stallion
Gestut Peterhof and Grand Ducal Stallion Shows on 10 and 18 February 2018
Acs Sells Grand Prix Horses Rasputin and Flash Dancer I.M.
Dragao Figueiras Sold to Luxembourg
Fie Skarsoe Joins Dressage Team Grand Ducal in Leudelange