2018 CDI Leudelange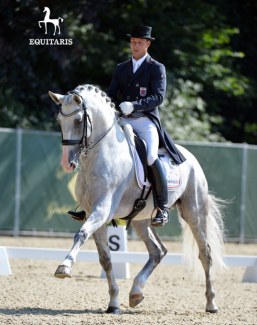 Six competition days, 200 horses, 31 tests, 30 nations – these are the impressive benchmarks of the international dressage tournament on a 4* level in July from the 3 - 8 July in the Luxembourgish Leudelange.
"We were very surprised by the reception and are excited to be able to announce stars like the German Isabell Werth, the American Laura Graves, the Luxembourger World Championships qualifier Sascha Schulz and Nicolas Wagner and many more for our new and improved tournament," said Christof Umbach happily.
The manager of Dressage Grand Ducal explains the successful entry with the great transport accessibility, the choice of date, conditions and the range of competitions.
"We are located  in front of the gates of the City of Luxembourg and also very close to the highway. The airport is also only a few kilometers away."
The event also fits into the schedule of most of the riders as it is two weeks before CHIO Aachen/GER.
"Since we from Dressage Grand Ducal are riders, trainers and judges ourselves, we know what the two-legged and four-legged athletes, officials and audience wish for and were able to achieve optimal conditions."
They reach from the perfectly arranged competition and training arenas to generous stable tents and up to an exhibition including catering under the motto "Horse, Art & Food". And the well worth seeing program with both of the Grand Prix tours, the middle and small tour, the competitions for the U25, the young riders, juniors and pony riders, the international competitions for five-, six- and seven-year-old junior horses as well as the Almased Amateur-Tour covers all of the imaginable formats.
While all the focus is on dressage the social commitment should not come too short. "Therefore we came up with something very special: a part of our profits will be donated to the charitable organization for children suffering from cancer 'Foundation Kriibskranker Kanner'." And Christof Umbach hopes that many other donors will follow this example.
On 3 July 2018d the first rider-horse-combination enters the arena a lot still has to be done.
"Yes the workload is enormous but we have a great team which is highly motivated and well-versed. Thus I am confident that we will experience a true festival of dressage in Leudelange," Umbach added.
- by Tanja Becker
Related Links
Stallion at Stud: Dragao das Figueiras
Stallion at Stud: For Sure
Stallion at Stud: Freischütz
Stallion at Stud: Rock on Top
Stallion at Stud: Equador MVL
Stallion at Stud: Flash Dancer I.M.
Oldenburg Society Approves First Lusitano Stallion
Gestut Peterhof and Grand Ducal Stallion Shows on 10 and 18 February 2018
Acs Sells Grand Prix Horses Rasputin and Flash Dancer I.M.
Dragao Figueiras Sold to Luxembourg
Fie Skarsoe Joins Dressage Team Grand Ducal in Leudelange