Great Britain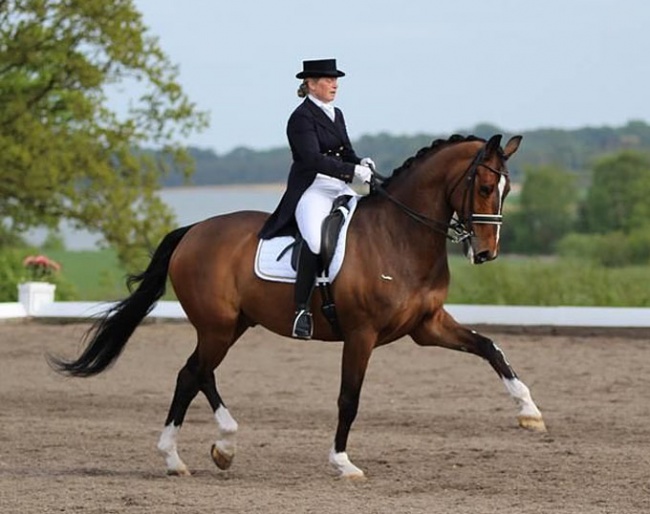 British Olympic team rider Fiona Bigwood has acquired a confirmed Grand Prix horse to compete, the 14-year old Danish warmblood gelding Kjaerholm's Abutsiaq. 
After selling her Rio team medal winning horse Atterupgaards Orthilia to Danish Agnete Kirk Thinggaard, the British based Bigwood has not been sitting still.
Not only did she sell her property Bourne Hill and relocated to a new renovation project, Brantridge Park, but she also went on a serious shopping spree, buying young horses and rising Grand Prix horses for herself and her husband Anders Dahl, as well a confirmed Grand Prix that she can show straight away. 
In September 2016 Bigwood got the now 7-year old Oldenburg bred Daytona Platinum (by Dante Weltino x Charon). In April 2017 she got the rising Grand Prix horse Fidelio van het Bloemenhof (by Fidertanz x Jazz) in Germany and the 8-year old Hanoverian mare Florina (by Furst Romancier x Donnerhall) in Denmark. In December 2017 she purchased the 10-year old Finnish warmblood Pin Rock's Foxifire Blitz (by Fernet x Caritas), who had just won the 2017 Finnish Grand Prix Championships. 
Round the turn of the year, Fiona added a fifth horse to her string: the now 14-year old Danish warmblood Kjaerholm's Abutsiag (by Michellino x Limelight), who has been trained from young horse level to Grand Prix by Lene Ejby Christiansen. The combination finished 13th at the 2017 Danish Grand Prix Championships. 
Bigwood is entered to compete both Foxfire Blitz and Abutsiaq at the 2018 CDI Nieuw en St. Joosland on 3 - 8 April 2018.
Related Links
Fiona Bigwood Acquires Finnish Champion Pin Rock's Foxfire Blitz
Fiona Bigwood Acquires Fidelio van het Bloemenhof and Florina
Rumour Control: Fiona Bigwood Focused on Competition Career
Bigwood and Dahl Sell Bourne Hill and Relocate to Brantridge Park
Daytona Platinum Sold to Fiona Bigwood
Scores: 2017 Danish Dressage Championships
Scores: 2009 Danish Young Dressage Horse Championships