Spain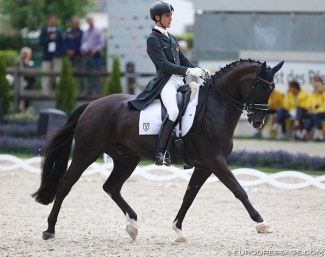 Spanish young Grand Prix rider Juan Matute Guimon has handed over the ride on his 2015 European Championship kur gold medal winning ride Dhannie to the owner's daughter, Spanish junior rider Natalia Bacariza Danguillecourt. 
"I'm so thankful and I feel fortunate for the many years I have been able to work with Dhannie Ymas," said Juan Matute Guimon. "We have shared so many, many special experiences together. He has been a very special partner for me and even though he has a new rider, he will always be my champion."
Dhannie is an 11-year old Hanoverian gelding by Don Crusador x Weltmeyer. He is bred by Hinrich Engelke in Germany. 
As a young horse the black was owned and ridden by Juan Francisco Fernandez Munoz. In 2012 he represented Spain at the World Young Horse Championships, where he finished 12th in the 5-year old consolation finals. The won the 2012 Spanish Young Horse Championships. In Dhannie was the highest scoring young horse in Spain and at the 2013 World Young Dressage Horse Championships in Verden, he finished 15th in the consolation finals. At the 2013 Spanish YH Championships, they earned silver.
In September 2013 Dhannie sold to Javier Bacariza and Cristina Danguillecourt who run Yeguada de Ymas, a Toledo and Florida based PRE stud farm that works closely together with Spanish Grand Prix rider Juan Matute.
Under junior rider Juan Matute Guimon, Dhannie won the Kur gold medal at the 2015 European Junior Riders Championships in Vidauban, France. The pair went on to win all small tour classes at the 2016 CDIO Wellington Nations' Cup. In 2017 the black gelding did his first Grand Prix classes in the Under 25 division.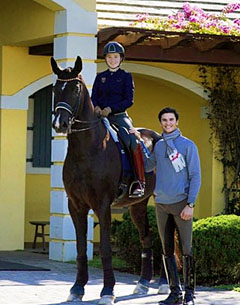 Dhannie will now continue his sport career as a schoolmaster under  rising 17-year old junior rider Natalia Bacariza Danguillecourt. She has represented Spain at the 2016 European Junior Riders Championships in Oliva Nova with Zoef. In 2017 she competed both Zoef and Rihanna at international junior riders level in Wellington, Florida, and Europe. 
"I wish Natalie and Dhannie a very special journey and I hope that Dhannie Ymas can give her the wings thathe once gave to me in order to reach my dreams," Juan added.
Photo © Astrid Appels
Related Links
Health Scare for Juan Matute's Dhannie
Matute Guimon Writes History by Winning Kur Gold at 2015 European Junior Riders Championships
Dhannie Sold to Yeguada de Ymas
Ules VDOS, Doctor de Encinasola, Mango Statesman Win 2013 Spanish Young Horse Championships
Spanish Horses Selected for 2013 World Young Horse Championships
Dancing Dream, Dhannie, Dai Colori Vistosi Win 2012 Spanish Young Horse Championships