2013 Spanish Young Horse Championships
The 4-year old Ules VDOS, the 5-year old Doctor de Encinasola and the 6-year old Mango Statesman became the grand winners of the 2013 Spanish Young Horse Championships held one week after the National Championships for Grand Prix riders in Segovia, Spain, on 3 - 6 October 2013.
Ruben Arrabe Sanchez and the PRE bred Ules VDOS (by Impaciente II out of Larix II) were the convincing winners of the 4-year old division, taking out the preliminary and finals round with winning scores. The duo posted marks of 78.200% and 76.800% to earn a golden total of 270.900%. The silver medal went to Jesus Fajardo Ortega on the Hanoverian bred Sunfire (by Sandro Hit out of Donata) who finished second in round 1 (78.000%) and third in the finals (74.80%). Unai Eneko Paredes Pujol and the Hanoverian Don Primus (by Don Prilus out of Welvita) got the bronze after twice finishing fifth.
In the 5-year old division Jose Antonio Garcia Mena rode the Dutch bred Doctor de Encinasola (by Scandic out of Ukida) to victory with a total score of 367.100%. The pair won the first round with 85.20%, placed fourth in the second with 77.80% and won the finals with 82.60%. Jordi Domingo and the Dutch bred Dolman (by Lord Loxley out of Orpa) earned the silver with a total of 355.700% after placing fourth (75.60%) and second twice (79.80, 80.20%). Alberto Garcia Martin and the black Hanoverian Delinger (by Don Frederico out of Sansibar) won bronze with a total of 347.400%.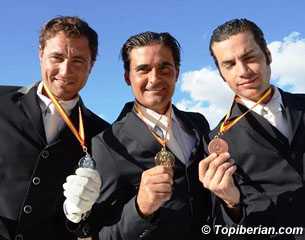 Jordi Domingo and the Hanoverian Statesman (by Sandro Hit out of Bella Italia) topped the leader board in the 6-year old division, totalling 361.300%. The pair won round 1 with 81.00, was third in round 2 with 77.000 and won again in the finals with 82.400%. Juan Francisco Fernandez Munoz and the Hanoverian Dhannie (by Don Crusador)  landed a silver medal place with scores of 76.000%, 78.200% and 79.000%. Antonio Jose Diaz Porras and the Hanoverian Sandronnerhall (by Sandro Hit) were good for bronze after posting scores of 75.000 (5th), 79.800 (1st) and 74.800 (4th).
At the 2013 Spanish Young Horse Championships there was also a class for 7 to 9-year old Prix St Georges horses and it was won by Juan Antonio Jimenez with the Hanoverian Elevado (by Rosentau).
Photos © Top Iberian
Results - 2013 Spanish Young Horse Championships
4-year olds (top 10 only)

1. Ruben Arrabe Sanchez - Ules VDOS (by Impaciente II) - 78.200 - 76.80 --- 270.900
2. Jesus Fajardo Ortega - Sunfire (by Sandro Hit) - 78.00 - 74.80 --- 266.600
3. Unai Eneko Paredes Pujol - Don Primus (by Don Primus) - 74.00 - 74.40 --- 259.800
4. Ivan Pozas Gomez - San Francisco (by Sancisco) - 73.00 - 74.40 --- 258.300
4. Sergio Marti Perez - Excalibur (by Zjengis Khan) - 71.40 - 75.60 --- 258.300
6. Anna Vidiella Baeza -  Esbelto JF II (by Superior VII) - 72.800 - 74.200 --- 257.600
7. Ivan Nieto Sanchez - Intruso de Mile (by Flamenco XCIII) - 74.20 - 73.00 --- 257.300
8. Vicente Jesus Jurado Diaz - Tartesio Mac (by Utrerano VII) - 73.80 - 73.20 --- 257.100
9. Antonio Gutierrez Vargas - Rosa Belle (by Dancier) - 74.80 - 71.80 --- 255.800
10. Juan Antonio Perez Pulido - Genciano X (by Datil VII) - 72.60 - 72.40 --- 253.700
5-year olds (top 10 only)
1.  Jose Antonio Garcia Mena - Doctor de Encinasola (by Scandic) - 85.300 - 77.80 - 82.60 --- 367.100
2. Jordi Domingo - Dolman (by Lord Loxley) - 75.60 - 79.80 - 80.20 ---- 355.700
3. Alberto Garcia Martin - Delinger (by Don Frederico) - 78.60 - 79.20 - 75.00 ---- 347.400
4. Jose Antonio Garcia Mena - Dragao Figueiras (by Unico) - 76.00 - 81.40 - 73.60 --- 345.300
5. Juan Francisco Fernandez Munoz - Afrika (by Diamond Hit) - 73.40 - 73.60 - 74.40 --- 332.600
6. Alfonso Leon Cabello - Taranto AV (by Yeguerto III) - 71.00 - 73.60 - 74.60 --- 330.600
7. Angel Dorado Martinez - Dancing Dream (by Florencio) - 75.400 - 73.000 - 71.2000 - 327.300
8. Ruben Arrabe Sanchez - Tragus VDOS (by Impaciente II) - 72.60 - 70.60 - 73.40 --- 325.300
9. Emilio Ordonez Redondo - Sarmiento II (by Lauro) - 70.80 - 70.60 - 73.80 --- 324.300
10. Francisco Gil Ortiz - Henares (by Senado) - 69.40 - 73.80 - 72.000 - 324.100
6-year olds (top 10 only)
1. Jordi Domingo - Statesman (by Sandro Hit) - 81.00 - 77.00 - 82.40 --- 361.300
2. Juan Francisco Fernandez Munoz - Dhannie (by Don Crusador) - 76.00 - 78.20 - 79.00 --- 351.300
3. Jose Antonio Diaz Porras - Sandronnerhall (by Sandro Hit) - 75.000 - 79.800 - 74.800 --- 344.300
4. Samuel Delgado Mateos - Diamond Hill (by Diamonit) - 72.200 - 76.80 - 76.600 --- 340.600
5. Samuel Delgado Mateos - Spirit de Jama (by Ucalero C) - 73.00 - 74.60 - 73.80 --- 332.500
6. Juan Manuel Vidal Testal - Sandro Star (by Sandro Hit) - 77.00 - 71.40 - 73.60 --- 331.700
7. Jose Daniel Martin Dockx - Vacquero HGF (by Cuatero IV) - 75.80 - 70.40 - 73.60 --- 328.600
8. Mariano Cano Tudela - Luna CCL (by Kareteka) - 72.00 - 72.200 - 71.800 --- 323.900
9. Juan Francisco Lecina Moreno - Vetusto JV (by Urano) - 72.200 - 72.600 - 71.000 --- 323.100
10. Alberto Garcia Martin - ISleno FS (by Ermitano III) - 74.000 - 70.000 - 70.800 - 320.600
Related Links
Jose Antonio Garcia Mena and Norte Win 2013 Spanish Grand Prix Championship
Dhannie Sold to Yeguada de Ymas
Statesman Wins 6-year old Consolation Finals at the 2013 World Young Horse Championships
Previous Winners
Dancing Dream, Dhannie, Dai Colori Vistosi Win 2012 Spanish Young Horse Championships
Firmamento, Manchego and Alcaide Win 2011 Spanish Young Horse Championships
Bently, Artouche, Delmonte Win 2010 Spanish Young Horse Championships
Zanzibar, Donna Clara and Finja Win 2008 Spanish Young Horse Championships