Spanish Dressage News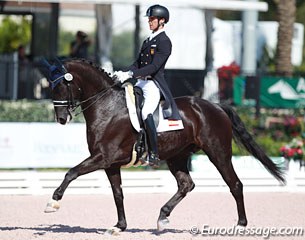 Spanish Grand Prix rider Juan Matute Guimon had to deal with health issues on the weekend of the 2017 CDI 5* in Wellington. Not only did the rider battle the flu while competing a string of four horses, but his Under 25 ride Dhannie had to be transported to the equine clinic.
Owned by Yeguada de Ymas, the 10-year old Hanoverian by Don Crusador x Weltmeyer was entered for the Under 25 division during the 2017 CDI 5* in Wellington, but in the warm up for the Intermediaire II the horse became super sensitive to the leg aids and just did not feel right. 
In agreement with the owner Cristina Danguillecourt, Juan Matute Sr decided to have the horse transported to the local equine clinic for an immediate check-up and the vets diagnosed Dhannie with an acute stomach ulcer. Because of the swift diagnosis, immediate treatment was started and Dhannie healed very quickly.
"We had to treat him with all the supplements necessary," said Juan Matute Guimon. "We had changed the kind of grain and he didn't adapt well. He didn't really show his pain until the weekend of the show."
The black gelding, which helped Juan win kur gold medal at the 2015 European Junior Riders Championships in Vidauban, France, is completely fit again and back in training. "He is ready for our next competition! I believe it will be next week," Juan added.
For more than 20 years the Matutes have been sponsored and supported by Danguillecourt in their equestrian endearvours. Their collaboration is more than a financial back-up system.
"As a sponsor, as any other sponsor will confirm, our activity is not limited to paying the bills," Cristina told Eurodressage. "We seek to ensure the complete well being of the horses, riders, relationship rider-horse, trainer, grooms, farriers, etc. We're there for the good and the bad, the lucky and the unlucky, and to try to remove when able the obstacles that may get in the way of the success and dreams of all those involved in the project. When you see satisfaction in their faces, and realize that a small part of their big dreams just came true, you count yourself fortunate to be a part of that moment, and in a blissful second, you know every effort, be it economical, emotional or intellectual, was worth it! It's funny because all this tends to be both appreciated and ignored at the exact same time by those outside the circle. For those inside no words are necessary."
The Matute family will leave their Wellington winter base and head to Europe round April-May in preparation of the summer show season.  Last year Matute Guimon won individual bronze at the 2016 European Under 25 Championships on Don Diego and he's seeking to better that performance with the 2017 Euros coming up in Lamprechtshausen, Austria.
Photo © Astrid Appels
Related Links
Sanneke Rothenberger Wins Individual Gold at 2016 European Under 25 Championships
Spanish Team for 2016 European Under 25 Championships Announced
Matute Guimon Writes History by Winning Kur Gold at 2015 European Junior Riders Championships