Oldenburg Breeding News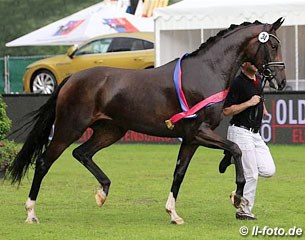 Furstin Gesine (by Furst Heinrich x Sir Donnerhall x Don Schufro) became the champion mare at the 2017 Oldenburg Elite Mare Show in Rastede, Germany, on 20 July 2017. For the 12th time Oldenburg's best 3 and 4-year old mares gathered in Rastede to fight for the queen's title.
Bred and owned by Paul Schockemohle, the 4-year old dark bay Furstin Gesine became the grand champion of the day.
She is by Furst Heinrich out of Gesina (by Sir Donnerhall x Don Schufro). She is the full sister to licensed stallion Feinrich. Dam Gesina also produced licensed stallions For Romance I and II and Oldenburg mare champion Fasine. Those three are all by Furst Romancier. Furstin Gesine scored 8.28 in her mare performance test.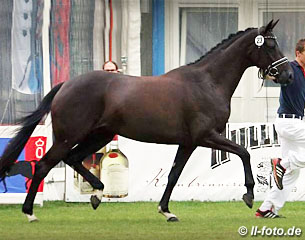 After a whole day of assessing the state premium mare candidates, fourteen mares were selected as the best for the Brilliant Ring, in which the selection panel chooses the best of the best. 
The 3-year old Feldelke was named reserve champion. She is by Don Frederic out of Feldsonne (by Sunny Boy x Davignon) and is bred and owned by Elke Richard. 
The bronze medal went to the 3-year old Waikiki II (by Ampere out of Wolke JM (by Wolkentanz I x Wanderbusch II)). She is bred by Johann Martens and owned by Belgian Patrick d'Eer who had bought the filly at the 2014 Oldenburg Elite Foal Auction.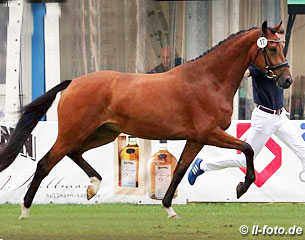 In the group of show jumping bred Oldenburg horses the 3-year old mare La Marron (by Christian x Landor S x Argentinus), bred and owned by Elke and Franz-Josef, was named champion. She completed her mare test with an 8.5 score for jumping in freedom. Her granddam Luandra also produced Loxana (by Diamond Hit), who was the 2005 Oldenburg Mare Champion and went on to compete at international Grand Prix level under Maria Anita Andersen.
The reserve jumper champion was Honey Star (by Balou de Rouet x Argentinus x Grannus), bred and owned by Guido Anneken.
Results - 2017 Oldenburg Elite Mare Show - Brilliant ring
1. Fürstin Gesine (by Fürst Heinrich x Sir Donnerhall x Don Schufro) - Breeder & Owner: Gestüt Lewitz
2. Feldelke (by Don Frederic x Sunny-Boy x Davignon I) - Breeder & Owner: Elke Richard
3. Waikiki II (by Ampere x Wolkentanz x Wanderbursch II) - Breeder: Johann Martens - Owner: Patrick D'eer, BelgienI
4. First Date (by Fürst Romancier x Sir Donnerhall x Davignon I) - Breeder & Owner: Andrea Müller-Kersten
5. Abendfee (by Dante Weltino x Royal Diamond x Harvard) - Breeder & Owner: Kotschofsky
6. Uthanie (by For Romance I x De Niro x Figaro) - Breeder & Owner: Helmut Kleen
7. Elfenperle (by De Niro x Florencio I x Sion) - Breeder & Owner: Ewald Grotelüschen
8. Felanix (by For Romance I x Stedinger x De Niro) - Breeder: Clemens-August v. Merveldt - Owner: Peter Kempkens
9. Regardez Moi (by Rock Forever I x Cashman x Ferrari II) - Breeder: Yves Pfeiffer - Owner: Dora Pfeiffer
10. Céleste (by For Romance I x Don Romantic x Rubinstein I) - Breeder & Owner: Otto Langemeyer
11. Elfenliebe (by Diamond Hit x De Niro x Rohdiamant) - Breeder: Ewald Grotelüschen - Owner: HP horses
12. Amani (by Escolar x Fürst Heinrich x Rubinstein I) - Breeder: Heiko Meinen - Owner: Wolfgang Kipp
13. Caty (by Sir Donnerhall x Fürst Heinrich x Rubinstein I) - Breeder & Owner: Paul Wendeln
14. Victoria Secret (by Van Vivaldi x Don Gregory x Cordeur) - Breeder: Pferde von Auheim - Owner: Gaby u. Gerald Geessink
Photos © LL-foto
Related Links
Mares Selected for 2017 Oldenburg Elite Mare Show in Rastede
Previous Winners
Candy, Champion of the 2016 Oldenburg Elite Mare Show in Rastede
Fiesta Danza, Champion of the 2015 Oldenburg Elite Mare Show in Rastede
Funf Sterne, Champion of the 2014 Oldenburg Elite Mare Show in Rastede
Calamity Jane, Champion of the 2013 Oldenburg Elite Mare Show in Rastede
Fasine, Champion of the 2012 Oldenburg Elite Mare Show in Rastede
Fire and Ice Proclaimed 2011 Oldenburg Elite Mare Champion in Rastede
Fifty Fifty, Champion of the 2010 Oldenburg Elite Mare Show in Rastede
Carlotta Wins 2009 Oldenburg Elite Mare Show in Rastede
Weihegold Wins 2008 Oldenburg Elite Mare Show in Rastede
Rebelle Wins 2007 Oldenburg Elite Mare Show in Rastede 
Silberaster Wins 2006 Oldenburg Elite Mare Show in Rastede 
Loxana, Dancing Diamond at 2005 Oldenburg Mare Show in Rastede 
Love Story V, Champion of the 2004 Oldenburg Elite Mare Show in Rastede 
Fabina, Rastede Oldenburg Champion 2003 
1999 Oldenburger Champion Mare Lady Madonna sold to the USA 
Donna Doria, the 2000 Oldenburg Champion Mare at Radstede