Oldenburg Breeding News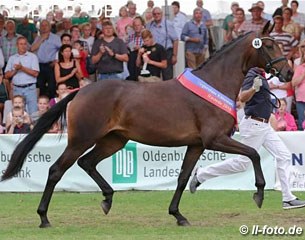 Candy (by Sir Donnerhall I x Fürst Heinrich x Rubinstein I) was named champion of the 2016 Oldeburg Elite Mare Show held annually in the castle park in Rastede, Germany.
Candy descendds from the ever successful Cinderella family of renowned breeder Paul Wendeln and his wife Hilde. The Champion Mare is a sister of Sir Heinrich OLD, a licensed stallion and Bundeschampion of six-year old dressage horses under Anja Wilmzig, and of the 2013 Bundeschampion of four-year old riding horses, Cindy OLD, who was also the 2012 Reserve Champion Mare in Rastede's Brillantring. Candy also achieved an outstanding total score of 8.63 at her broodmare performance test.
Magic Moon S (by Desperado x Sandro Hit x Donnerhall), bred and owned by Georg Sieverding from Emstek, became the reserve champion. Granddam Maradita produced two sons that were licensed, sold at Vechta auctions and went on to win ribbons in 4th level dressage: Silver Black OLD, who sold to Marta Peña from Spain, and Sieger Hit (by Sandro Hit), who sold to Denmark. The mare line of this highly refined mare is also the origin of the successful sire, Fürstenball by Fürst Heinrich.
The third placed mare in the Brilliant ring, the champion ring in which the best of the best compete for the title, was Feel Free (by Foundation x Sandro Hit x Donnerhall), bred by Indira Wallner from Schwinkendorf and owned by Bernadette Brune, who lives in Monaco but has a brood farm in Germany. The strong moving mare was discovered at the Oldenburg Horse Center Vechta during the 2013 Elite Foal Auction.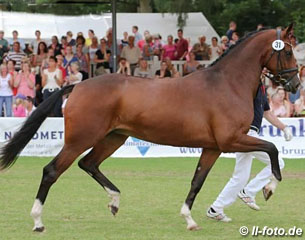 Lafayette (by Lordanos x Landadel x Weltmeister) became the jumper champion mare. Blessed with awesome jumping ability, the mare bred by Franz Albers from Höltinghausen and owned jointly by Sanktjohanser & Lauderbach from Löningen was awarded 9.0 in free jumping at her broodmare performance test. Her dam Leandra, who won ribbons in 1.30 meter show jumping tests under Bernd Osterkamp, also produced a daughter named Lizabella by Lordanos who sold at the Vechta Auction and is now successful in tests for youngsters under Anna-Elisa Tofall. Lafayette's granddam is the sister of a licensed stallion named Westminster by Weltmeister who sired Franke Sloothaak's World Champion, Weihaiwej.
A number of the premium mares competing in the prestigious Brillantring began their careers as a foal at the Vechta auctions. So don't miss the opportunity to find your future hero at the upcoming Elite Foal Auction on August 27th at the Oldenburg Horse Center.
Photos © LL-foto
Results - 2016 Oldenburg Elite Mare Show - Brilliantring
1. Candy (by Sir Donnerhall x Furst Heinrich x Rubinstein) - Paul Wendeln
2. Magic Moon S (by Desperado x Sandro Hit x Donnerhall) - Georg Sieverding
3. Feel Free (by Foundation x Sandro Hit x Donnerhall) - Bernadette Brune
4. Marabella (by For Romance x Zack x De Niro) - Ortmann Agrar
5. Flashdance CF (by Furstenball x Sir Donnerhall x Espri) - Nancy Holowesko
6. Big Love (by Bretton Wiids x Fidermark x Pik Pavarotti) - Ann Kathrin Linsenhoff
7. Dream Girl II (by Zach x Rohdiamant x Donnerschwee) - Josef Wernke
8. Baroja (by Furst Romancier x Jazz Time x Insider) - Gottfried Vorwerk junior
9. Heidewitz K (by San Amour x Harvard x Canaster ) - Jorg Klasen
10. Kimba Royal (by Desperados x Donnerschwee x Rohdiamant) - Henry Grosse Macke
11. Freya (by Furst Romancier x Sir Donnerhall x Gribaldi) - Jens Damm
12. Hightlight von der Heide (by Millennium x San Amour x K2) - Manfred Rüter
Related Link
Mares Selected for 2016 Oldenburg Elite Mare Show in Rastede
Previous Winners
Fiesta Danza, Champion of the 2015 Oldenburg Elite Mare Show in Rastede
Funf Sterne, Champion of the 2014 Oldenburg Elite Mare Show in Rastede
Calamity Jane, Champion of the 2013 Oldenburg Elite Mare Show in Rastede
Fasine, Champion of the 2012 Oldenburg Elite Mare Show in Rastede
Fire and Ice Proclaimed 2011 Oldenburg Elite Mare Champion in Rastede
Fifty Fifty, Champion of the 2010 Oldenburg Elite Mare Show in Rastede
Carlotta Wins 2009 Oldenburg Elite Mare Show in Rastede
Weihegold Wins 2008 Oldenburg Elite Mare Show in Rastede
Rebelle Wins 2007 Oldenburg Elite Mare Show in Rastede 
Silberaster Wins 2006 Oldenburg Elite Mare Show in Rastede 
Loxana, Dancing Diamond at 2005 Oldenburg Mare Show in Rastede 
Love Story V, Champion of the 2004 Oldenburg Elite Mare Show in Rastede 
Fabina, Rastede Oldenburg Champion 2003 
1999 Oldenburger Champion Mare Lady Madonna sold to the USA 
Donna Doria, the 2000 Oldenburg Champion Mare at Radstede