Oldenburg Breeding News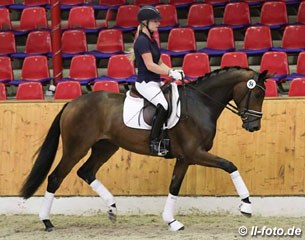 After four days of mare performance testing at the Oldenburg head quarters in Vechta, Germany, the Oldenburg announced the names of the 32 mares who have qualified to participate in the 2016 Oldenburg Elite Mare Show in Rastede, Germany, on 21 July 2016.
Mares were principally performance tested in Vechta, but a few obtained their qualification score in Bonefeld, Dorsten and Plaaz.
Furstenball and For Romance are the top producing sires with both having four offspring qualified for Rastede.
The mares qualified for the 2016 Oldenburg Elite Mare Show are:
Adele (by Ampere x Stedinger) - Owner: Marion Gräbener - Breeder: Gerd Sosath
Prima Donna (by Chagall x Soprano) - Owner & Breeder: J2L Dressage Horse, Belgium
Herbstromanze (by For Romance x K2) - Owner: Andrea Bechheim - Breeder: Manfred Rueter
Heidewitz K (by San Amour x Harvard) - Owner & Breeder: Joerg K. Klasen
Fanny (by Fürstenball x Riccione) - Owner & Breeder: Hartmut Rohrmann
Ruditoma (by Tomahawk x Sandro Hit) - Owner: Dressurpferde L. Kathmann - Breeder: Ekkehard Friedrich
Lady Amour AK (by San Amour x Fidertanz) - Owner & Breeder: Andreas Klinker
Big Love (by Bretton Woods x Fidermark) - Owner & Breeder: Ann-Kathrin Linsenhoff
High Heels (by Damon Hill x Roadster) - Owner & Breeder: A. Gräfin von Merveld
Costa Rica (by For Romance x Rohdiamant) - Owner: Andrea Herlth - Breeder: Antje Belludt
Flashdance CF (by Fürstenball x Sir Donnerhall) - Owner & Breeder: Nancy Holowesko, USA
Kimba Royal (by Desperados x Donnerschwee) - Owner & Breeder: Henry Grosse Macke
Magic Moon S (by Desperado x Sandro Hit) - Owner & Breeder: Georg Sieverding
Happy Girl (by Totilas x Sandro Hit) - Owner & Breeder: Aloys + Christian Hinxlage
Vinja (by Antango x Detroit) - Owner & Breeder: Bodo Willms
Rosenherz (by Floriscount x Rohdiamant) - Owner & Breeder: Monika Quarz
Tanzgräfin (by For Romance x Sandro Hit) - Owner: Lilian Sanktjohanser - Breeder: Heinz Lüers
Baroja (by Fürst Romancier x Jazz Time) - Owner & Breeder: Gottfried Vorwerk Jr
Feel Free (by Foundation x Sandro Hit) - Owner: Bernadette Brune - Breeder: Indira Wallner
Schöne Zeit (by Fürstenball x Sir Donnerhall) - Owner & Breeder: C. & K.-A. Schulte-Varendorff
Große Dimension (by De Niro x Sandro Hit) - Owner & Breeder: Martin Otten
Marabella (by For Romance x Zack) - Owner: Ortmann Agrar - Breeder: Clemens Ortmann
Felicia (by Fürst Romancier x Don Primero) - Owner: Andreas Wempe - Breeder: Bernd Huslage junior
Shalimar (by Sir Donnerhall x Royal Dance) - Owner & Breeder: Klaus Wulferding
My Girl S (by Sir Donnerhall x Florestan) - Owner: Thomas Flicker - Breeder: Georg Sieverding
Finale (by Fürstenball x World of Dreams) - Owner & Breeder: Edda Kessen
Heideblüte (by De Niro x Sir Donnerhall) - Owner & Breeder: Julia Zissel
Candy (by Sir Donnerhall x Fürst Heinrich) - Owner & Breeder: Paul u. Hilde Wendeln
Freya (by Fürst Romancier x Sir Donnerhall) - Owner & Breeder: Jens Damm
Delight (by Fürst Heinrich x Donnerhall) - Owner: ZG Limbecker/Kandziora - Breeder: Limbecker
Dream Girl II (by Zack x Rohdiamant) - Owner & Breeder: Josef Wernke
Rikki' s Zauber (by Dante Weltino x Don Gregory) - Owner & Breeder: Werner Dullweber
Related Links
Fiesta Danza, Champion of the 2015 Oldenburg Elite Mare Show in Rastede
Funf Sterne, Champion of the 2014 Oldenburg Elite Mare Show in Rastede
Calamity Jane, Champion of the 2013 Oldenburg Elite Mare Show in Rastede
Fasine, Champion of the 2012 Oldenburg Elite Mare Show in Rastede
Fire and Ice Proclaimed 2011 Oldenburg Elite Mare Champion in Rastede
Fifty Fifty, Champion of the 2010 Oldenburg Elite Mare Show in Rastede
Carlotta Wins 2009 Oldenburg Elite Mare Show in Rastede
Weihegold Wins 2008 Oldenburg Elite Mare Show in Rastede
Rebelle Wins 2007 Oldenburg Elite Mare Show in Rastede 
Silberaster Wins 2006 Oldenburg Elite Mare Show in Rastede 
Loxana, Dancing Diamond at 2005 Oldenburg Mare Show in Rastede 
Love Story V, Champion of the 2004 Oldenburg Elite Mare Show in Rastede 
Fabina, Rastede Oldenburg Champion 2003 
1999 Oldenburger Champion Mare Lady Madonna sold to the USA 
Donna Doria, the 2000 Oldenburg Champion Mare at Radstede