2017 CDN Munster Indoor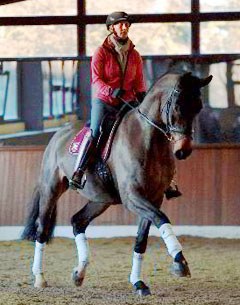 The 2017 CDN Munster Indoor K+K Cup is always the exciting kick off of the new competition year. German dressage riders and German based foreign dressage riders use this national show in Munster as the testing ground for new horses or to move horses up a level.  A quick look at the starting list for Munster reveals exciting new partnerships and come back kids.
Isabell Werth has entered two horses for the Grand Prix classes. She has registered her student, soccer wife Lisa Müller's 12-year old Dutch warmblood mare Anne Beth (by Oscar x Corleone) for Munster as well as Madeleine Winter-Schulze's 10-year old Westfalian gelding Sorento (by Sandro Bedo x Florestan).
Alongside Heuberger, Dablino and Rockefellers Cinderella, Anabel Balkenhol is bringing along the 8-year old Hanoverian bred Cyrstal Friendship (by Fidertanz x De Vito x Andiamo), the full brother of licensed stallion Foundation. The horse has been with Balkenhol since 2015 and was first competed in 2013 by Sascha Böhnke. Balkenhol has done four shows so far on Crystal Friendship.
Dorothee Schneider will introduce her 2016 Louisdor Cup champion Sammy Davis Jr to the classic Grand Prix tour in Munster, although the San Remo x Wenckstern offspring already did a few regular GP tests at regional shows last autumn.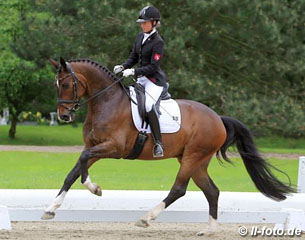 German A-team rider Fabienne Lütkemeier will make her medium tour level show debut on the 10-year old Hanoverian gelding Fats Domino (by Fidertanz x De Niro x Weltmeyer), which her mom bought as a youngster at the Klosterhof Medingen auction and which Fabienne has lightly competed up the levels in 2013, 2015 and last year. 
German B-squad rider Jan Dirk Giesselmann will not only present his number one horse in Munster, Real Dancer, but also three rising talents: the 10-year old Hanoverian Douro (by Don Frederico x De Niro), which he took over from Sabine Egbers last year; the 9-year old Hanoverian First Connection (by First Dance x Royal Diamond), which Angelica Bystrom showed in 2013 and 2014; and the 10-year old Westfalian mare Haya (by Hotline x D'Accord), which he has been competing since 2011.
Nadine Capellmann is entered with two horses for the small tour:  her future Grand Prix hope Look at Me (by Licotus x Liberty M) and the the 9-year old Ukrainian bred Forpost (by Obrazets). Initially Kronjuwel (by Kaiserkult x Wolkenstein II) was entered, but that was just to reserve the spot for Look at Me. Capellmann purchased Kronjuwel at the 2011 Hanoverian auction in Verden, but has never shown it.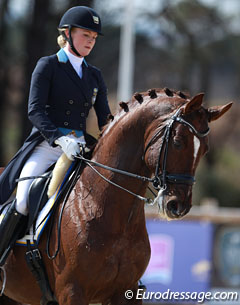 The Munster entry list also revealed that Helen Langehanenberg has taken over the ride on Anna Niemi's 13-year old Finnish warmblood licensed stallion Duendecillo P (by Don Romantic x Midt-West Ibi Light) which was previously trained and competed by Jeanna Hogberg. 
German long-time professional Grand Prix rider Holga Finken recently hired Steffen Frahm as his new assistant trainer at his yard in Hagen, Germany. In 2016 Finken had to move yards when Rudolf Zeilinger sold his barn to a Korean investor. Finken relocated to Stable Sudhof in Hagen, where he continued his new independant business.  In Munster he'll ride Wilfried Putz' 9-year old Hanoverian gelding Simply Red (by Sir Donnerhall x Wolkenstein II x Hitcock) in the small tour level, but the rider has been very busy showing horses this year, including Ann Kathrin Linsenhof's Hanoverian licensed stallion Don Frederic (by Don Frederico x Wolkentanz I), and the Dutch warmblood mare Filegea (by Zhivago x Tango).
The recently married Stefanie Schatz-Weihermuller has entered her two top horses for the Grand Prix (Fantomas and Wunderkind) but she'll get a place for one. She is also bringing her newest horse, the 9-year old Dutch warmblood gelding Dicaprio Swing (by Jazz x Zebulon) which she began competing at M level in the summer of 2016. The horse will make the leap to small tour in Munster.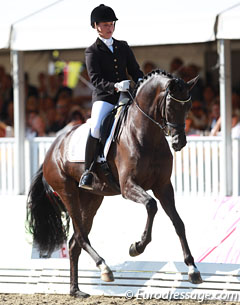 Kira Wulferding has listed Birgit Kalvelage's 8-year old Oldenburg Soiree d'Amour OLD (by San Amour x Latimer) for the small tour in Munster. The mare only did two shows in 2016, contesting the Developing PSG horse class. She finished fifth at the 2014 World Young Horse Championships in Verden.
2016 European Pony Champion Lucie Anouk Baumgurtel has entered no less than three rides for the pony competition. She is bringing her champion pony Massimiliano as well as her second pony Don Miguel, but the new comer is the 8-year old Steendieks Coriander (by Chambertin x Donnertraum). Lucie's even younger sister Lana-Pinou has been entered with Don Miguel as well, but also with come back kid Nice Blue Eyes, a seasoned FEI pony which has been competed internationally by Estelle Wettstein and Nicola Ahorner.
Photo © Barbara Schnell - LL-foto - Astrid Appels
Related Links
Riders Announced for Preis der Zukunft at 2017 CDN Munster Indoor 
Photo Report: Snap Shots from the 2016 CDN Munster K+K Cup
Photo Report: Werth and Klimke Rule the Big Tour at 2015 CDN Munster
Uta Graf and Dandelion Rise to the Top at 2014 CDN Munster
Photo Report: Capellmann and Klimke Post Winning Scores at 2013 CDN Munster
Photo Report: Werth and Kittel In Front at the 2012 CDN Munster
Photo Report: Smits-Vanderhasselt and Daianira van de Helle Supreme at 2011 CDN Munster
Photo Report: 2010 CDN Munster Indoor by Barbara Schnell
Photo Report: 2009 CDN Munster K+K Cup
Photo Report: 2008 CDN Munster Rolinck Cup