Belgian Dressage News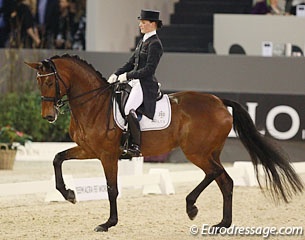 Belgian Grand Prix duo, Fanny Verliefden and Annarico, have dropped out of 2016 Olympic Games' contention.The 11-year old Dutch warmblood mare injured herself and will not be fit in time to compete at the Rio Games.
"It's with great regret, pain and sorrow that I announce i will not compete at the Olympic Games in Rio. Unfortunately Anny hurt herself a few weeks ago. It hurts a lot that our dream, which we worked so hard for will not come true. But competing while she's not totally fit is not the way i want to participate at such an important event," said Verliefden. "She deserves to compete in the best conditions possible! Her health is the most important for me so she will have all the time of the world to recover 200% so we can kick ass again."
Fanny Verliefden and Annarico (by Lord Loxley x Havel) were the highest ranked Belgian pair on the Olympic Athletes Ranking (OLR) and opened one individual slot for Belgium at the 2016 Olympic Games. The Belgian Equestrian Federation is eligible to send whoever they choose, but Verliefden and Annarico were the obvious choice as they were the country's highest scoring duo in the international show ring.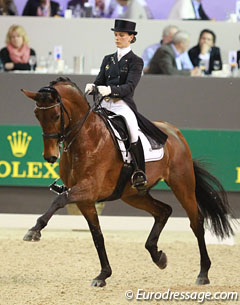 The Olympic dream for Verliefden has now ended. The pair campaigned hard during the 2015 and early 2016 show season to rank high on the OLR. They competed at the CDI Drachten, 's Hertogenbosch, Nieuw en St. Joosland, Roosendaal, Aachen, Rotterdam, the European Championships in Aachen, Roosendaal, London, Mechelen, Amsterdam, Lier and 's Hertogenbosch. The latter show, which was in March 2016, was their last.
A few weeks ago, the mare sustained an injury and is now out of the Olympic race.
"Annarico sustained a minor injiry a few weeks ago, which should have healed fast but during the healing process there were complications, so that it is impossible for Annarico to get in shape on time for the Olympic Games," the Belgian Equestrian Federation stated. "The 11-year old mare will recover fully from the injury but the time to the Olympics is just too short."
The most likely candidates to take Verliefden's spot are now A-team members Jorinde Verwimp (Tiamo) or Jeroen Devroe (Eres DL).
Photos © Astrid Appels
Related Links
Logutenkova Wins Big at 2016 CDI Lier, Olympic Race Scandal Fueled
Personal Best Score for Fanny Verliefden at 2016 CDI Lier
Fanny Verliefden and Annarico Set Belgian Kur Score Record at 2016 CDI-W Amsterdam
Devroe and Verliefden Named as Belgian Individual Rio Olympic Candidates
Belgian Grand Prix Squads of 2016 Updated
Fanny Verliefden Riding High On Instinct, Wins at 2015 CDIO Rotterdam