Belgian Dressage News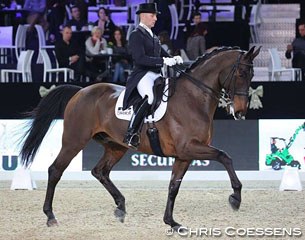 In a statement at a press conference at the 2015 CDI Mechelen Wendy Laermans, sportive director of the Belgian Equestrian Federation, named Jeroen Devroe and Fanny Verliefden Belgium's two candidates for an individual Olympic starting place in Rio.
Laermans mentioned that Fanny Verliefden and the 10-year old mare Annarico (by Lord Loxley) and Jeroen Devroe on the 11-year old gelding Eres DL (by Sir Lui) are "virtually qualified for the Olympics."
Laermans based her statement on the latest version of the FEI Olympic Riders Ranking List, which decides the individuals that will get one of the final twenty slots to compete at the 2016 Rio Olympics.
The latest version dates back to 30 November 2015 and does not include any of the results achieved at the December shows (Roosendaal, London, Mechelen), where Belgium's three European Championship team members Devroe, Verliefden as well as Jorinde Verwimp have competed. Team mate Laurence Vanommeslaghe has not shown her horse Avec Plaisir since the Europeans in August.
Fanny Verliefden is currently ranked 59th on the Olympic Riders Ranking, but is in 11th place when all the riders from the Olympic qualified teams are taken out. Devroe is ranked 64th (13th place), Vanommeslaghe 89th (25th) and Verwimp 91st (26th).
View the Olympic Athletes Ranking here.
Photo © Chris Coessens
Related Links
Belgian Team Selected for 2015 European Dressage Championships
De Schepper, Verberne, Kielenstijn, Devroe Win 2015 Belgian Dressage Championships
Verwimp and Roos Submitted to 2016 VLP Talent Team