2016 Swedish Dressage Championships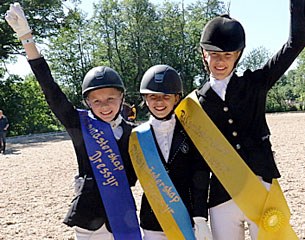 Children's rider Clara Isaksson, junior rider Evelina Soderstrom, young rider Isabelle Tovek, Under 25 rider Marina Mattsson, and senior Grand Prix rider Patrik Kittel became the winners of their division and gold medallists at the 2016 Swedish Dressage Championships, which were held at Stromsholm castle in Sweden on 3 - 6 June 2016.
There was massive dressage action going on in Stromsholm last weekend with no less than five national championships taking place. Only the pony riders will have their own dedicated National Championships later on this summer. Yet, for the first time a Swedish Children's championship for 12 to 14-year olds riders was being hosted.
Clara Isaksson and the 9-year old Swedish bred Fridolin (by First Wish) won the gold medal in the Children's division after winning the first round with 70.389 and placing third in the second round 64.094%. Silver went to Blanca Bosson on the formerly licensed Oldenburg stallion Spongebob (by Sir Donnerhall II), who has now been gelded. Bosson and the 6-year old chestnut scored 66.056% (3rd) and 65.156 (2nd). Clara Stetter and the 14-year old Danish gelding Bartello V (by Munchhausen) were good for bronze with 63.889 (4th) and 67.313% (1).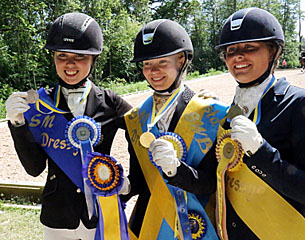 In the junior riders division Evelina Soderstrom is cashing big time on her first season aboard the 18-year olds Grand Prix schoolmaster Weihenstephaner (by Warsteiner), who was previously competing internationally with Mads Hendeliowitz. Soderstrom won the junior team and individual test with 71.396% and 71.667% and was fourth in the Kur (71.225%). Her overall total granted her the gold. Jennifer Lindvall and the 15-year old Danish bred Jazzmatazz (by Jazz) ended up with silver after placing third three times with 70.541%, 68.772% and 71.325%. Lovisa Jendland and the 17-year old Danish bred Grevens Rex (by Romancier x Pik Konig) finished with bronze after impressively climbing the ranks with 68.784% (9th), 68.553% (4th) and 71.825% (1st).
"He is fantastic to ride but somethings he throws me off," the 16-year old Evelina said about her cheeky schoolmaster. "I still have two years left as a junior."
Young Rider Isabelle Tovek is also scoring big on her second horse Weltliebe, a 13-year old Danish gelding by Weltjunge which she acquired from Danish young Grand Prix rider Nanna Skodborg Merrald less than a year ago. Tovek and Weltliebe got the gold thanks to consistent performances throughout the championship, even though they never won a round. The pair scored 72.412 (2nd), 68.640 (2nd) and 72.200 (2nd).  Emma Jonsson and the 10-year old NRPS bred Santo Domingo (by Samba Hit II) got the silver after starting off really strongly in the team test with 73.553% (1st), but then they slightly lost some ground with 68.860 (4th) and 69.575% (5th). Emelie Aldenfelak and the 12-year old Swedish bred Winton (by Warsteiner) were a bit all over the board but finished with the bronze medal after winning the kur to music with 73.600%. They scored 70.088% (4th) in the team test and 67.149% (8th) in the individual test.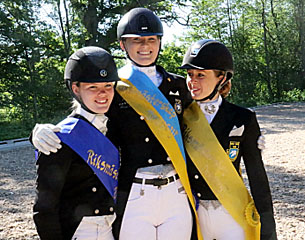 Senior Grand Prix rider Marina Mattsson dropped back to the Under 25 division for the Nationals with her 14-year old Swedish gelding Beckham (by Bernstein) and won the gold medal after dominating both rounds with 70.175% and 71.209%. Lina Dolk banked silver with the 18-year old Swedish stallion Biggles (by Briar) which she has only been riding for six months. The pair was second twice with 69.649% and 69.698%. Mathilde Hannell and the 17-year old Swedish mare Deela Mae (by De Niri) earned bronze after two third places with 68.684% and 69.186%. It was the first time that Sweden staged a national U25 championship.
"I think this is my ninth individual title," Mattsson said after the prize giving ceremony. "It's great to have an Under 25 Championship. I hope it will continue."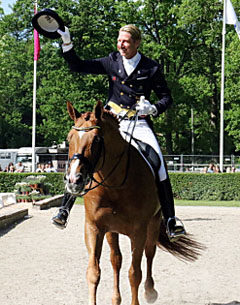 Patrik Kittel and the 18-year old KWPN stallion Scandic (by Solos Carex x Amirel) captured the gold and the title in the Swedish senior Grand Prix championship, but Kittel felt the competition from his own student Mads Hendeliowitz, especially in the first round. Kittel finished second in the Grand Prix with 73.320%, while Hendeliowitz and the 12-year old Oldenburg Jimmie Choo (by Sandro Hit) won the class with 73.420%. In the second round, the Grand Prix Kur, Kittel and Scandic dominated with a 77.625%, referring Hendeliowitz to a third place with 74.325%. Mads got the silver and Tinne Vilhelmson on her 12-year old Hanoverian stallion Benetton Dream (by Brentano II) won the bronze with 72.640% (3rd) and 73.550 (4th).
"This was Scandic's last show," said Kittel who is retiring the chestnut stallion in an official ceremony at the CDI Falsterbo in July. "He has given me my fourth consecutive Swedish gold medal and it was Scandic's second after European bronze. It's time for him to go in the paddock and just enjoy life." Scandic will not go on as a schoolmaster for young riders. "He's not a horse that can train young riders. He's too cheaky and as hot as when he was a young horse."
Photos © Swedish FN
Related Links
Ivarsson, Mattsson, Kittel Win 2015 Swedish Dressage Championships
Patrik Kittel Wins the 2014 Swedish Dressage Championships
Patrik Kittel Wins the 2013 Swedish Dressage Championships
Eva Ulf Wins 2012 Swedish Grand Prix Championships
Tinne Vilhelmson Wins 2011 Swedish Grand Prix Championships
Tinne Vilhelmson Wins 2009 Swedish Grand Prix Title with Favourit
Tinne Vilhelmson Captures Second Grand Prix Title at 2004 Swedish Championships
Marina Mattsson Wins 2014 Swedish Young Riders Championships
Marina Mattsson Wins 2010 Swedish Pony Championships