2014 Swedish Young Riders Championships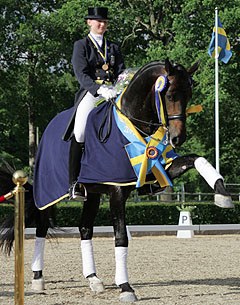 The 20-year old Marina Mattsson won the 2014 Swedish Young Riders Championships held at the national show in Stromsholm on 6 - 8 June 2014. The professional dressage rider Marina Mattsson was a league of her own and got the gold, while the silver went to Ellinor Magnusson and Anna Drugge earned bronze.
Mattsson saddled her sponsor Patrik Hannell's Swedish warmblood licensed stallion Double Diamond II (by Don Primero x Romadour II) for the Nationals and became the only rider consistently scoring above 70% in all three championship rounds. She received 75.175% in the team test, 71.272% in the individual and 73.350% in the Kur to Music to average 73.266%.
"Double Diamond did really great in Stromsholm," Mattsson told Eurodressage. "I had a fantastic feeling the first day and we broke our personal record after a ride on 75%. I didn't really have any mistakes in all of my tests and I'm very pleased with that."
Mattson's 2014 Swedish Young Rider title is already the seventh national title. Double Diamond was started by Jan Brink as a youngster and acqiuired by Hannell a few years ago. Mattsson took over the ride in 2013. She is currently competing at Young Riders' level as well as in the Under 25 division with Cassio and Beckham.
Ellinor Magnusson and the dark bay Swedish warmblood gelding Pixar (by Prestige x Epson) finished in silver medal position with a score average of 68.862%. The pair improved on their performance each day, starting with a 67.982%, followed by a 68.728% and a 69.875%.
"We had a few misstakes in the first round but he was getting better for each day," Magnusson explained. "The last day in the final I had a mistake in the canter, so I had to rethink the last part of the program, but I'm very happy with the solution and results. Last year we took the bronze and this year the silver, so I'm very happy. I didn't expect too much but of course I was hoping for a medal."
Routinier Anna Drugge and her grey Swedish warmblood Stroller (by Highlight x Master) slotted in third and got the bronze with an average of 68.574%. They posted scores of 68.640%, 67.281% and 69.800%.
"Stroller was not quite with me in the qualifications and we had a couple of mistakes, but in the final I had a much better feeling and I'm happy with that," Drugge stated. "Feels good to know we're in the game even when we're not having the best of days. I was hoping for a medal but knew it was very open with many good combinations this year. At first I was a tiny bit disappointed to have missed the silver quite narrowly, but now it feels great! It's always a wonderful feeling winning a medal!"
Great Britain based Victoria Appleyard had a rough start in the first round with 62.588% but climbed the ladder in round two (68.947%) and finished second in the Kur to Music with 70.750%. It was a courageous effort to recover from an unlucky first day but they ended up fourth overall with 67.428%.
Photo © Catharina Brink
Results - 2014 Swedish Young Riders Championships - Stromsholm
1. Marina Mattsson - Double Diamond - 75.175 - 71..272 - 73.350 --- 73.266
2. Ellinor Magnusson - Pixar - 67.982 - 68.728 - 69.875 --- 68.862
3. Anna Drugge - Stroller - 68.640 - 67.281 - 69.800 --- 68.574
4. Victoria Appelyard - Sir Willy - 62.588 - 68.947 - 70.750 --- 67.428
5. Amalie Egholm Hebsgaard - Bretagne - 67.149 - 66.535 - 67.300 --- 66.995
6. Isabella Tovek - Connery - 66.974 - 65.351 - 67.750 --- 66.692
7. Nina Rademaekers - Bizet Gersdorf - 67.544 - 67.939 - 63.900 --- 66.461
8. Clara Haggqvist - Maine - 62.982 - 67.193 - 68.100 --- 66.092
9. Emma Bystrom - Don Q - 65.395 - 64.912 - 65.525 --- 65.277
10. Emma Jonsson - Fleur - 67.588 - 67.719 - 60.075 --- 65.127
11. Fanny Callerud - Choice - 64.123 - 64.868 - 66.200 --- 65.064
12. Alva Lander - Herbie Hancock - 64.035 - 63.421 - 67.025 --- 64.827
13. Linnea Lyden - Don Ludovici - 65.307 - 63.947 - 64.650 --- 64.635
14. Emelie Eklund - Merlin - 65.439 - 62.895 - 63.875 --- 64.070
15. Lisa Munter - Infernal T - 65.877 - 62.500 - 62.025 --- 63.467
Related Links
Swedish Team Junior and Young Riders on Training Camp
Mattsson and Zibrandtsen Rule the Under 25 Division at the 2014 CDI Kapellen
Marina Mattsson Honoured at 2013 Swedish Riders' Gala
Nursery Project to Stimulate Swedish Young Riders to the Top
Kerstin Andre Appointed Swedish Young Rider Team Trainer