2005 Pavo Cup Finals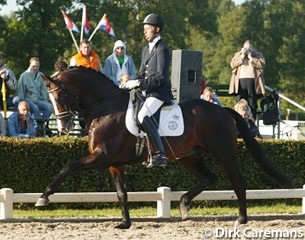 The 4-year old Uptown and the 5-year old Decor Dreamcatcher have won the 2005 Pavo Cup Finals which were held at the KWPN Paardendagen in Ermelo, The Netherlands. This KWPN breed show and young horse championship coincided with the CHIO Aachen
, but this did not prevent masses of people to travel to Ermelo to see Holland's finest bred young horses in hand and under saddle.
The 4-year old division of the Pavo Cup Finals was won by Uptown, a Kennedy x Ubis offspring, ridden by Hans Peter Minderhoud Guest judges were Willy Arts from DG Bar Ranch in the United States and young rider Theo Hanzon. They scored Uptown's rideability with an 8.0 and 9.0 mark. Uptown was the 2004 KWPN Licensing Champion and is owned by Toine Hoefs, Kathy Connelly and Al Guden.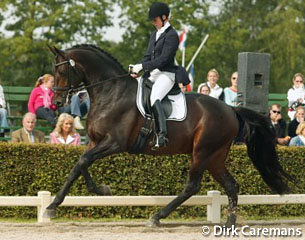 The 5-year old division was won by the Oldenburg stallion Decor Dreamcatcher, a former PSI horse. Dreamcatcher is an NRPS registered stallion and, therefore, was able to compete in the Dutch Pavo Cup. Under his owner and rider Mireille Kemenade, Dreamcatcher (by Day Dream x Rubinstein) scored 174.5 after the first round. The two guest judges, however, awarded this dark bay stallion with two 10s for rideability and potential. They also gave two 10s to the runner up Trento B, but Kim Leduc only got 171 points in the first round, so the pair became reserve champions.
Photos © Dirk Caremans
Results
4-year olds
1. Uptown (Kennedy x Ubis) - Hans Peter Minderhoud - 344 pts
2. Uphill (Oscar x Apollonios xx) - Emmelie Scholtens - 336 pts
3. Uivertje Ruta (Jazz x Boy B) - Hans Peter Minderhoud - 333.5 pts
4. Hexagon's Radetsky (Rubiquil x Ravel STV) - Thamar Zweistra - 327.5 pts
5. Game Boy (Gribaldi x Pion) - Hans Peter Minderhoud - 325 pts
6. Up Seven (OO Seven x Jazz) - Florentine Rootveld - 321 pts
7. DGH Utopia (Metall x Inspekteur) - Ivonne Lawrence - 306 pts
5-year olds
1. Decor Dreamcatcher (Day Dream x Rubinstein) - Mireille Kemenade - 374.5 pts
2. Trento B (Krack C x Ramiro) - Kim Leduc - 371 pts
3. Tolando (Krack C x Rubinstein) - Hans Peter Minderhoud - 355 pts
3. Hyperion's Tanirma (De Niro x Inspekteur) - Sarah van Fessum - 351 pts
5. Bruin (Freestyle x Hamlet) - Carolien Rijnders - 341 pts
6. Torrero (Jazz x Rubinstein) - Michelle Barends - 330 pts
Related Links
Uptown, An International Enterprise of KWPN Aficionado's 
Uptown, Champion of the 2004 KWPN Stallion Licensing 
Florencio and Sandreo Win the 2004 Pavo Cup Finals 
Special D and Robin Hood, 2003 Pavo Cup Winners
Rubels and Paster, 2001 Pavo Cup Champions
Natcho and Osmium Wins 2000 Pavo Cup Finals
Broere Stallions Dominate 1999 Pavo Cup Finals
Lucky Times and Mariena Win 1998 Pavo Cup Finals