2023 CDI-W Palm Beach Dressage Derby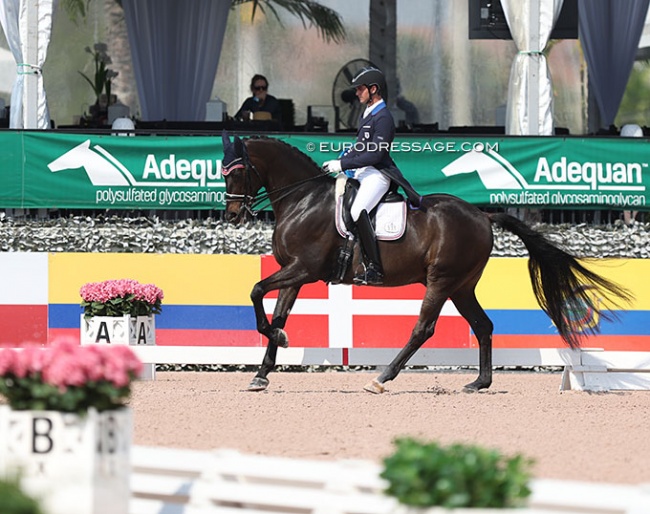 - Text and Photos © Eurodressage (this article expresses Eurodressage's' eye-witness account and opinion about the competition).
American Christian Simonson made a winning come back on Zeaball Diawind, his 2021 North American Young Riders gold medal winning mount, after an almost one-year break from international competition.
Christian and Zeaball
The 20-year old Simonson is a student of U.S. Olympic team rider Adrienne Lyle and has team trainer Debbie McDonald and Lyle's sponsor Betsy Juliano enthusiastically rooting for him with every ride. Christian is one of America's most talented young riders at the moment with a strong support system behind him and his steps seem closely followed by the selectors. 
Simonson's 11-year old Danish warmblood bred Zeaball Diawind (by Furstenball x Zardin Firfod) accelerated the career of the California native young man, delivering him triple gold at the 2021 North American Young Riders Championships and his first trip to Europe to compete at the CDIO-Y Hagen, where he finished second in the team test beating some of Germany's best riders. In 2022 the pair competed on the Global Dressage Festival but in mid March had to withdraw. 
Initially it was stated that Zeaball was on a break from showing because he was getting prepared for Under 25 level. However, yesterday he made a come back at small tour level, but with the same confidence and routine as a year ago.
1* Prix St Georges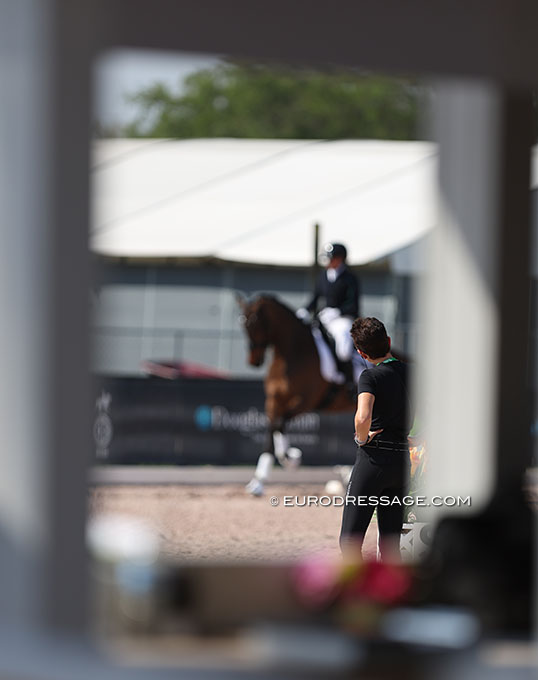 While the 2023 Palm Beach Derby is all about the final North American League World Cup qualifier and Derby competiton, the event also featured a highly interesting 1* Prix St Georges class which was judged by Karen Pavicic, Clive Halsall, and William Warren.
It was a very windy Friday 3 March 2023 at the Global Dressage Festival despite 32 C° temperatures. The steady breeze caused quite a bit of disruption for several horses who did not appreciate the flapping tents and flowers and plants waving in the wind. It led to two withdrawals, one elimination, and quite a few tense and fresh horses in the test. Of the 23 riders competing in the class, seven rode a personal best score, keeping in mind that a few of them were CDI first timers.
Quality Horses
Simonson and Zeaball Diawind topped the board with a winning 72.500%. The beautiful dark bay gelding appeared with more of a pushing than a carrying hindleg, but the trot was surely paced and maintained a good balance on the voltes and in the lateral movements. There was a bobble on the short side in between the half pirouettes and in the three tempi changes the horse swayed a bit in the hindquarters, but the walk was well ridden and overall it was a soft, even and careful presentation, very appealing to the eye.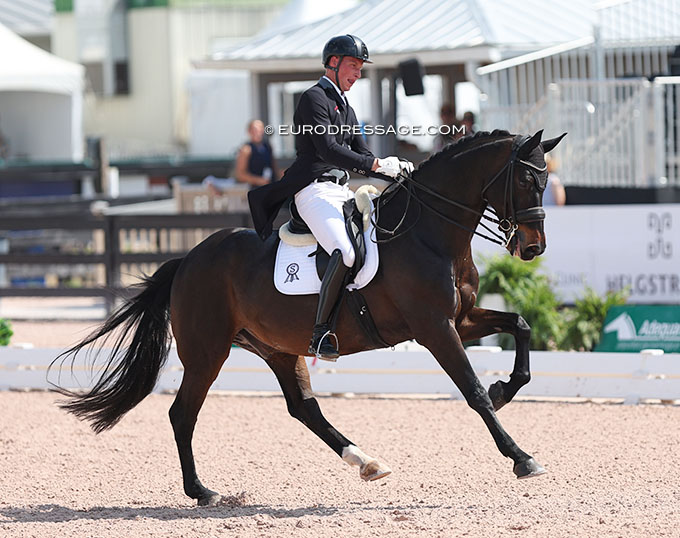 German Lars Ligus and Silke Abbelen's 12-year old Westfalian Baron Bollwerk (by Bordeaux x Lord Sinclair) became the runners-up with 72.353%. The dark bay gelding is a large framed, tall horse which produced a clean and correct ride. In trot he gets a bit slow behind and toe-dragged in the voltes, but Ligus rode a wonderfully uphill extended canter and solid flying changes. The horse was very consistent in its performance and in the head position. 
American Katie Robicheaux presented a very interesting horse in Galandro, a 12-year old KWPN bred Bon Bravour x Donnerhall offspring owned by Kathleen Faulkner. The chestnut delivered very nice, uphill trot work, a good walk, although he got a bit tense before C and the flying changes were all very established. Lovely pair that scored 70.392% for third place.
Australian Kelly Layne has a nice horse in Fidelio, a 15-year old Oldenburg by Fidertanz x Rousseau, owned by Anne Barrett. The bright bay showed good balance and self carriage in trot, but got tense in the walk between the pirouettes and the extended walk could have had more overtrack. The changes were nice but could improve on straightness. With a lighter, more elastic contact in the bridle there is certainly room for higher scores.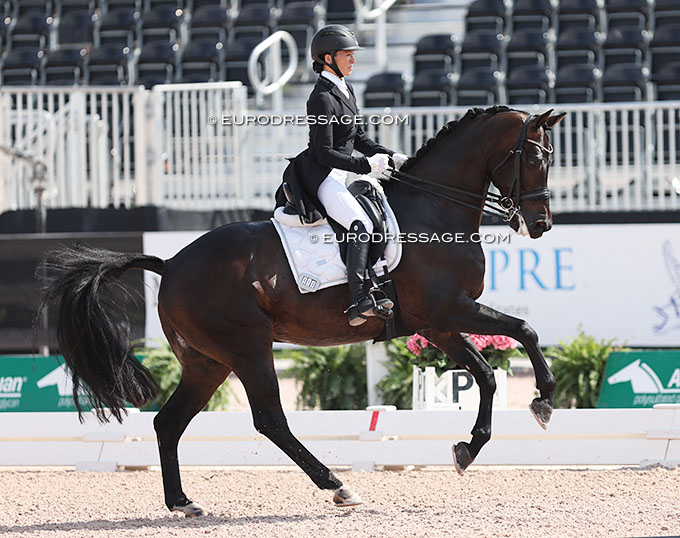 Jessica Howington presented a real eye-catcher, the 10-year old KWPN bred Indigo TC (by Dream Boy x Kennedy). The horse is drop dead gorgeous, but because of the wind the trot work was ridden with the handbrake on. For instance in the trot extensions, there was plenty of overtrack but no lengthening of the frame. He jogged before the canter strike off, and the walk had a clear four-beat rhythl but was not fully relaxed. The tempi changes were scopey in front and uphill, but were not always coming through from behind. With more relaxation, the score will easily go over 70%. This time they were fifth with 68.235%. By the way, Indigo TC was previously owned by Abu Dhabi's Sheikha Fatima Bint Hazza Bin Zayed Al Nahya and moved from the UK to Helen Langehanenberg in 2020.
Two combinations tied in sixth place with 68.186%: Thai Suphajit "Patty" Vuntanadit aboard the 16-year old Hanoverian Wall Street JV (by Wie Weltmeyer x Star Way) and Ali Potasky on Kathy Priest's 10-year old KWPN mare Irintha (by Everdale x Tenerife).  Vuntanadit rode a very convincing test with a smooth trot tour, good crossing in the half passes and very nice pirouettes. Her horse is a former international Grand Prix horse and for him the small tour is easy. Overall the score will improve if the horse gets ridden less on the curb and can be a bit more elastic in the contact.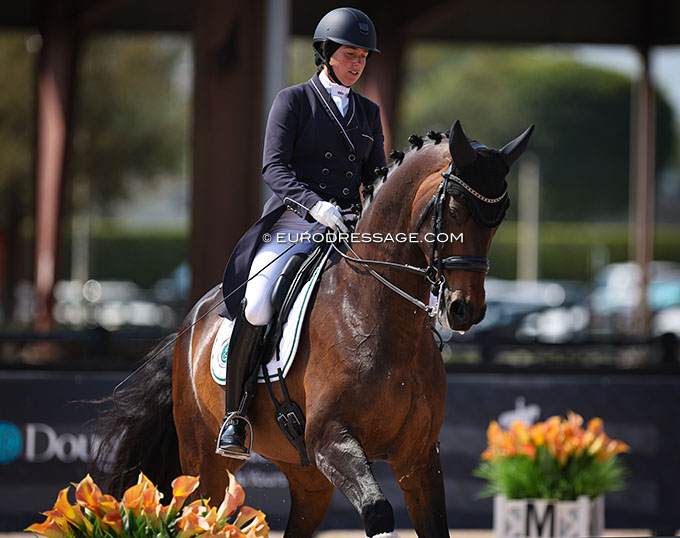 Ali Potasky has a very impressive horse in the dark bay mare Irintha. She is very Dutch/Everdale in front - uphill in the forehand with plenty of knee action, a big cresty neck. Potasky could not really get the nose out and keep her on/in front the vertical in the windy conditions as the mare appeared a handful despite the fact that she is brimming with talent and quality. The shoulder in left was slightly unbalanced, the walk was mediocre today, but the rhythm improved in the extended walk. In canter there was a mistake in the fours, despite super scopey flying changes. She showed a great ability to sit in the pirouettes. There is definitely much more in the tank.
Talking about Dutch looking horses, Canadian Megan Lane presented Froukje Staal's 15-year old Denver (by Vivaldi x Amethist). The horse was bought off a video as a 6-year old and arrived in Canada smaller than expected. This pocket rocket has a lot of pet in his step, with forward, active trot work (at times too passagey) and he showed straight tempi changes but resisted on the diagonal right before the fours, which made the score drop to a 65.549%
Over In the National Ring
While the Prix St Georges was in full swing, over in the national arena Olympian Adrienne Lyle rode Feodoro down the centerline for his national Intermediaire II debut. With her top ride Salvino sidelined due to an injury and no other horses owned by sponsor Betsy Juliano that are working at small/big tour level, the Canadian owned Feodoro (by Furstenball x Rosario) seems the most likely successor for the 16-year old Salvino at this point.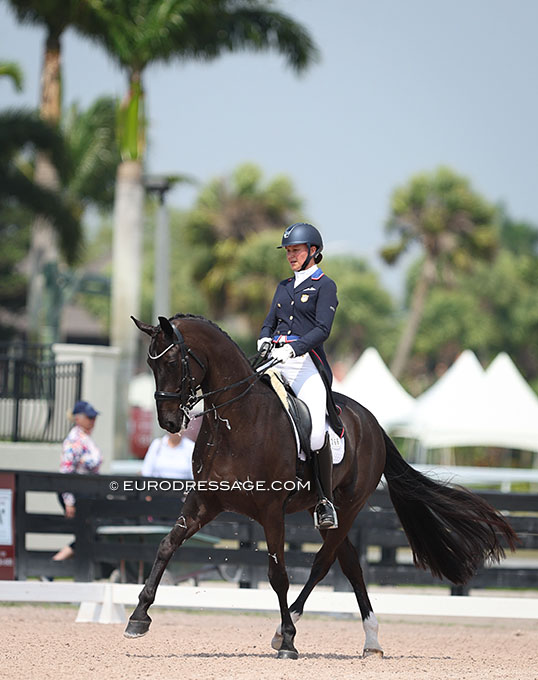 A group of spectators flocked together at the national arena ring 1 to witness this Inter II debut. Adrienne last showed Vicky Lavoie's Feodoro in March 2022 in a national PSG and Inter I to 75-76% scores. 
Feodoro is a big impressive, arena-filling black gelding with a long topline. He is certainly a horse with a "here I am" aura and really shone in the trot half passes and ground covering extended trot and canter. He has a nice silhouette in the passage with a lovely round front leg in front, but could engage a bit more from behind. The piaffes are still very much work in progress, with the horse not truly taking the weight behind and moving the hindlegs under the body towards the point of gravity, at this point. Judge Lilo Fore today gave the test a winning 75.147% mark, with 6 and 7 for the two piaffes. A big bobble in the one tempi changes brought the score down. Definitely a pair to watch for the future.
And talking about the national arena at Global. Boy, if you like to get grilled alive, that's the place to be ! No tents, no covers, nothing. If you want to see national level American dressage be prepared to get burnt alive while doing so.
Photos © Eurodressage - No Reproduction ALLOWED - If you are interested in photos for social media use, send us an email. 
Related Link
Scores: 2023 Palm Beach Dressage Derby
Barbançon and Buffini Best the Field in Double Grand Prix at 2023 Palm Beach Derby