Germany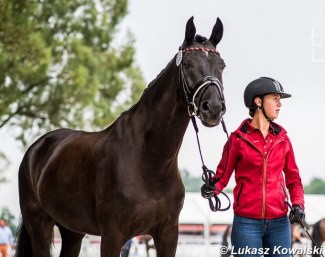 The German Young Riders team has been having a very rocky road going to the 2020 European Young Riders Championships, which begin today Monday 17 August 2020 in Pilisjazfalu, Hungary. 
Three Horses not Fit
Right before departure to Hungary, no less than three team horses turned unsound. Both Selina Söider's Rendezvous (by Riccione) and Jana Schrödter's Frau Holle (by Furstenball) were announced as not fit to compete. 
Of the two appointed team reserves, only one was able to step in - Henriette Schmidt with Rocky's Sunshine. Second reserve, Linda Erbe and Fire Moon P, could not fill up the empty spot as her horse was not fit either. 
On 13 August, the German Equestrian Federation announced that the German Young Rider team would, therefore, only have three combinations: Luca Sophia Collin (Descolari), Lia Welschof (Linus K) and Henriette Schmidt (Rocky's Sunshine).
Positive Medication Test Frau Holle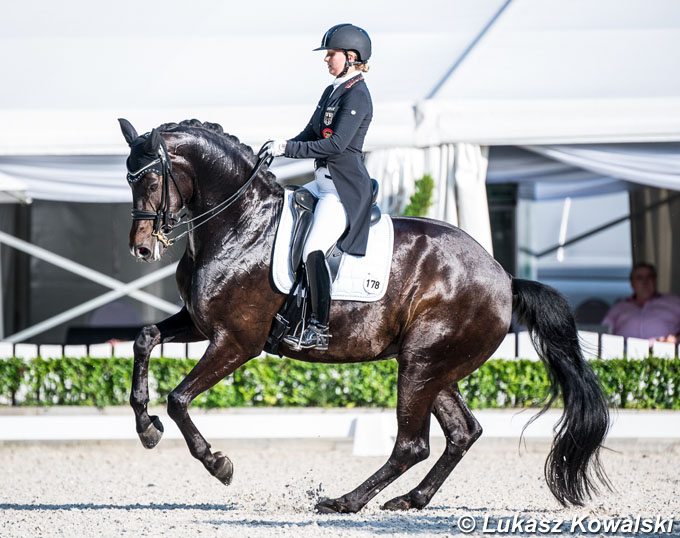 Schrödter's withdrawal is interesting as her mare Frau Holle tested positive during a medication test before departure. The German Federation did not want to risk taking her.
Schrödter also competed her second ride Der Erbe (her 2019 European Junior Rider Champion) at the team selection trial in Warendorf in July. They were 7th in the team test (71.79%) and ranked two places above reserve Henriette Schmidt. 
"In Warendorf Der Erbe had a little injury after the first test, so we decided to concentrate on Frau Holle," Jana told Eurodressage. After Warendorf, "I was nominated with both horses."
After Frau Holle's positive medication test, the German federation decided not to take Der Erbe as Jana's reserve horse either.
On her instagram account, Schmidt stated the following:
"Because of a treatment mistake before (the Europeans) the pre-(blood) test of Frau Holle was not in our favour," said Schrödter. "It's not easy to accept this, Frau Holle and I were in top form. Many know that I have only been riding Frau Holle for two months and already achieved much with her, because we just matched from the start. It was an incredible success, first of all to be again nominated with Der Erbe, but also with the 8-year old Frau Holle. Now it has turned out that I can not compete in Pilisjaszfalu with either hors. Nobody expected that and it makes me very, very sad. We can now wail over that and ask how and why the mistake happened, nothing will change the matter. And that is why I look forward and preparing myself for the next nice show."
Lia Welschof's Linus K Out
At the brink of the 2020 European Young Riders Championships, yet another change has been made to the German team.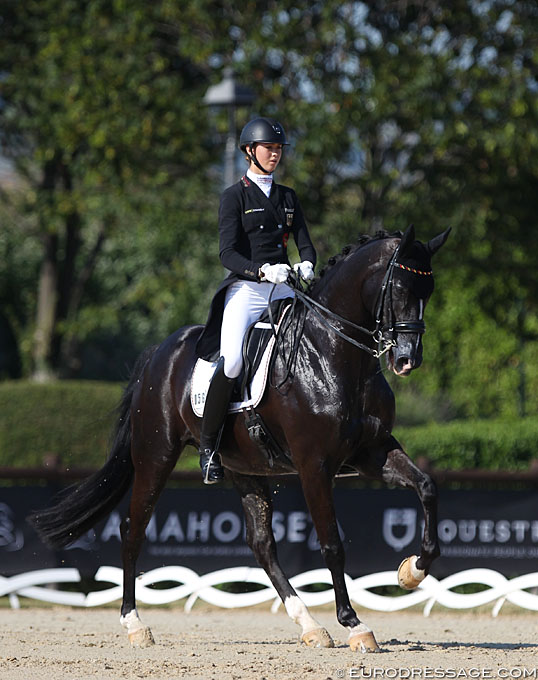 Lia Welschof did not bring her number one ride, Linus K, a 13-year old Hanoverian gelding by Locksley II x Prince Thatch xx, to Hungary. Instead Lia has trailered her second horse to Budapest: First Class, a 9-year old Brandenburger gelding by Furst Romancier x Wind Dancer. 
Aboard Linus K, Lia won team gold and individual test bronze at the 2019 European Young Riders Championships in San Giavonni in Marignano and team and individual gold at the 2017 European Junior Riders Championships in Roosendaal. 
The German Equestrian Federation never officially announced that First Class was nominated as her reserve ride. However, three weeks ago Welschof stated on her Instagram account that "both are nominated for the Europeans Championships in Hungary next month."
 The starters' list for the Team Championship test revealed that Welschof had brought this horse to the Championships. Welschof and First Class were fourth at the German YR team selection trials in Warendorf in July. 
Photos © Lukasz Kowalski - Astrid Appels
Related Links
Söder and Schrödter Withdrawn from German Young Riders Team, Only Schmidt Steps In
German Children, Juniors and Young Riders for 2020 European Youth Championships Named
Eurodressage Coverage of the 2020 European Youth Championships