Norway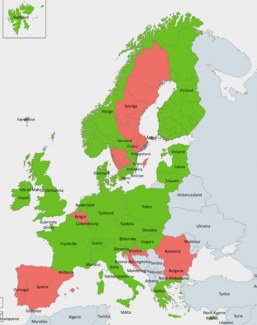 The Norwegian Equestrian Federation has decided not to send any riders to the 2020 European Youth Championships in Pilisjaszfalu near Budapest, Hungary on 9 - 30 August 2020. 
Norway is the second Scandinavian country of four to decide to keep their riders home due to the corona pandemic. 
The Norwegian Equestrian Federation made a statement on 10 July, explaining that it follows the governmental advice for travel:
"The Norwegian Equestrian Federation follows its travel advice. Hungary is now on the list of countries not recommended to travel to (red country). Even if the country were to change status (green), the government emphasizes that it is not an invitation to travel. They refer here to the fact that Covid-19 is still growing globally, and thus a risk of importing infection and further spread of infection in Norway."
The Contrarily with the Norwegian government's assessment, Hungary is marked green by the majority of European nations. At this moment (2 August), Norway has marked Hungary with green status for travel.
Norwegian riders can instead focus on the 2020 National Dressage Championships to be held at the Sørlandsparken riding club in Kristiansand on 22 - 23 August 2020.
Related Links
Eurodressage Coverage of the 2020 European Youth Championships
Sweden Will Not Send Riders to 2020 European Youth Championships