Sweden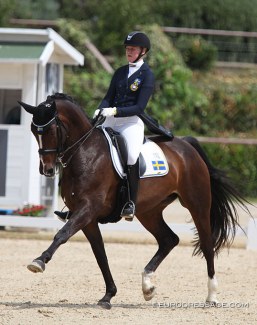 The Swedish Equestrian Federation announced yesterday that it will not be sending riders to the 2020 European Youth Championships in Budapest (9 - 30 August 2020).
"The decision was taken by the Board on July 8. In the decision basis, submissions from national doctors, national team leaders and transportation companies have been crucial," was stated in a SrF press release. "The ever-changing situation in Europe means that we cannot take responsibility for exposing our riders, their teams and our leaders to possible contamination or urging them to travel that cannot be done in a satisfactory safe way."
Sweden and Corona
Sweden has made headlines in global news for their liberal stance towards COVID-19 containment, imposing no strict lockdown but instead asking civilians to self-isolate relying on the sensibility of its people. Restaurants, bars and businesses remained open and life carried on largely unhindered.
Five months into the pandemic the results for Sweden are grim. A high death toll (5420 according to WHO) and nearly equal economic damage compared to countries that had a lockdown. Per million people, Sweden has suffered 40 percent more deaths than the United States, 12 times more than Norway, seven times more than Finland and six times more than Denmark. Sweden's central bank expects its economy to contract by 4.5 percent this year, a revision from a previously expected gain of 1.3 percent. The unemployment rate jumped to 9 percent in May from 7.1 percent in March. This economic damage is similar to Denmark, which went into lockdown. 
The New York Times summarized it in short, "Sweden suffered a vastly higher death rate while failing to collect on the expected economic gains."
No Riders to Budapest
Sweden is now the first country to forbid its riders from participating in the 2020 European Youth Championships in Hungary. 
"The situation in Europe is very uncertain because of the corona pandemic," the federation stated. "The way of infection is changing and health care, like here, is strained. We do not know if the routes that the trip to Hungary will be available, if borders are open or closed, if quarantine is required for people and horses."
Remarkably though, the FEI has sanctioned the European Youth Championships in Hungary with a strict mitigation plan and safety measures in place. 
Furthermore the Swedish Ministry of Foreign Affairs allows travel to Hungary and borders are open between those countries. Nonetheless the Swedish Equestrian Federation considers it unsafe.
"In the absence of information of the way of infection and, above all, how the trip can be carried out, the Swedish Equestrian Association cannot take responsibility for sending people to the championship in Hungary," it stated.
Related Links
Denmark to Send Teams to 2020 European Youth Championships
Budapest Gets 2020 European Championships for Ponies, Juniors and Young Riders
Swedish Teams Selected for 2019 European Youth Riders Championships
Eurodressage Coverage of the 2020 European Youth Championships