2020 CDI Hagen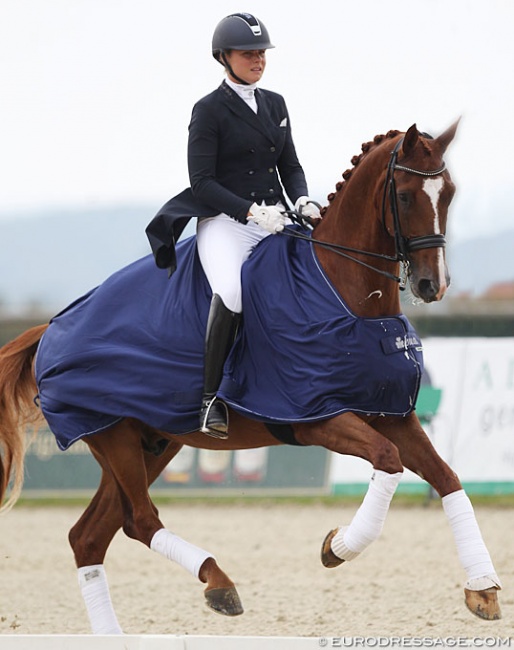 Dutch duo Mara de Vries and Habibi DVB swept the small tour classes at the 2020 CDI Hagen on 16 - 19 July 202, the first international dressage competition hosted in Germany post corona. 
Hof Kasselmann opened its doors for a multi-level CDI with classes for young horses, junior and young riders, the German team selection trial for Under 25 riders, a small tour and the first big outdoor Grand Prix tour of the year!
Small Tour Action in Hagen
At small tour level Mara de Vries wielded the axe of power aboard the 8-year old KWPN gelding Habibi DVB (by Don Schufro x Johnson). In the opening class of the show, the Prix St Georges, on Thursday morning 16 July, De Vries steered the tall and mighty gelding to the winning score. Judges Knut Danzberg, Ulrike Nivelle and Malgorzata Pawlowska were not unanimous though with 70.735% as low score and 74.118% as high score, but it produced a winning total of 72.647%. 
German Under 25 rider Ann-Kathrin Lindner made her CDI debut on the 8-year old Wurttemberger bred FBW Lord of Dance (by Lingh x Jazz Time) and placed second with 72.108%, although her marks went from 69.559% to 74.559%. David Taylor and Max Matti's 12-year old Hanoverian Don Henry (by Don Henrico x Fisherman's Friend) were third with 71.324%.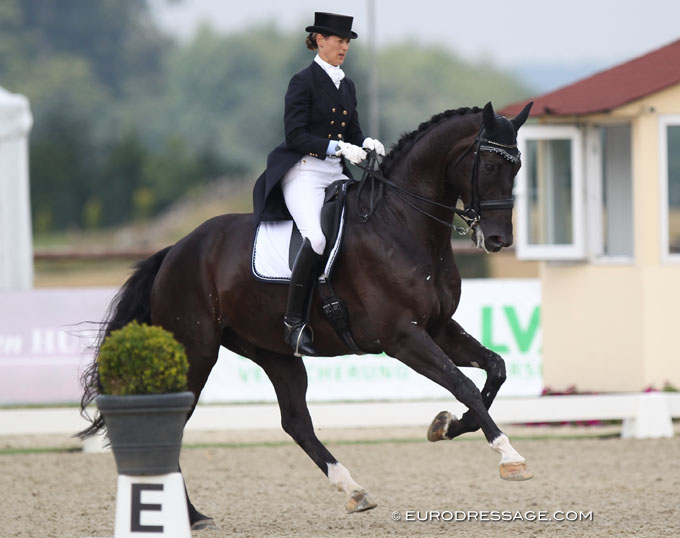 On Saturday morning 18 July, the Intermediaire I was scheduled and De Vries ruled in that class too, this time having all three judges on the same wavelength. Raphael Saleh, Knut Danzberg and Hans-Christian Matthiesen agreed on the ride and rewarded the pair with 74.853%. 
Dutch Petra van Esch and her own 10-year old NRPS bred Fifty Fifty (by Florencio x Climax) were the runners-up with 71.668%, while Danish Lone Bang Larsen and her own 10-year old Hanoverian Trhanegaardens Rostov (by Romanov x Diamond) were third with 70.931%. 
De Vries and Habibi, One to Watch
Mara de Vries and Habibi DVB have been a long-time pair. Bred by her trainer Coby van Baalen, the chestnut Habibi has been named after one of Van Baalen's key horses in the barn, Habibi (by Ulft x Onyx), which was an international junior/young riders' horse for Marlies van Baalen as well as Belgian Delphine Meiresonne (1997 - 2003). 
"Habibi is born and raised at Dressage Stable van Baalen and I co-own him with them," Mara de Vries explained. "That makes it extra fun. We enjoy him as a team."
In 2017 De Vries and Habibi began competing in the 5-year old classes and for three years in a row they were selected on the Dutch team for the World Young Horse Championships in Ermelo. In 2017 as a 5-year old he was 20th in the first round but withdrew from the consolation finals. In 2018 he was 6th in the 6-year old consolation finals and in 2019 they were 11th in the Finals for 7-year olds.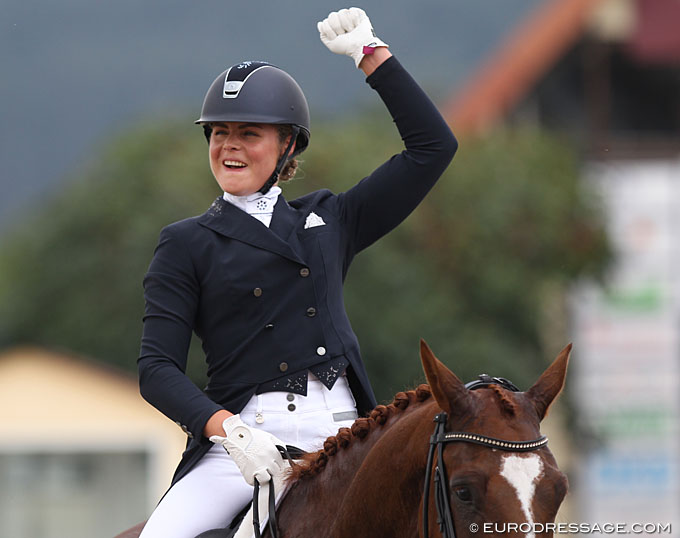 The 2020 CDI Hagen was their first international since the World Championships in the summer of 2019 and the combination proved that they handled the transition to full small tour level well. 
"Hagen was Habibi's first international show since the World Championships. He's 8 now and feels more confirmed at small tour level," De Vries told Eurodressage. "Both in the PSG and Inter I he felt very good but in the Inter I he was great. The score fit the feeling I had in the ring."
The 8-year old is already schooling the Grand Prix work and will make the transition to medium tour later this year. 
"I'll probably take him to Inter II after the Dutch Championships," said Mara. "I'm in the luxury position that I get daily coaching by Coby and Marlies, who like noone else know how to expertly train a horse to Grand Prix. I cherish this as it not only involves the development of my horse, but also of me as a rider."
The De Vries' family owns a restaurant "Brasserie De Buurman," which is largely run by Mara's brother and his girlfriend. Mara is co-owner of the venture. However, her full-time professional attention goes to riding. 
"I don't work there on a daily basis, but help where needed," said Mara. "This is how I can focus myself fully on equestrian sport."
Text and Photos © Astrid Appels - NO REPRODUCTION ALLOWED - NO SOCIAL MEDIA !!
Interested in Hagen photos for your social media or prints, send us an email FIRST with your name and we'll get in touch about reproduction possibilities.
We sell our photos to keep Eurodressage up and running. Please respect our copyright.
Related Links
Scores: 2020 CDI Hagen
German Under 25 Team Selected for 2020 European Youth Championships
Hof Kasselmann Hosts First "Hybrid" Auction of Young and Upper Level Trained Dressage Horses