Eurodressage F.O.C.U.S.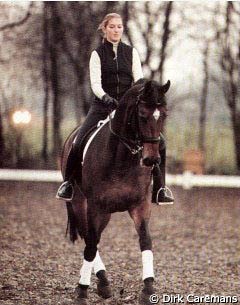 Dutch Junior Rider Marlies van Baalen has lately been in the centre of the media attention. Her mother, Coby van Baalen, made a serious break-through this year with stallion Olympic Ferro in the Dutch and international dressage circuit. Marlies, who has been riding since she was five, is following her mother's footsteps.
Living in Brakel, Holland, her father runs a milk cow farm with approximately hundred cows, and her mother is running a dressage stable of twenty five horses. The only brother is not interested in horses and likes playing soccer. At age five, Marlies got her first pony, Anjonette, with whom she became KNF champion after a difficult period of getting "acquainted" to each other. Her next pony was the approved Welsh stallion Dancer (by Dandy). She got selected for two European Championships with this pony. In 1994 Dancer was purchased by an English Pony rider and Marlies was transferred to horses. Starting with Aruto, but quickly riding Arthur, Marlies was again competing at the European Championship in 1995, but this time in the junior riders division. Only one year later Marlies won the silver team medal at the European Championship with her aunt's horse Finesse.
You start to wonder, how can she become so successful? Born in a family of equestrians, aunty Marjan Dorresteyn is a well known competitor in the national dressage circuit of Holland, mother Coby is known for her great ability to ride stallions and a large group of quality horses is constantly presented at the Van Baalen farm. There wasn't any lack of great potential for Marlies. Instructed by mom van Baalen and German Chef d' Equipe Johan Hinneman Marlies got easily lanced among the European top dressage riders. 
Marjan Dorresteyn gave Habibi to her niece. This gorgeous KWPN gelding by Ulft (sire 
of Ferro) excels in his three basic gaits. At the 1997 European Championships in Belgium Marlies had a hard time as Habibi got injured in his stable and colicked soon afterwards. Because of the doping laws it was very difficult to treat him because Habibi shouldn't get caught for drug abuse. Eventually Marlies rode the individual test at the Championships but not was able to perform at her normal level.
Time for revenge, you would say. Of course! Marlies van Baalen is not a quitter and with her professional guidance she was able to refine her riding skills and to bring Habibi to an even higher level of training. Winning almost every selection show for the upcoming E.C.s Marlies showed that she was ready for a battle. In Hickstead she immediately settled herself on a second place in the preliminary test. Presenting herself as a very powerful and intelligent rider she was able to increase the quality of her tests. Even though she had a strong German rider on her heels Marlies remained focused and finally became European Junior Rider Champion of 1998.
In 1999 Marlies is planning on riding the Young Riders' tests. She is not sure whether she will take Habibi with her in the show circuit as he is not ready for that level, where canter pirouettes and tempi changes are required. Inspekteur, an approved KWPN stallion, is ready and it's very probable that we will see her with this dark bay at the 1999 European Championships.
BCM's Hoefslag featured an interview with Marlies van Baalen and show jumping rider Emile Tacken in 7th January 1999 issue. Dirk Caremans provided the pictures for the interview
Pictures copyrighted - Dirk Caremans