German Riding Pony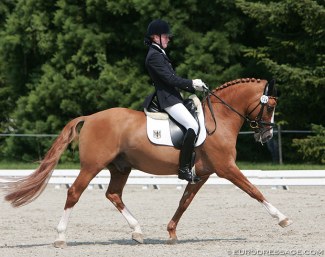 The legendary dressage pony and breeding stallion Dornik B has passed away on 17 July 2020 at his home, Gestut Bönninger in Tönisvorst, Germany. He was 29 years old. 
Dornik B is the most successful ponies in the world, in dressage sport and breeding.
Quadruple Bundeschampion
Dornik B was born in 1991 and was by Derano Gold out of  Dubary (by Derbino x Valentino).
He was bred by Hans-Georg Stassen at Gestut Bönninger and has always been owned by them, although the sport rights to the pony were leased to a plethora of riders for ten thousands of euros.
Dornik B became the first pony to win the Bundeschampionate four years in a row from 1994 till 1997.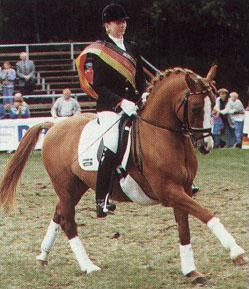 He made his show debut as a 3-year old 1994 and was first competed by Inga Groll, followed by Sabine Schut-Kery and Gertrut Björling. The latter rider took Dornik B to his first Bundeschampion's title. 
In 1995 adult Stefanie Meyer-Biss climbed into the saddle and alternated rides with pony rider Jana Kun. Meyer-Biss captured the second Bundeschampion's title that year. 
As of 1996 Jana Kun rode Dornik B more regularly and she won the Bundeschampionate. In 1997 Meyer-Biss and Kun continued to swap rides but Kun won in Warendorf that year in the 6-year old pony class. 
As of 1997 Meyer-Biss and Alice Fengels began exchanging rides on the stallion, although in 1999 it was Meyer-Biss who trained him to Prix St Georges level and competed him at local shows in the area.
Quadruple European Pony Champion
In the autumn of 1999 Marion Engelen (now Marion Op 't Hipt) took over the ride and this partnership was another major success story. The pair won individual gold at the 2000 and 2001 European Pony Championships. 
"Dornik was not only special because of his success, his movements or his inheritance qualities, for me he had a perfect character," Marion told Eurodressage. "Dornik was a popular stallion but when I spend time with him he was such a lovely children's pony. We only had two year together but until today I have the best memory of this time. For me an unforgettable moment was the first training day on our first European Championships in Hagen. He was really fascinated by the British mares and ran the whole training time more or less uncontrollably in the main arena. Everyone probably were wondering what we were doing there. It was really embarrassing, but on the next day he was his 'old' self again and we were able to show a really great test."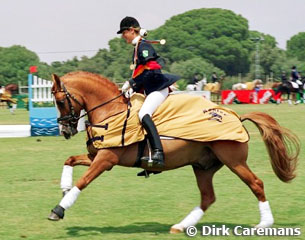 In 2002 there was team gold and individual bronze for Stephanie Jansen. In 2003 Dornik was not selected for the Europeans, but Jansen ended up riding his son Dornik Double.
In 2004 it was Anna von Negri's turn to ride the stallion and 
From 2005 till 2007 Dornik was leased to Louisa Luttgen. At the 2005 Europeans there was team gold and they were sixth individually. In 2006 there was team gold and individual silver and in their last year together in 2007 they finally struck double gold and the individual title at the 2007 European Pony Championships.
"Dornik had such a special character, as a friend and as a sports partner," Lüttgen told Eurodressage. "He was super cool and well behaved, even if he was a breeding stallion. 
In the arena he gave you a super good feeling but you had to have him on your side, otherwise he could be very, very lazy. In our last season together, I had the luck to bring him to my own stable. I could do everything exactly as I thought it was the best for him and then he gave everything for me. He always will be a very very special horse for me and I'm so thankful to had the opportunity to learn so much from him together with his all-time trainer Stefanie Meyer-Biss." 
In the autumn of 2007 he was leased to Katharina Weychert who won team gold and individual silver at the 2008 European Pony Championships in Avenches, Switzerland. 
"He was a very special pony that taught me so much about dressage riding," Weychert told Eurodressage. "Even more so he was a friend and family member to me. In the stable he was very friendly, a real children's pony, always calm and cuddly. He really really loved snacks, carrots or apples and would have followed me around all day at the stable to get a snack, like a little dog. In the ring he was a very good teacher. I've learned so much from him! That made him so special, this mix of being a teacher in the arena and a cute, cuddly pony in the stable. I am so happy, that I've met him and that I had the opportunity to ride him."
Breeding Stallion
After his retirement from international sport, Dornik B returned to Gestut Bönninger where he continued to stand at stud. He was licensed at the 1993 Rhinelander pony stallion licensing and achieved his HLP scores through sport.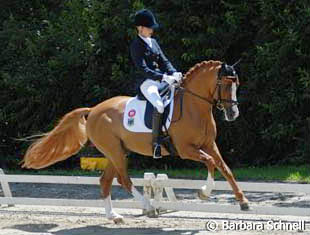 In 2011, Dornik made a come back to the arena at age 20 (!) as a professor for the breeder's granddaughter Esther Stassen. The pair competed at some local shows until August 2013. The German equestrian federation has recorded no less than 255 competition starts for this pony, not including all international rides!
Dornik B's legacy is limitless. He became the most important sport pony producer, outshining his peer Dressmann.
Dornik B produced 39 licensed sons and 44 state premium daughters. Amongst his offspring in sport are team and individual medal winning ponies as well as international FEI dressage ponies Danilo, Deinhard B, Dornik's Donovan, Danny Gold, Dein Freund, Derano B, Dornik Double, Dulcia, Melli's Dornik, and many many more.
"We gratitude the team said goodbye to our extraordinary producer, beloved and most successful dressage pony of all times, which opened doors to so many sport careers," said Stassen upon the passing on the stallion. 
Photos © Astrid Appels - Dirk Caremans - Barbara Schnell - Mirka Nilkens
Related Links
Eurodressage Photo Database: Dornik B
Dulcia and Dornik Drop to Sixth and Seventh Place at 2008 European Pony Championships
Dornik B Leased to Katharina Weychert
Louisa Luttgen and Team Germany Win the 2007 European Pony Championships
Katharina Winkelhues and Dressman, 2002 European Pony Champions
Photo Report: On the Scene at the 2001 European Pony Championships
German Pony Dames Rock the House in Mother and Country Land at 2000 European Pony Championships