2000 European Pony Championships
For the eleventh time Germany secured the gold team medal in dressage at the European Pony Championships. Even more shocking was the way in which Germany captured all three individual medals and place four at the 2000 European Pony Championships in Hagen, Germany, from 25th to 29th July 2000.
That Germany would win gold was no surprise, but that Great Britain is coming up with a stronger team each year raised concern in the German camp, which seems to have a life-time subscription to gold. German Chef d'Equipe Cornelia Endres considers Great Britain the strongest competitors at this years pony derby, and she was right. The English team won silver and Denmark grabbed bronze as leading rider Lisbeth Pedersen scored above 70% with her Cha Cha.
Top scorer for Britain was Maria Eilberg with the Westfalian pony Manitu M. The bay gelding already built up a career in Germany by becoming reserve champion under Wiebke Stommel at the 1997 German Young Horse Championships. Sally Makin on Nurejew and Victoria Molloy on Victoria backed up Eilberg by scoring above 67%. Drop-out score for Britain came from Laura Bechtolsheimer who is leasing Golden Dancer, the 1996 European Dressage Pony Champion (under Jana Kun) and the 1999 golden team member (under Marie Jaeger).
"This is a perfect example that a top class pony can not excel without a quality rider who rides with feeling. I have the impression that Golden Dancer has lost his fun in work. Pony stallions have a special personality and they have to be treated on an individual basis," Conny Endres explained.
Marion Engelen and Dornik B Stand Out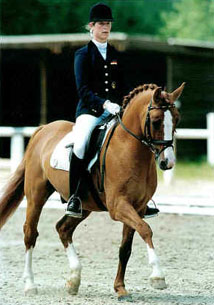 True riding potential was present amongst the German pony team dames. In the lead was Marion Engelen on Dornik B who won both the preliminary and team championship test. The approved breeding stallion has such spectacular movements that no judge can miss.
Eva-Maria Sprehe came in second twice on the experienced euro championship pony Cash and Go. Third place went to the Aachen citizen Christine Thomas on the 7-year-old Diddi Keeps Cool NRW.
Title defender Kira Kroncke settled for a fourth place after two test. In the preliminary Kroncke had to ride on a tough footing which became deep and heavy after a severe rain storm during the first competition day.
The final results were a complete spin-off of the first two tests. Individual gold was for the beautiful Dornik B who was professionally ridden by Marion Engelen from Kerken, Germany. The combination Eva-Maria Sprehe/Cash and Go, trained by Nicole Uphoff, received silver. "Eva-Maria is a very good rider who will definitely make the difficult change to the junior riders division next year," trainer Uphoff said.
The bronze eventually went to Kira Kroncke on Conrad. The combination had a difficult start, but was able to switch gears and move up to a fourth spot in the team test. In the finals the bronze was theirs but there should have been more in store for the experienced pair. "Her test was too careful in order to score really high," Endres explained.
Danish Lisbeth Pedersen scored constantly on Cha Cha, a pony which has a whole string of euro championships entries on its achievements' list as a Swedish team pony. Christine Thomas dealt with a rather tired Diddi Keeps Cool in the individual test and had to give in two spots. An overall fifth place was a bit disappointing for this very strong and upcoming pair.
Isabelle Boost Breaking Through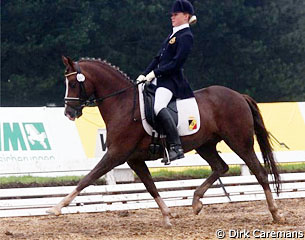 Surprisingly sixth was Isabelle Boost from Schoten, Belgium. The 16 year old, who is doing her first and last European Pony Championship, presented the liver chestnut Weser Ems pony gelding Chantre W. Her mount is a full brother to the 1999 Euro Champion Conrad who are both bred by Hilde Wassmann from Badbergen, Germany.
Boost's scores in the Belgian national show circuit were not constant. Nevertheless, she was able to point high if both rider and pony were in shape. At the end of the season the duo was one of the best Belgian pony combinations and a selection for the Belgian team, which ended up fifth in Hagen, was only natural. With a sixth place in the individual final at the 2000 Championships in Hagen, Boost seems to be ready to capture the Belgian national title as well.
Related Links
Scores 2000 European Pony Championships
No New Medal for Delphine Meiresonne at 1999 European Pony Championships
Delphine Meiresonne, 1998 European Pony Champion, A Story Too Good to be True
Photo Report of Belgian Pony Team at 1997 European Pony Championships