2002 European Pony Championships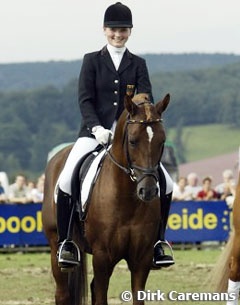 Winner of the individual gold medal at the 2002 European Pony Championships in Hagen, Germany, was Katharina Winkelhues aboard the German Reitpony Dressman by Domingo out of Nadin (by Niklas I).
In tight competition with team mates Annika Fiege and Stephanie Jansen, Winkelhues improved test after test at the Eurochampionships and was able to end in a climax in the kur to music individual finals. Scoring 1137 points, Winkelhues left Fiege with Konrad behind her. The latter pair settled for second position with 1121 points.
Living in Cologne, Germany, Katharina Winkelhues rode the FEI Dressage Pony test with Dressman the first year. The 14-year old licensed breeding stallion Dressman, who is currently German's most favored sire for dressage ponies, is however an experienced schoolmaster. His list of achievements is probably a true apex in pony history: four times German Young Horse Champion, five team gold medals at the European Pony Championships (with riders Astrid Buer, Desiree Schurf, Kira Kroncke and Katharina Winkelhues), four times winner of the Preis der Besten and multiple CDI Champion.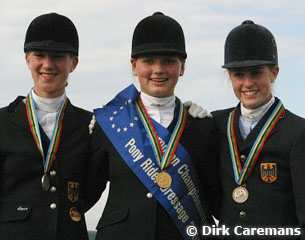 For three years now, the daughter of dressage trainer Wolfgang Winkelhues has been busy with the pony sport. Katharina Winkelhues already gained experience in the FEI Dressage pony tests aboard Victoria and Dressmann's offspring Dressman Son, also a licensed breeding stallion. Dressman Son was auctioned as a four-year old at the Munster Autumn Elite Auction in 1998. However, in order to really score, Winkelhues had to opt for a lease on the sire Dressman whose owner Theo Schurf offered her the ride two years ago.
An excellent, prosperous and winning choice, though very expensive, was made by the Winkelhues family. Daily Katharina and mother Winkelhues covered 200 kilometers to travel to train Dressman, Don Joshi and the five-year old Don Peppone at Schurf's facility in Bedburg.
Silver Medal for Annika Fiege and Konrad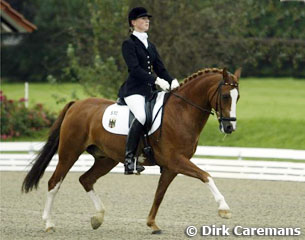 Already a member of the team gold medal winning 2001 German Dressage Pony Team, Annika Fiege and Konrad secured yet again team gold and individual silver at the 2002 European Pony Championships.
The German strategy for winning team and individual gold year after year is very simple. The country does not sell its best FEI Dressage ponies but offers them to a new, talented pony rider who will be trained by a professional instructor and managed by a very experienced pony chef d'equipe, Cornelia Endres. Furthermore, German riders/children start out with ponies before riding big warmbloods and make combinations fair to the rider's strength and physionomics.
Annika Fiege is a perfect example of the German system. Riding Konrad, the 1997 European Pony Champion (under Nikolas Kronke) and multiple team gold medal winner under Kira Kroncke, Fiege had a top scoring pony at her disposal. Located in Munster, Fiege rode Konrad for two years and gained maximum experience aboard the Weser Ems gelding, who is sired by Constantin. At the 2002 German Dressage Championships in Kreuth, Fiege ended her pony career (as she's 16-year old) with the silver medal.
Next year, Annika Fiege will spend six months in the United States with a school exchange programme. Konrad is owned by the Kroncke family. Both Nicholas and Kira Kroncke are now succesful German junior/young riders team members.
Bronze for Stephanie Jansen and Dornik B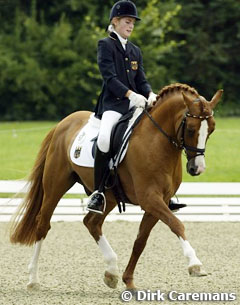 Another top notch German pony breeding stallion that has conquered a vital spot in the German pony team is Dornik B, a Rhinelander pony stallion by Derano Gold x Derbino. Already the 2001 European Pony Champion under Marion Engelen, Dornik B became the individual bronze medallist with Stephanie Jansen at the 2002 European Pony Championships in Hagen.
This year, Jansen competed both breeding stallions Dornik B and Golden Dancer, the 1996 European Pony Champion, but considered Dornik B to be a better match for her and the German team. Winning the preliminary test at the Euro championships, Jansen and Dornik B were steadily on their way for individual gold if team mates Winkelhues and Fiege had not equaled and overpowered her individual kur to music ride.
Dornik B is an absolutely divine pony stallion owned by Gestut Bönninger which is located in Tönisvorst, Germany. As a youngster, Dornik B was trained by Jana Kun, the 1996 European Pony Champion with Golden Dancer. Kun and Dornik B were an unbeatable pair in the German Young Horse circuit and came to win the Bundeschampionate winners four times in a row, a hardly equalled achievement in the Bundeschampionate history.
Living in Korschenbroich, Stephanie Jansen is now the official competition rider of the Bonninger stallions and will ride Dornik Double (by Dornik) in the German Young Horse Championships the first weekend of September 2002. With Dornik B, she just won the gold medal at the German Dressage Championships in Kreuth and the Preis der Besten competition in Warendorf at the beginning of the 2002 show season. Eurodressage prognosticated her as winner of the 2002 European pony championships but instead she won bronze.
Photos © Dirk Caremans - www.caremans.be
Related Link
Scores 2002 European Pony Championships
Archived Coverage