Great Britain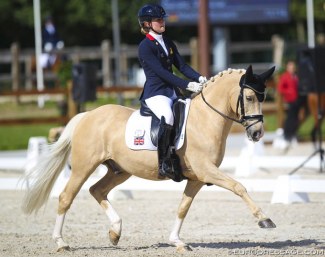 The following riders have been granted permission by British Dressage to compete and represent Great Britain as individuals at the 2020 European Youth Championships 2020, 9 – 30 August, in Budapest, Hungary.
All the riders have achieved results to satisfy the selectors/
This year Great Britain decided not to send any teams to the European Youth Championship after Hartpury (GBR) cancelled the European Junior/young Riders Championships on home turf due to COVID-19. British Dressage stated that it did not budget the funding to support teams and their staff at replacement Europeans on the continent. 
The follow British riders will fund their own championship trip.
Ponies
Annabella Pidgley (15) from Windsor, Berkshire with Sarah Pidgley's Cognac IX (palomino gelding, 12yrs, 14.1hh, s. FS Chambertin, ds. Waldemar, DRP)
Young Riders
Emily Bradshaw (21) from Wirral, Cheshire with Susan Bradshaw's Enjoy Amaris V (chestnut gelding, 16hh, 11yrs, s. Apache, ds. Clint Eastwood, KWPN)
Alicia Lee (21) from How Caple, Herefordshire with her own Bonita 466 (brown mare, 11yrs, 16.1hh, s. Benetton Dream, ds. Prince Thatch, HANN)
Under 25s
Lewis Carrier (23) from Downham Market, Norfolk with his own Diego V (dark bay gelding, 12yrs, 16.2hh, s. Spielberg, KWPN)
Ellie McCarthy (23) from New Milton, Hampshire with Bridget McCarthy's Sir Lancelot M (grey stallion, 15yrs, 16.3hh, s. Lordanos, ds. Ginsberg 4, OLDBG).
BD International Teams Director Judy Harvey commented; "We wish these five riders the best of luck at this year's European Championships in Hungary. The coronavirus pandemic has severely disrupted the season all over Europe and heavily impacted the sport financially, so we took the difficult decision not to field teams this year. We consulted with all our riders to give them the option of self-funding, provided they had current results to satisfy the selectors. Representing your country at championship level is the ultimate honour and it's great to see that – even in the most challenging of years – these young riders are able to pursue their international ambitions. We wish them every success as we follow their progress and cheer them on from home."
Photo © Astrid Appels
Related Link
Eurodressage Coverage of the 2020 European Youth Championships
Nations Gear up for Team Selection for 2020 European Youth Championships
2020 European Junior and Young Riders Championships in Hartpury Cancelled