FEI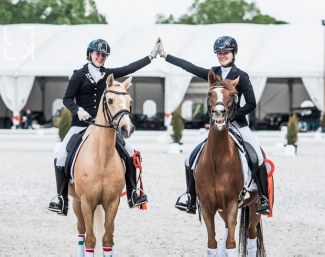 With the allocation of the 2020 European Pony, Junior and Young Riders Championships to Budapest, Hungary, this August, national federations have gone into warm speed to set up a last minute team selection system. 
On Thursday 11 June 2020 the news became official that Budapest has been given the hosting rights for the 2020 European Dressage Championships for Ponies, Juniors and Young Riders, alongside the already scheduled Euros for Children and Under 25 riders. 
Consolidating five divisions under one roof and making for a complete European Youth Championships, Stable Unikornis will be running the show over three weeks starting with Children and Juniors on 9 - 14 August, Young Riders and Under 25 on 17 - 22 August and Ponies on 25 - 30 August. 
Minimum Eligibility Requirement Waived
With less than two months to go for National Federations to select their teams, the FEI has waived the Minimum Eligibility Requirement and NFs can now have the flexibility to set up a quick selection process in this extraordinary year 2020 that has been upended by COVID-19. 
"The proposal to combine the Youth Championships was supported by the European Equestrian Federation, the Dressage Calendar Task Force and the Dressage Technical Committee. The FEI held a videoconference meeting with the Pilisjaszfalu Organising Committee and the Hungarian National Federation last week to finalise arrangements and the addition of the categories to the timetable," the FEI announced. 
It continued, "As a result of the pandemic and the lack of competition opportunities, the Dressage Committee has waived Minimum Eligibility Requirements for all Youth Championships this year."
Frank Kemperman, chair of the FEI Dressage Committee and Dressage Calendar Task Force, told Eurodressage that, "we asked the European Equestrian Federation what the countries' position was (for hosting a European Youth Championships) and the majority wanted to participate if it was technically possible. Technically, meaning concerning corona regulations."
Kemperman added that, "considering the current developments in Europe I have good hopes that it will work out. It is possible that some countries won't participate, but it is what it is. It is not ideal in regards to preparation, but at this moment you already see (practice) shows being held every where."
Frank concluded that, "for the youth riders it will be fantastic to be able to ride a European Championship after all. For many it's their last chance."
So How Will Team Qualifications be Held?
As soon as the news broke of a consolidated 2020 European Youth Championships, National Federations began communicating with its members, some NFs being more efficient and on target than others. 
The Netherlands: All Systems Go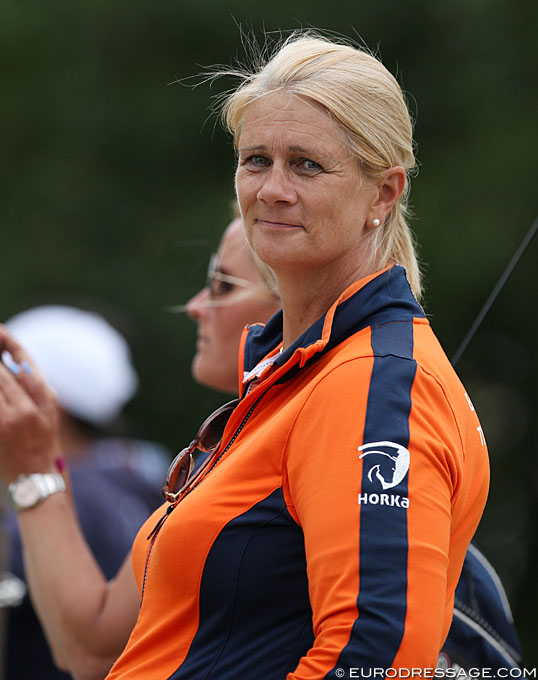 In The Netherlands, a team selection is already worked out. Dutch Junior/Young rider/U25 Team Trainer Monique Peutz told that their selection will not be based on a final CDI ride-off, but they will simply host two observation trials, to which all riders are invited. 
"We'll be hosting two observation trials and we're planning the dates now," Peutz told Eurodressage. "We want to give ALL riders the opportunity and if we do the selection via a CDI, we can't let everyone start (became of a restricted number of entries at a CDI). For the participants who still need the experience, they can go, but it won't count as an observation."
Peutz was realistic about the short time frame before the Championships in August. 
"We don't want to tire the horses too much all of a sudden by letting them compete at all shows. The period to the European Championships is too short," Peutz explained. "Our observations are open to ALL Dutch riders who want to participate and that won't be possible via an international show."
Denmark: No Riders, or Maybe We Will Send Some?!
Denmark was the first to announce it will not send any riders to Hungary. However their press release left the door open to a changed position
"The (Danish) Ministry of Foreign Affairs does not advise unnecessary trips to Hungary due to COVID-19, and therefore the Danish Equestrian Federation cannot send riders," said Morten Schram Rodtwitt, director of the Danish FN, but adding that "the decision will, of course, be reconsidered if the travel guidelines are changed."
Great Britain: Self Funded Individual Riders Might Be Able to Go.
Already when the rumours had started that a consolidated version of the European Youth Championships might be allocated to Budapest, British Dressage had sent out a message to its riders that it was not keen on sending any riders to Hungary. 
After the news became definite British Dressage confirmed that viewpoint and said it will not send teams, citing on the one hand lack of funding and on the other health and safety issues in corona times.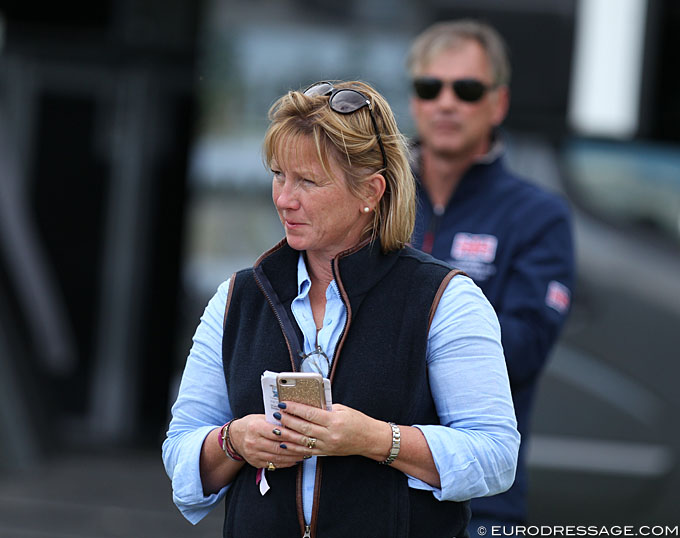 In a letter to the riders, British Dressage ceo Jason Brautigam communicated that "The BD Board of Directors discussed this in depth at their meeting earlier this week and agreed that British Dressage would not be able to send teams to compete at the European Championships this year, for all of the reasons stated in my communication last week.  In addition, with the significant and ongoing financial impact to our organisation and sport, it was deemed that it would not be an appropriate use of member resources at this difficult time, particularly when we had budgeted for a home championships this year."
Europe is opening up its Schengen borders as of 15 June, which includes the border with Hungary.
"The health and safety of our athletes and officials has to be our paramount consideration and, while the country remains in lockdown, travel is restricted and quarantine measures remain in place, we do not believe it would be responsible to send our Under 21 riders to compete internationally under these conditions.  Notwithstanding our ongoing concerns about minimising the risks associated with the virus, there will also be significant logistical issues in travelling across seven borders to Hungary in the current circumstances."
However, if individuals wanted to go on a self-funded trip, it might consider that.
"If individuals wish to represent Great Britain at their own risk, on a self-funded basis, then we will assist in whatever way we can, from managing entries to providing media support," said Brautigam. "We are currently reviewing the selection process and will confirm this in due course; however, only those riders who were qualified to ride in CDI competitions abroad, as per our 2020 criteria, would be eligible for selection.   Any individuals wishing to be considered for selection must declare their interest by return email and we can then ascertain whether there would be sufficient demand for places."
Germany
In Germany one would expect its well known efficiency to prevail as large parts of the country were not too affected by corona sanctions. While the southern parts of Germany went into full lockdown, the north of Germany had relaxed restrictions and travel with horses was allowed. 
Team training sessions at the DOKR center in Warendorf continued even in full corona crisis in May. On Friday 11 June, the Under 25 riders met in Warendorf for training sessions with Monica Theodorescu and Sebastian Heinze.
Surprisingly the riders are not yet informed what and how team selection for Germany will be well organized, although it is expected that the CDI Hagen will be a qualification trial.
Poland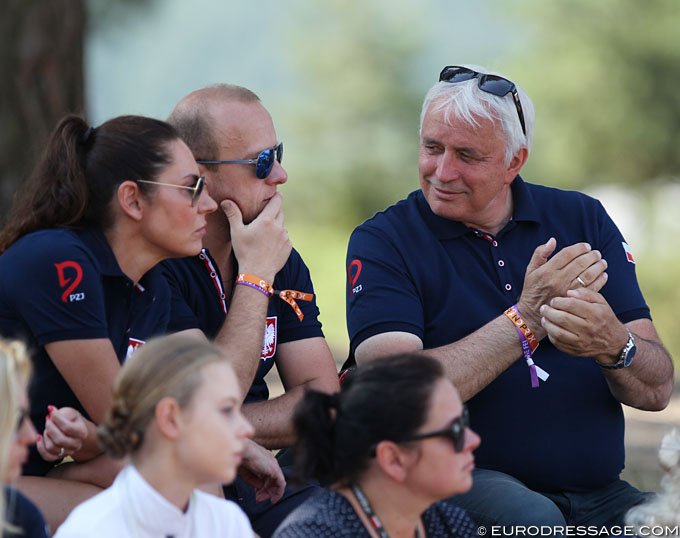 The Polish equestrian federation has a smaller group of riders to pick from and could therefore take quick decisions. It relies on the scores of 2019 to establish a core group of team riders, which can be expanded with other riders in the upcoming weeks, based on their results. 
Andrzej Sałacki serves as chef d'equipe and team trainer. 
The core groups include: Pony riders Tatiana Bierieżnow, Ewa Golubińska, Ann Van Den Broeck; children riders Taja Zoll and Dionizy Polikowski; junior riders Alicja Pachulska and Julia Rogowska; and Young Rider Anna Maria Wojtkowska
Belgium, Spain, Switzerland Need Another Week
In Belgium, France and Spain they need another week to get their ducks in a row. 
Belgium seeks to finalize a selection system next week/ "All our riders are, of course, super enthusiastic and delighted with the prospect of an unexpected European Championships," said Belgian youth team chef d'equipe Alain Rauw. "The news that the EC is happening is still very fresh. At all levels we are working intensively to come to a responsible preparation and selection. After a meeting with the Top Sport Cel at the beginning of next week, we'll be able to inform the riders of the selection process." Rumours have it that two selection trials will be held, one of which will be the CDI Grote Brogel, although this is yet to be confirmed by the NF.
In Spain technical dressage director Miguel Jorda and youth team trainer Jenny Eriksson have already exchanged their initial ideas for team selection. On Monday 15 June a NF board meeting will follow to finalize the actual planning and to set the criteria for selection.
Also in Switzerland the technical dressage committee still needs to finalize its selection process. "Mid next week we'll announce our decision concerning participation and selection," team trainer Heidi Bemelmans told Eurodressage. 
Photos © Lukasz Kowalski - Astrid Appels
Related Links
Denmark May Not Field Riders to the 2020 European Youth Championships
Budapest Gets 2020 European Championships for Ponies, Juniors and Young Riders