Germany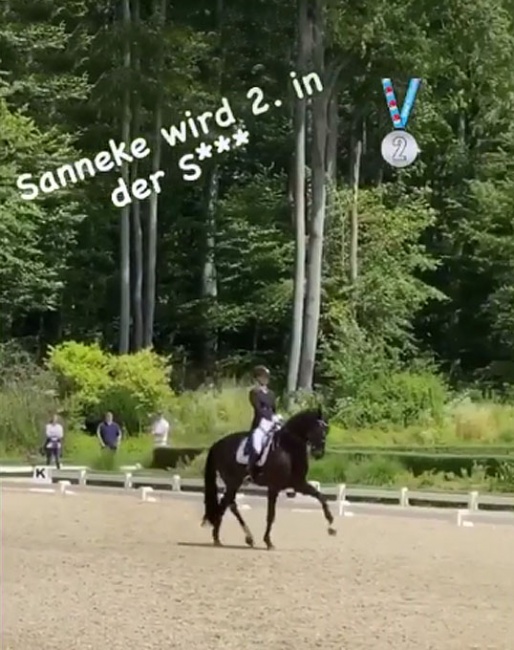 After a two year absence from the national competition arena and four years from the CDI circuit, Sanneke Rothenberger has put her tails back on and has returned to the show arena. 
At the regional show in Darmstadt-Kranichstein on Sunday 5 July 2020, the 27-year old Rothenberger competed the 10-year old Oldenburg gelding Sankt Anton (by San Amour x Rühmann) in the Intermediaire II class and finished second with 68.860%.
Highly Decorated
The eldest of the three riding Rothenberger kids, Sanneke led the way to the next generation in the Rothenberger family, winning German and European titles from pony level, through junior and young riders, up to Under 25 Grand Prix.
She started her international career on ponies. She won silver at the 2005 European Pony Championships in Pratoni del Vivaro (ITA) with Konrad. She was the 2008 European Junior Riders Champion on Paso Doble, silver at the 2010 European Young Riders Championships in Kronberg (GER) with Deveraux,  gold at the 2011 European Young Riders Championships in Broholm (DEN) with Deveraux, bronze at the 2012 European Young Riders Championships in Berne (SUI) with Wolke Sieben, and she became the first ever European Under 25 Champion with Deveraux in 2016 in Hagen (GER). 
Competition on the Back Burner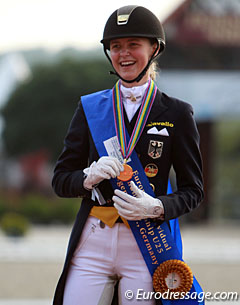 The path that Sanneke was expected to follow, straight onto the German A-squad with a good stock of horses to ride at home, was not followed. Her younger brother Sönke did that for her, while Sanneke decided to focus on a professional career outside horses.
In 2013 Sanneke declared as a senior and rode Grand Prix horses Favourit, Deveraux and Wolke Sieben. Her last international show was the CDI Frankfurt in December 2016 on Wolke Sieben at senior Grand Prix level. She completely disappeared from the international scene, but once in a while got spotted at horse shows as a fan and supporter for her younger siblings, Sönke and Semmieke. 
In 2017 the Rothenberger family and investor Ralf Uwe Westhoff acquired the KWPN gelding Foreign Affair (by Rock Forever x Scandic x Cocktail) from former Dutch team veterinarian Jan Greve as a Grand Prix hopeful for Sanneke.
The new duo showed once at a regional show in Neu Anspach in the Prix St Georges Special in July 2017, but after a year the horse was returned to horse dealer Patrik Kittel and resold to Russian Elena Starr. 
The End of Sanneke's Dressage Career?
After studying at the universities in Nijmeghen and Frankfurt, Sanneke Rothenberger fully commited to her professional career in the family's industrial and commercial real estate company, AAA FFM. Now an Associate in Real Estate Portfolio Management as well as a board member of AAA FFM, Sanneke is making her mark as a business professional.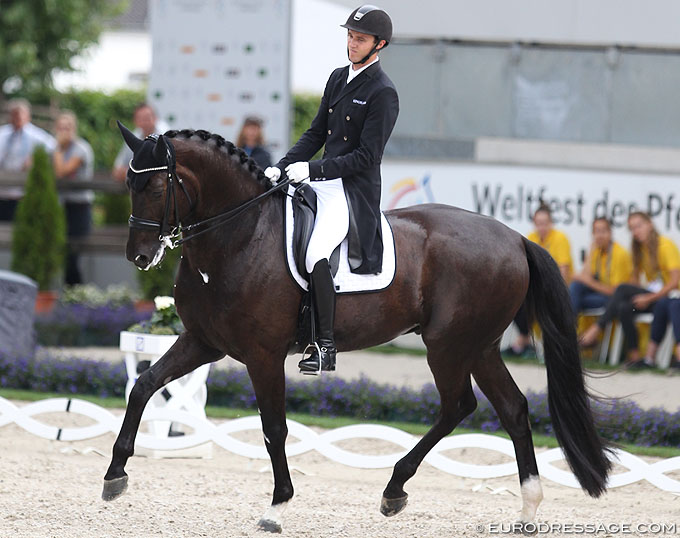 However, she never really quit riding at home. After Sönke showed Sankt Anton at Prix St Georges level in 2017, she took over the ride on the Oldenburg gelding. 
The combination rode in one S* class at an indoor dressage show in Ankum in October 2018, landing in the middle of the pack. They then disappeared from the show scene for almost two years. Sankt Anton sustained minor burn injuries in the terrible fire in February 2019 that wiped out the equestrian part of the Rothenberger's estate, Gestüt Erlenhof, in Bad Homberg. 
"Indeed it has been a while," Sanneke told Eurodressage. "Of course I kept training at home. For my job it's easier if I spontaneously decide which show I go to. Often competitions that suited Toni would coincide with selection events for Sönke and Semmieke and then there was the horrible fire. Both Toni and I suffered from that longer than we expected."
Very Nervous
Despite the hardship, Sanneke and Sankt Anton continued together and made a come back to the arena last weekend in Darmstadt to finish second in the Inter 2.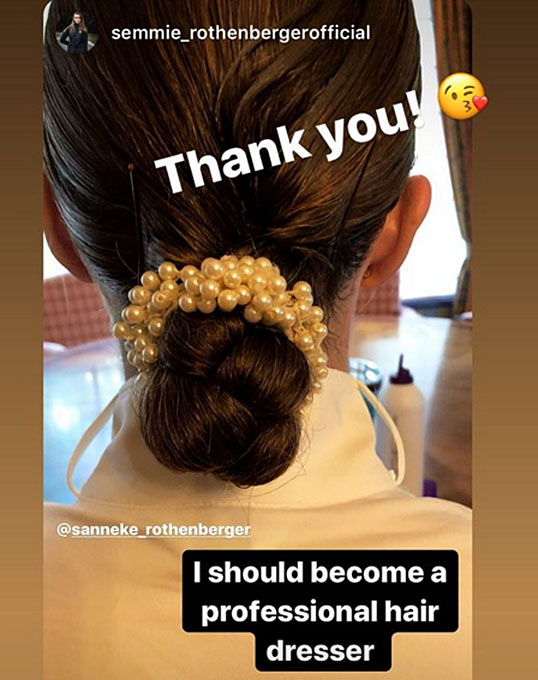 "He is such an incredible willing and honest horse with a golden character," Sanneke said about 'Toni'. "We have been training towards Grand Prix for a while and he's picking it up well. The only thing that still bothers him is his ambition. That is why I am absolutely in no haste to overwhelm him. Each morning I train together with my parents. Each morning his ears are pricked forwards and he's waiting for me to arrive. Because of the fire we went through together he's even more attached."
Sanneke has been coached her entire life by her parents Sven and Gonnelien, but also regularly gets training from Andreas Hausberger. Because of the good progress the duo has been making, her parents nudged her to go back into the arena.
"Now that Andreas is coming more regularly and Toni is making such good progress, it were my parents who nudged me to compete in Darmstadt," Sanneke confessed. "A few days before the show I got really nervous. Toni doesn't have that much show experience and a lot runs through your head then. I was very nervous, which I never used to be. But as soon I was in the saddle, I was just riding. He felt great in the test. Of course there were a few small things to improve, and I hope to work on those."
Sanneke added that she wants to ride more shows this year, but they need to be combinable with her work. 
Related Links
Eurodressage Photo Database: Sanneke Rothenberger
Sanneke Rothenberger's Deveraux OLD Passed Away
Westhoff and Rothenberger Acquire Foreign Affair
Sankt Anton Sold to Rothenberger
Sanneke Rothenberger Makes it a Triple at 2016 European Under 25 Championships
Sanneke Rothenberger Wins Individual Gold at 2016 European Under 25 Championships
Rothenberger Siblings Wield the Axe of Power at 2015 CDI Darmstadt
Sanneke Rothenberger and Favourit Fulful the Expectations in U25 Classes at Hagen
Sanneke Rothenberger Declared as Senior, Bye Bye Young Riders
Rothenberger Reigns in Individual Test at 2011 European Young Riders Championships