Germany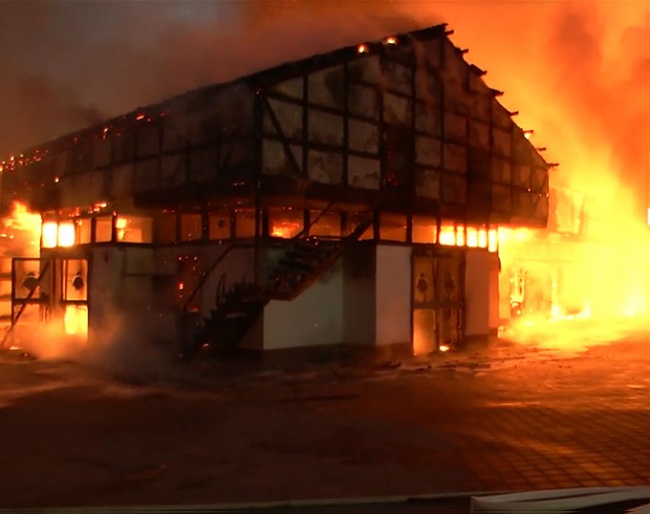 A devastating fire washed over the Rothenberger family's yard Gestut Erlenhof in Bad Homburg, Germany, on Thursday morning 28 February 2019.
The fire started at 6.15 AM in the morning and in a short period of time wiped out the entire indoor school, which collapsed, and spread to an adjacent building. 
The family became aware of the fire when a dog started barking. 
The local fire brigade came full force to the scene. The stable staff was in the process of rescuing the horses by opening the stalls. Two people got injured in the process, including Sanneke who inhaled smoke and was brought to the hospital.
For several horses all help came too late. The latest police report (Thurs 28 Feb 2019 - 15h23) stated that five horses have perished, three are injured and at the equine clinic for treatment. The horses that were released and that fled to the woods have been caught.  Sönke was able to bring Cosmo to safety.
Gestut Erlenhof is home to the dressage family of Sven, Gonnelien, Sönke, Semmieke and Sanneke Rothenber; all highly decorated international dressage riders of which three are Olympic medalists. 
Sven and Gonnelien Rothenberger and daughter Semmieke were not on the scene, but at the CDI Lier in Belgium, where Semmieke had won the Young Riders Team test on Wednesday aboard Dissertation. They immediately packed up their lorry and drove home on Thursday morning.
"It is clear that a large part of our life's work has been lost: our indoor school, our stable, several young horses and retired horses," the family stated. "Sönke could bring Cosmo to the stable of the Krause family and also save Goldi (Golden Girl), several other horses are injured. Sanneke sustained smoke poisoning and is in the hospital for observation, but she's doing fine considering the circumstances."
The cause of the fire is not yet known.
Related Links
Rothenberger to Start Stallion Station at Gestut Erlenhof
Scores: 2019 CDI Lier
Rothenberger and Cosmo's Show Come Back Confirmed for 2018 CDI Hagen