Denmark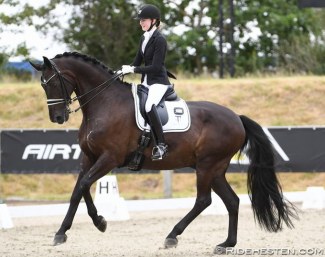 The Danish triple team junior/young riders horse Romio Hojris has been sold to Laura Gotteberg Jakobsen.
Romio Hojris is a 15-year old Danish warmblood by Romanov out of Donatell Hojris (by Don Schufro). He is bred by Betty Rasmussen.
FEI Start with Emilie Holm Toft
The black gelding made his show debut in 2011 in Denmark under Iben Dreyer, who competed him through 2014. 
The horse sold to Emilie Holm Toft as her young rider's horse and she briefly showed him in Denmark in 2015 at small tour level. Emilie once competed him at young riders level at a CDI in Odense in May 2015, before re-selling him to Danish junior Celine Rorbaek Silfen in the summer of 2015. 
Holm Toft took a long break from competition after Romio. She only returned to the national show ring three years later on Sarkozy (by Hofrat x Don Schufro). Holm Toft, who represented Denmark at the European Pony (HB Dreamgirl), Junior and Young Riders (Ramia Lox) Championships has not competed internationally since 2015.
Tripe Youth Team Horse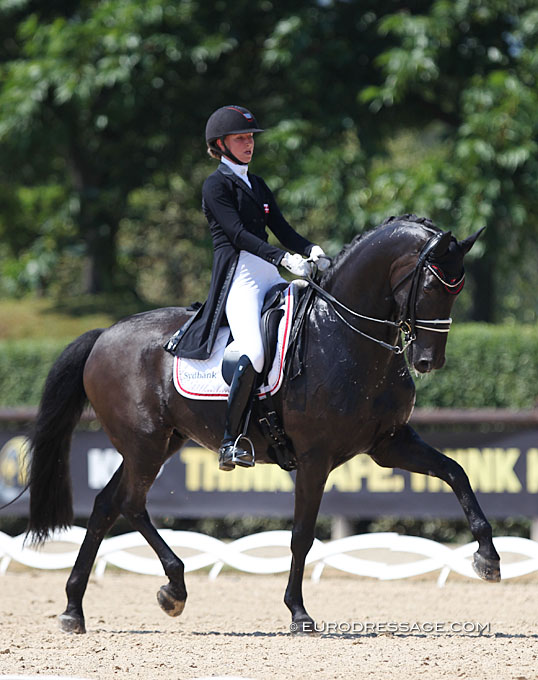 Rorbaek Silfen and Romio Hojris made their show debut at national level in October 2015 and their CDI debut at junior level in 2016 at the CDI Nieuw en St Joosland where they scored a triple victory. They represented Denmark at the 2016 European Junior Riders Championships in Oliva Nova, where they were 6th in the Kur to Music.
At the 2017 European Young Riders Championships in Roosendaal, they were 6th in the team test but withdrew from the rest of the competition. A month later he did one class at a national show, but then disappeared from the show scene for 13 months, to return nationally in October 2018.
In 2019 Rorbaek Silfen and Romio won the Danish Young Riders Championships and returned on the Danish team for the European Young Riders Championships in San Giovanni in Marignano, where they were 10th in the individual test and 7th in the Kur to Music after a difficult start in the team test with a 57th place. It was their last international together. 
Celine decided to sell Romio as he was not ready for the transition to Under 25 level and her professional life, managing the handbag company Silfen Studio with her brother was taking up more and more time. 
"We have been growing a lot the last two years," Silfen told Eurodressage. "I decided to focus a lot on Romio the last year as young rider, and then I wanted to focus on the company even though it made me take the hardest decision and sell him.  Silfen studio is another dream for me and I know I had to prioritise it now when we are growing so fast.  I was so lucky I had such a great last year with Romio, but U25 would take too much time and Romio did never ride this level so it would be too hard for him to learn."
Celine is not totally out of horses but currently coaching her sister.  "My sister brought a young horse 'Olympia D', and I will help to educate her which I think is soo exciting," she added. 
Schoolmaster for Gotteberg Jakobsen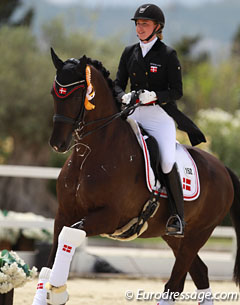 The hot but talented Romio Hojris sold to Danish Laura Gotteberg Jakobsen in December 2019. 
The new pair, which is trained by Lena Schaldemose, made its show debut in January 2020 and placed first and second with seventy percentage scores. They made their post-corona return to the arena last weekend at the CDN Hjallerup and posted 68.298% at M-level. 
"Romio arrived in my stable on 30 December 2019," Laura told Eurodressage, adding that she is aiming to secure a team spot for the 2020 European Youth Riders Championships in Budapest.
Photos © Astrid Appels - Ridehesten
Related Links
Eurodressage Photo Database: Romio Hojris
Celine Rorbaek Silfen Rocks her International Junior Debut at 2016 CDI Nieuw en St. Joosland
Germany Invincible in Team Competition at 2017 European Young Riders Championships
Yde Helgstrand and Rørbæk Silfen Win 2019 Danish Junior/Young Riders Championships
Germany Wins Expected Team Gold at 2016 European Junior Riders Championships