Hit & Run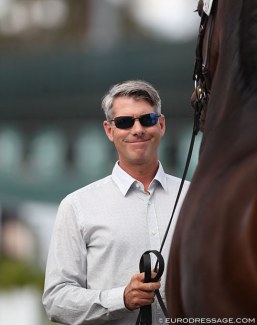 In corona times we are all ordered to stay at home, self quarantine, and do social distancing. With more time on your hands to spend online, Eurodressage launches a "Hit & Run" interview series so that you get to know the world's most famous dressage riders and personalities more closely. 
American Grand Prix rider Christopher Hickey is the double gold medal winner of the 2007 Pan American Games. He is USDF Gold Medalist,  a former co-chair of the USDF Instructor/Trainer Committee, and was head trainer at Hilltop Farm (2007 - 2014), taking Cabana Boy to three national titles in the young and developing PSG horse divisions. He rode one year for Betsy Juliano at Havensafe Farm (2014-2015) before going independent. He has trained numerous horses to Grand Prix level, his most recent being Ronaldo, which he sold to the Chile as an Olympic hopeful. 
Hit & Run - Christopher Hickey
What is your earliest memory? 
galloping around on my Shetland pony "Sugarfoot"
Which person alive do you admire the most and why?
anyone who stands up for "whats right" even if others don't like it
When were you the happiest?
2007 Pam Am Games 
What is your biggest fear?
Losing a loved one
What was your first thought today?
Oh, the 4 dogs are sprawled out on top of me... as usual.
What is your most annoying character trait?
Talking too much
Which trait do you dislike the most in other people?
Lying, manipulating, being mean to others
What is your dearest possession?
My memories: of places traveled, great horse shows around the world and what my past horses have taught me.  
If you look into the future, what do you see?
More wonderful horses!
What makes you unhappy?
Seeing people be unkind to others
What is the love of your life?
Richard, our dogs, my horses
What was the best choice you ever took in life?
Dropping out of college to be a working student for Lendon Gray.. 
What's your guilty pleasure?
Eating out and going to the movies... I miss that!.
What do you owe your parents?
To be honest and to not be afraid of hard work
Who can sit next to you at your dream dinner table?
Loved ones who have passed away . 
What was the worst job you ever did?
worked at a restaurant after getting my drivers license- the owner said I "needed to get my priorities straight" when I asked him for time off for a horse show- I said "you're right... I quit!"
What was your biggest disappointment in life?
Cabana Boy breaking his leg in turn out when he was 7.... I loved that horse!   
What would you change if you can go back into the past?
Nothing
Name one thing that would improve your quality of life?
More time in the day
What is your biggest achievement?
my owners being successful and happy riding/showing their horses after I've trained it.... It's easy to make a Grand Prix horse - it's hard to make one that's "nice to ride!"
What is the most important life lesson you have learnt?
Be Patient ! 
Where would you like to be right now? 
Where I am in life right now- riding wonderful quality horses and having nice students who try hard and listen well.
What's your favourite scent?
Blue de Chanel
Which character would you dress up in for Halloween?
Hum... maybe some Johnny Depp character 
To whom would you like to say sorry?
No one, I say sorry when I realize I was wrong.
What does love feel like for you?
Trust, being able to be relaxed in your own skin.
When are you most relaxed?
On the front porch having morning coffee with the dogs..... 
What super power would you like to have?
For sure being able to talk to animals, mostly my horses.. 
When did you last cry, and why?
Seeing Ronaldo's new owner ride him so well and scoring well in Florida 2020! Being so proud of him, we's a wonderful being!
When were you closest to death?
as a child my dad rolled his truck over, but we weren't hurt.
How do you want to be remembered?
As being: honest, kind, caring and developing good horses and riders.
Related Links
Regent, Chris Hickey's Pan Am Gold Medal Winning Ride, Passed Away
Chris Hickey's Ronaldo Sold to Chile
Chris Hickey Goes Indepedent, Resigns as Head Trainer of Havensafe Farm
Hilltop Farm and Chris Hickey Go Separate Ways
New Ride for Hilltop Farm's Head Trainer Chris Hickey
Hilltop Farm Buys Douglas as 2010 WEG Hopeful for Hickey
Hickey Wins Individual Gold at the 2007 Pan American Games
Chris Hickey 2007 U.S. Small Tour Champion, Steffen Peters Grand Prix Champion