Swedish Warmblood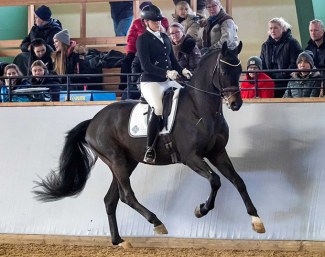 The 4-year old Oldenburg bred Fortnite was named champion of the 2020 Swedish Warmblood Stallion Performance Testing, which took place on 25 February - 1 March 2020 at a brand new venue, Grevagården.
From Flyinge to Grevagården
For the 2020 edition of the SWB performance test a new location was appointed. Traditionally the testing is held at the national equestrian center of Flyinge, but this year it took a different turn in moving four hours north to Grevagården in Skövde, making the testing more accessible to stallions from the northern parts of Sweden.
"The winds of change are blowing, thus resulting in a new venue for this year's stallion test; Grevagården," said Olle Kindberg of the Swedish Warmblood Society. "This creates a need for new ways to cater to the judges, handlers, riders and grooms. We have worked hard in collaboration with our regional association Ädla Hästen in Skaraborg to ensure the very best conditions for a fair test will be fulfilled for the stallions that are participating."
Many were skeptical and many were excited for this change of venue, wondering if enough stallions would be attending? The test would certainly draw a new audience that otherwise would not travel to Flyinge. A fun twist, as it also serves as an educational moment for anyone riding and showing but perhaps not so knowledgeable in breeding and stallion selection. The regional SWB association had worked hard to present their venue in the absolute best way and to make it as pleasant as possible for riders, judges, the public attending and, most of all, the attending stallions. The consensus is they did a fabulous job, and, despite typical Swedish cold weather and snow, everyone agreed it was a great event.
Tweaked Format
The SWB stallion test in its current format has essentially been the same since 2002, with a few tweaks here and there throughout the years. Just as other associations have undergone changes in their stallion selection program, Swedish Warmblood is also looking closely at perhaps implementing a new format in the years to come.
"Times have changed and today is a far cry from yesteryear when Sweden placed appointed stallions strategically in the different regions to today where a breeder can choose a stallion irrespective of geographical boundaries," Kindberg stated. "The information on performance and heritability is much better today. The availability is less restricted and a modernization that meet our present situation is both possible and plausible."
The 2020 SWB performance test welcomed stallions aged 3 to 5 as well as stallions with merits. 
Three-year-old stallions:
Complete a five-day test, with one day of rest, including veterinary inspection, conformation evaluation, free jumping and gaits under rider. The dressage stallions are shown twice in gaits, the jumping stallions only once. The jumping stallions are shown twice in free jumping instead where the dressage stallions likewise are shown only once.
Four - and five-year-old stallions:
Complete a slightly longer test divided into two phases. Phase I includes veterinary inspection, conformation evaluation, free jumping or jumping under rider, and gaits under rider. Jumping stallions must be shown under rider in the jumping test. Phase II has the stallions divided into dressage or jumping at stallion owner's choice. The dressage stallions are shown in gaits under own rider and under test riders. The jumping stallions are shown in jumping under own rider and under test riders. The free jump moment is optional for four- and five-year-old stallions dressage stallions who have received G2 (approval) as three-year olds.
Stallions with merits
Stallions with merits that meet the requirements to undergo a stallion evaluation according to the SWB Rules and Regulations but do not have the merits to be awarded a breeding license directly, are shown at a veterinary inspection and a conformation evaluation and otherwise perform according to what the stallion committee has decided they want to see. Stallions with merits will only be shown in its specific discipline. An index is then calculated for each stallion (dressage or jumping index). Three-year-old stallions must have an index of no less than nine for approval. An approved stallion will be awarded the breeding merit class G2 which entitles the stallion to breed for two years. Four- and five-year-old stallions must have an index of no less than 17 for approval. Approved stallion will be awarded the breeding merit class G and a lifelong approval for breeding.
Stallions automatically qualified
Stallions that are to be standing in Sweden and already meet the requirements for a breeding license. Mandatory events for these stallions are the veterinary inspection and conformation evaluation that need to be passed for the activation of a breeding license.
Lower Turnout, High Quality
The turnout at the 2020 relocated edition of the SWB performance test produced a smaller group of colts, but it was not lacking in quality.
Christina Olsson, head of the SWB inspection committee, stated that, "the stallion owners have done a really good job selecting the stallions at home that would have a chance at passing the eye of the needle," she said. Adding, "They need to be at the top of their game when they are here, and we feel most everyone have done a super job preparing them for the test."
The assessment committee included Christina Olsson (chair and conformation judge), Mikael Nolin (jumping), Bo Jenå (gaits), Emma Thorén-Hellsten (Breeding director) and Malena Behring. The dressage test riders were Theo Hanzon (NED) and Philip Hess (GER), while Hella Kuntz (GER) served as sport representative for dressage in the committee.
As the Swedish Warmblood is an open studbook, welcoming stallions from other breed associations within Europe, no fewer than 19 stallions from other associations were participating in the test; while only eight of them were Swedish warmblood registered. A total of 27 stallions in both dressage and show jumping participated.
Fortnite, 2020 SWB Test Champion
The stallion test champions are picked from the 4-year old group, and this year Lövsta Stuteri, home of Swedish Olympian Tinne Vilhelmson-Silfven, claimed highest honour in both disciplines. 
The dressage champion was the Oldenburg bred Fortnite (by For Romance I out of Donna Salina (by Don Schufro)). The black scored a 19.30 in the dressage index. His canter work had stellar hind-leg activity and the test riders gave him 8.00/9.00 for rideability.
The jumper champion was the AES registered Enelzkey SR (by Eldorado van de Zeshoek x Papillon Rouge) with a final index of 17.90 for jumping. This stallion is already Belgian warmblood approved.
The 5-year old Dutch warmblood stallion King Olymbrio L (by Geniaal out of Olymbria (by Ferro) is a half-brother of the successful Grand Prix and breeding stallion Don Olymbrio. He received the highest dressage index of all participating stallion, 20.50. He also got the only 10 for rideability that was awarded this year. Test rider Philip Hess was impressed. The Oldenburg Fürst Sinclair S (by For Romance out of La Bonita (by Lord Sinclair I) was awarded 9,5/9,5 by the two test riders.
Swedish breeder Per-Arne Persson presented two SWB registered dressage stallions and both were approved. They were prepared and shown by Yvonne Österholm, who is also the owner of one of them, Quercus. Both Quercus and Saint Louis come from the famous Spinda dam family from Flyinge – one of Sweden's oldest and most successful mare lines.
2020 SWB Approved Dressage Stallions
4-year old dressage stallions
Fortnite – (2016 OLD, by For Romance I – Donna Salina x Don Schufro) - breeder Paul Schockemöhle -  owner Lövsta Stuteri
Saint Louis (2016 SWB, by Blue Hors St. Schufro - Denice x Blue Hors Zack) - breeder/owner Per-Arne Persson
5-year-old dressage stallions
Quercus (2015 SWB, by Quaterback - Delight x Don Schufro) - breeder Per-Arne Persson - owner Yvonne Österholm
King Olymbrio L (2015 KWPN, by Geniaal - Olymbria x Ferro) - breeder J. Lamers - owner Gränsbo Stuteri and Fölet Ridsport
Fürst Sinclair S (2015 OLD, by For Romance - La Bonita x Lord Sinclair I) - breeder Monika Staerk - owner Sisse Sejrbo
Directly qualified stallions
Hometown/ex Hornrose (2012/KWPN Apache - Torose V x Ferro) - breeder J . Bouwmeester - owner Lövsta Stuteri 
Thoroughbred stallion
Aces Star xx (200 TB, by Monarchos xx - Pray for Aces xx x Pulpit xx) - breeder John C. Oxley - owner Vivika Nilsson
Christina Olsson summarized her findings of the 2020 SWB performance test as following: "The dressage stallions are bred for their purpose and with excellent gaits and rideability. We try to approve stallions of various types and abilities as the mare base needs different types to choose from. One stallion cannot fit every mare. And let us not forget temperament and character which is important. We take the temperament into account when selecting the sires of the next generation of sport horses".
Article by Hillevi Brasch - Photo © Ronald Thunholm
Related Links
Kane, Champion of the 2019 Swedish Warmblood Stallion Testing
Demand Wins 2018 Swedish Warmblood Stallion Performance Testing
Ironman H Wins 2017 Swedish Warmblood Stallion Performance Testing
Total Hope, Winner of the 2016 Swedish Stallion Performance Testing
Sankt Erik II, Champion of the 2013 Swedish Warmblood Stallion Performance Testing
Zaladin MI Wins 2012 Swedish Warmblood Stallion Performance Testing
Fifty-Six Stallions Registered for the 2011 Swedish Warmblood Performance Testing
JJ Rayban Wins 2010 Swedish Warmblood Stallion Performance Test
Damino SD Wins 2009 Swedish Warmblood Performance Test
Rosevelt Impresses at 2006 Swedish Stallion Performance Test
Figaro R Wins the 2005 Swedish Warmblood Stallion Testing