Hit & Run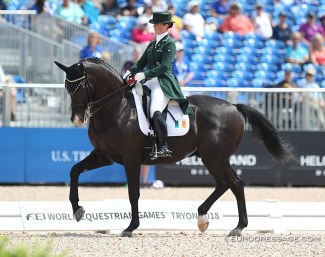 In corona times we are all ordered to stay at home, self quarantine, and do social distancing. With more time on your hands to spend online, Eurodressage launches a "Hit & Run" interview series so that you get to know the world's most famous dressage riders and personalities more closely. 
Irish Grand Prix rider Judy Reynolds rode at the 2016 Olympics in Rio de Janeiro, and has further represented Ireland at four World Equestrian Games (2006, 2010, 2014 and 2018), four European Championships (2007, 2011, 2015, 2019), and three World Cup Finals (2016, 2017, 2019). She was named the Irish Dressage Rider of the Year in 2008, 2014, 2015, 2016, 2017 and 2018. She lives with her husband in Dorsten, Germany. 
Hit & Run - Judy Reynolds
What is your earliest memory? 
My first day in Montessori school, I was 3 years old. 
Which person alive do you admire the most and why?
Isabell Werth. To keep producing top horse after top horse like she does and to still have the drive to compete after winning absolutely everything multiple times is incredible.
When were you the happiest?
I'm pretty happy right now. Although growing up, riding in the fields with my brother and sister on our ponies are some of my best memories 
What is your biggest fear?
Rodents! I hate mice and rats.
What was your first thought today?
I hate that alarm.
What is your most annoying character trait?
That I'm always right (says my husband)
Which trait do you dislike the most in other people?
Two faced fake friends. 
What is your dearest possession?
I love all my animals but they are not my possessions, I am theirs. So, my Dior engagement ring
If you look into the future, what do you see?
Horses! And I'd love to have my own stables. 
What makes you unhappy?
When there's something wrong with one of my horses.
What is the love of your life?
My husband Patrick; and my dogs and horses of course..
What was the best choice you ever took in life?
To move to Germany to train full time.
What's your guilty pleasure?
Biting my nails.
What do you owe your parents?
So much! I am who I am thanks to their love and they've supported me all the way to where I am now..
Who can sit next to you at your dream dinner table?
My best friends, Lisa Buchanan and Naomi Kavanagh Doyle. I don't get to see them enough as they live in Ireland and England. .
What was the worst job you ever did?
I have worked in an office and driven delivery trucks. Everything I've done I have enjoyed and learnt from. 
What was your biggest disappointment in life?
My performance at the WEG in Normandy broke my heart. It did drive me on to make some changes and I wouldn't have gotten to where I am now without it.
What would you change if you can go back into the past?
Nothing. You learn from your mistakes and become better because of them.
Name one thing that would improve your quality of life?
A bridlewasher! Like a dishwasher but for bridles, I HATE cleaning tack! 
What is your biggest achievement?
I've two, running the Dublin Marathon in 2006 And training Vancouver to Grand Prix when plenty of people said to give up along the way. 
What is the most important life lesson you have learnt?
Believe in yourself. 
Where would you like to be right now? 
The Maldives. 
What's your favourite scent?
Peanut (one of our dogs, at 2 years old she still smells like a puppy)
Which character would you dress up in for Halloween?
A Telly tubby 
To whom would you like to say sorry?
I don't do sorries. 
What does love feel like for you?
It feels like I'm bursting with happiness.
When are you most relaxed?
On the sofa curled up with Patrick and my dogs..
What super power would you like to have?
The ability to get up early in the mornings! 
When did you last cry, and why?
A couple of weeks ago after one of my horses passed away. 
When were you closest to death?
Many times when JP was being a d**k.. (Not really) 
How do you want to be remembered?
Fondly
Related Links
Olympics in 2021, Too Late for Judy Reynolds' Vancouver K?
Three Feat for Isabell Werth with Kur Gold at 2019 European Dressage Championships
Judy Reynolds Officially Nominated as Irish Individual for 2016 Olympic Games
Judy Reynolds Wins 2014 Irish Dressage Championship
Judy Reynolds Returns to Germany to Go Independent
Judy Reynolds to Relocate to France
Judy Reynolds On the Rise at 2015 CDIO Rotterdam, Correct Work is the Key