Hit & Run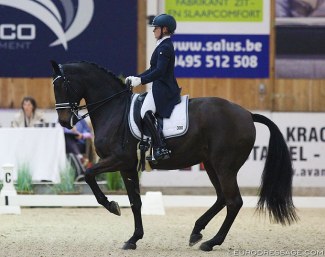 In corona times we are all ordered to stay at home, self quarantine, and do social distancing. With more time on your hands to spend online, Eurodressage launches a "Hit & Run" interview series so that you get to know the world's most famous dressage riders and personalities more closely. 
Australian Grand Prix rider Hayley Beresford was born into a horse family and knew a career in horses was her choice. Her career took flight when she moved to Germany and worked at Isabell Werth's yard. Under her supervision, Hayley competed the Lusitano Relampago do Retiro on the European show scene. Her efforts culminated in a 19th place at the 2008 Olympic Games in Hong Kong. With Jaybee Alabaster she rode at the 2010 World Equestrian Games and with Belissimo M she was short listed for the 2012 Olympic Games in London. She now runs her own training business Eiserner Hof with her partner Jule Fehl in Germany.  
Hit & Run - Hayley Beresford
What is your earliest memory? 
Stuck on my spotty shetland pony named Muffin in the sheep yards. I wasn't allowed to ride outside In the big paddock until I was able to steer her myself through the yards. My first memory was total frustration and I must have been between 2/3 years old
Which person alive do you admire the most and why?
Isabell Werth of course. She's genius not only in riding a dressage horse but also as a horse person. She's one tough cookie but down to the wire fair and despite all her successes just a darn good human being
When were you the happiest?
I'm super happy when I feel I've achieved a new goal or been successful in the ring but I crave and love down time with my partner and puppies in our home and garden
What is your biggest fear?
Failure and bad health
What was your first thought today?
Ted (our border terrier pup) needs to go to the toilet. Quick get up
What is your most annoying character trait?
I'm stubborn. I wish I could let things go quicker
Which trait do you dislike the most in other people?
Cheats, in sport and business, liars and laziness
What is your dearest possession?
My home, Eiserner Hof
If you look into the future, what do you see?
Two tired old ladies still running around Eiserner Hof feeding 100 animals and pulling out weeds everywhere ..... but I hope not quite 
What makes you unhappy?
Unnecessary suffering in humans and in animals 
What is the love of your life?
Jule, our puppies, our ponies and our home
What was the best choice you ever took in life?
Moving to Germany to train with Isabell and then moving to Stuttgart to start my life with Jule.
What's your guilty pleasure?
Allens lollies from Australia but also my Porsche - both completely unnecessary but I love and crave them
What do you owe your parents?
Everything! They helped me to become the person I am today. My father's work ethic, my mother's dreams for us and they gave me 3 very cool brothers. 
Who can sit next to you at your dream dinner table?
first my family because I miss them terribly and haven't been home in forever..... but I would like to be cheeky and also have dinner with Pink, Ellen and Portia and the Obamas 
What was the worst job you ever did?
Cleaning our apartments and bathrooms after a piglet worker or working student has passed through 
What was your biggest disappointment in life?
There have been a few but I'm most often disappointment by human beings that can't respect one another. 
What would you change if you can go back into the past?
Oomph.... a lot of things, but who hasn't made mistakes 
Name one thing that would improve your quality of life?
if I could put together a good, efficient and reliable stable team. 
What is your biggest achievement?
My successes in the competition arena, each horse that has made it to GP and buying Eiserner Hof
What is the most important life lesson you have learnt?
The sun comes up tomorrow and we can always try again. Patience, persistence and determination are essential to achieve any goal
Where would you like to be right now? 
In our beer garden 
What's your favourite scent?
Narcisco Rodrigez
Which character would you dress up in for Halloween?
I'm not a fan of halloween
To whom would you like to say sorry?
If I'm sorry, I say it straight up
What does love feel like for you?
Very comfortable: relaxed, honest and without judgement. Thats after all the butterflies pass of course. I'm very lucky to have found my soul mate.
When are you most relaxed?
In our home with Jule and our puppies
What super power would you like to have?
Some sort of supersonic travel machine so I could see my family in Australia more often. Imagine if you could just close your eyes for a moment and be on the other side of the world without flights and hassles just for dinner or something. That would be cool. I miss my family most.
When did you last cry, and why?
When my parsen russell, Joshua, was hit by a car on Christmas morning.... and I know there are tears building up again with one of my horses in training preparing to fly to his new home in Australia in a couple of weeks. I fell in love with Friedolin instantly, we have had a great time, but soon it's time for him to leave to his wonderful new home down under.
When were you closest to death?
Dabbling with cancer hasn't been cool. I wouldn't say I've been close to death but I've certainly been challenged in the health stakes.
How do you want to be remembered?
I hope people remember me as a good person giving her best.
Related Links
Friedolin Sold to Australia, to Stay in Training with Beresford
A Day in the Life of Hayley Beresford
Hayley Beresford Drops Out of 2014 Australian WEG Team Contention
Hayley Beresford and Belissimo Partnership Comes to an End
Hayley Beresford Loses Appeal with CAS on Australian Olympic Selection
Beresford's Relampago do Retiro Euthanized after Freak Accident
Hayley Beresford Relocates to Switzerland as Otto Hofer's Head Trainer
Hayley Beresford Buys Half Share in Jaybee Alabaster
Sun and Fun, New London Hopeful for Hayley Beresford
Hayley Beresford Marries Kian Bullock in Positano, Italy