Australian Dressage News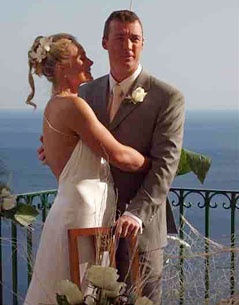 Australian Olympic team rider Hayley Beresford got married to her boyfriend Kian Bullock in a small ceremony at the beach side resort Positano, Italy. Beresford met Bullock, a civil engineer based in London, on a skiing trip in New Zealand in 2004 and the pair has been together ever since.
"It is a bit of a fairytale the last few years, actually. It's a real fairytale," Beresford told AAP at the 2008 Olympics in Hong Kong.
In the spring 2004 the then 25-year old Hayley Beresford was diagnosed with breast cancer. "It was cancer. We dealt with it and we fixed it," she said. "I kept riding the whole way through. Never once did I think it was going to beat me." Hayley had surgery and underwent radiotherapy and was diagnosed cancer-free in 2007.
One week after finishing radiotherapy for breast cancer, Beresford travelled to Queenstown, New Zealand, where she met West Australian Kian Bullock from the Gold Coast as the ski lift carried the pair up The Remarkables. One year later, Bullock took Beresford back to the alpine town to propose.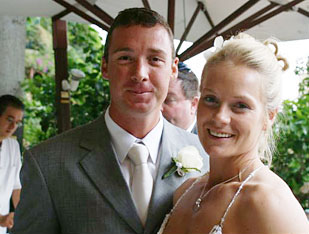 Having had cancer, Beresford claims that it made her "a much more compassionate person." Before she had cancer, she considered herself too unbalanced. "Everything was just about horses, horses, horses. When I had the cancer, I really went into family protection mode."
In November 2006, the 28-year old Hayley moved to Rheinberg, Germany to train under Isabell Werth, whom she met at masterclasses in Australia in 2000 and 2005. She began riding Eduardo Fischer's Lusitano stallion Relampago do Retiro in November 2006 and two years later the pair made it to the 2008 Olympic Games as Australian team members.
Source: Melissa Jenkins/AAP
Related Links
Australian Olympic Dressage Team Selected
Uproar Over Australian Olympic Team Selection