Australian Dressage News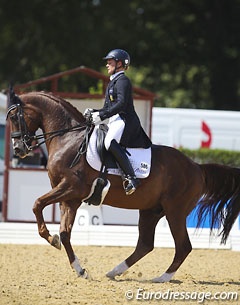 Australian Grand Prix rider Hayley Beresford has withdrawn from WEG Team Contention. Her horse Jaybee Alabaster (by Alabaster x Glorieux) is not fit enough to compete at the final Australian WEG selection trial in Deauville upcoming weekend.
Her own and Bev Edwards' Hanoverian gelding sustained an acute injury one week prior to the first Australian selection trial in Fritzens at the beginning of July.
"Equestrian Australia were extremely accommodating within the discretionary consideration capabilities of our selection policy and granted me permission to try to rehabilitate his injury in time to start at the second selection event scheduled in Deauville next weekend," Beresford explained. " My team and I have worked tirelessly over the past 3 weeks and Basti has made very good progress and returned to training in a good way, however, I feel that it is all too soon to compete and ride with full power at top level so I have made the decision to withdraw from contention for the Australian Team."
After the first WEG qualifier, Mary Hanna (on Sancette) is currently in the lead for team selection. She is followed by Kristy Oatley (Ronan), Brianna Burgess (La Scala) and Lyndal Oatley (Sandro Boy).
Photo © Astrid Appels
Related Links
WEG Hopeful Beresford's Jaybee Alabaster To be Vet Checked Before Start at 2014 CDI Deauville
Beresford Misses First Australian WEG Qualifier at 2014 CDI Fritzens
Australian Dressage Long List Revealed for 2014 World Equestrian Games
Australian European 2014 WEG Selection Events Revealed