Finland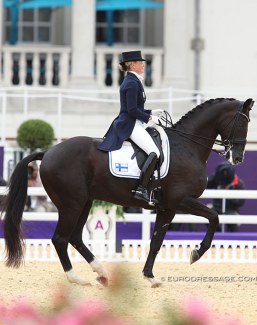 Finnish Grand Prix rider Mikaela Fabricius-Bjerre (née Lindh) had to say goodbye to her retired Grand Prix horse Skovlunds Mas Guapo this morning 19 May 2020. He was 22 years old.
Skovlunds Mas Guapo was a Danish warmblood by Master out of Ramshojs Gambling (by Cannon Row xx).
"Mas died peacefully in his pasture," Mikaela told Eurodressage. "He was fresh and happy in the morning when my daughter turned him out this morning. He lied down to roll but couldn't get up again. His long term vet Hans-Christian Matthiesen came and we decided to euthanise him. It was a very worthy ending of a long and good life."
Mas Guapo at York Stutteri
The black was originally owned by Alexander Elsass of the renowned York Stutteri, a dressage and racing horse breeding farm in Denmark.
The horse was first competed in Denmark as a youngster by Jørgen Riffelsthal in 2003. The next year Anke ter Beek, who was the in-house trainer at York Stutteri, took over the ride and finished sixth at the 2004 Danish Young Horse Championships in the 6-year old division. Ter Beek lightly competed the horse at national shows until 2008. 
From Sales Horse to Nordic Star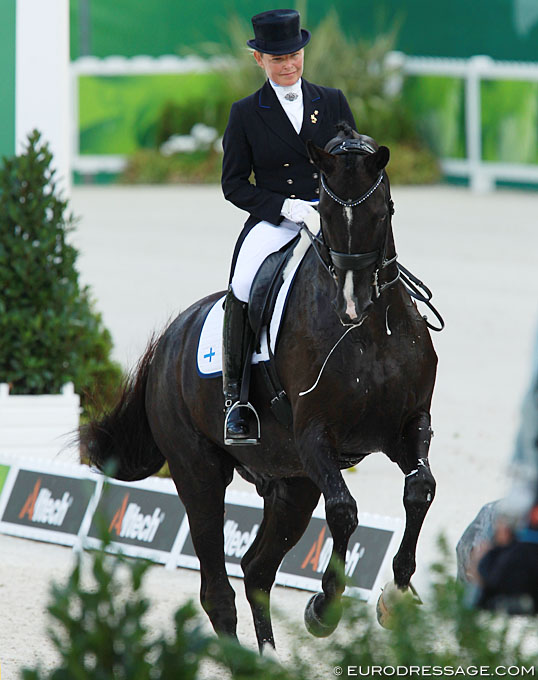 York Stutteri closed its dressage branch round 2008-2009 and sent Mas Guapo to Mikaela Lindh for training and to be sold at her and her husband Poul Fabricius-Bjerre's dressage stable Solyst in Denmark.
"He had problems with the flying changes and we worked hard to find a solution together with my former trainer Jon D Pedersen," Lindh told Eurodressage. "They brought him to me for selling, but I bought him instead."
In September 2009 ownership was transferred to Lindh and Fabricious-Bjerre. Mikaela and Mas Guapo made their international show debut at Grand Prix level at the Nordic Baltic Championships in Drammen, Norway, in July 2010. 
Team Horse for Finland
In 2011 the pair founds its stride and competed at the World Cup Finals in Leipzig and European Championships in Rotterdam, where they were 24th in the Special. 
Lindh and Mas Guapo went to the 2012 World Cup Finals in Den Bosch and represented Finland at the 2012 Olympic Games in London and landed 30th place in the Special. 
In 2013 they traveled to Herning for the European Dressage Championships, where they were 32nd in the Grand Prix. 
Their final year in competition sport was in 2014. Lindh and the 16-year old Mas Guapo finished their show career as a combination at the World Equestrian Games in Caen, France, where they were 50th in the Grand Prix.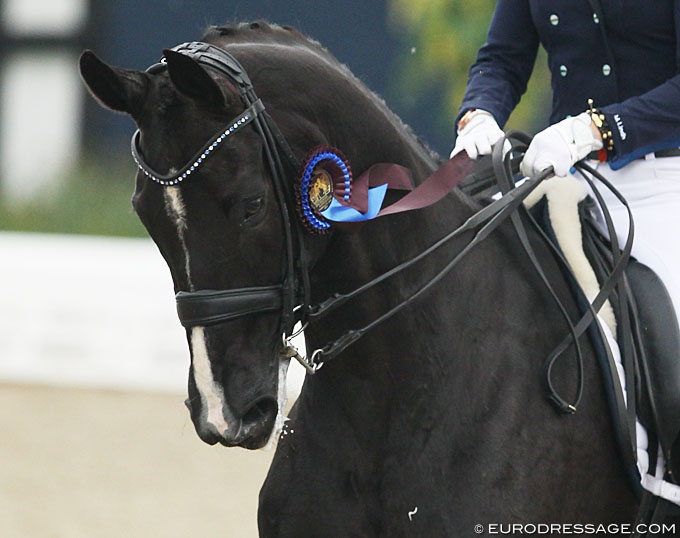 When asked what Mas Guapo has meant for her professional career, Mikaela replied that he was her "turning point". The pair rode at numerous championships and collected bronze and gold at the Nordic Baltic Championships. 
"He was a horse who always tried his best," she said. "He also had a very strong own will. I have many good memories. Mas was a family member and was ridden and groomed by my daughter. She stopped riding him 4 years ago. He was groomed like a champion of the farm every day until today."
Photos © Astrid Appels
Related Links
Eurodressage Photo Database: Skovlunds Mas Guapo
Finnish Team Selected for 2014 World Equestrian Games
Finnish Team Selected for 2013 European Dressage Championships
LIVE: Quick Notes from the Grand Prix Special at the 2012 Olympics
Finnish Riders Selected for 2012 CDIO Rotterdam and CDIO Aachen
Kittel Wins Out in Super Tight Battle at 2011 CDI-W Stockholm
Finnish Team Selected for the 2011 European Dressage Championships
Scores: 2010 Nordic Baltic Championships
Tardi, Schianto and Clearwater, 2004 Danish Young Horse Champions