2011 CDI-W Stockholm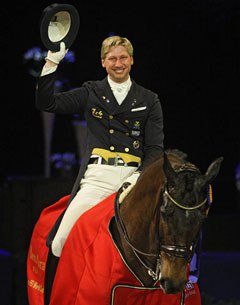 Patrik Kittel headed up a Swedish one-two in the third leg of the Western European League World Cup Dressage 2011/2012 series in Stockholm, Sweden today.  But it was a close-fought affair as the 35-year-old rider and his 11-year old gelding, Toy Story, only pipped Tinne Vilhelmson-Silfven and Don Auriello by 0.1 of a percentage point
, while Germany's Isabell Werth (Warum Nicht FRH) and Helen Langehanenberg (Responsible) had to settle for third and fourth places respectively.
In a weekend full of interesting twists and turns, multiple champion Werth finished well down the line in seventh place in Saturday's Grand Prix won by Vilhelmson-Silfven. And, adding to the litany of surprises, was a very pleasant one for Norway's Siril Helljesen who steered her lovely mare, Dorina, into Grand Prix runner-up spot.
But Kittel's latest Freestyle victory underlines his great strength in depth.  He has 13 Grand Prix-level horses now at the base in Muenster, Germany which he has been operating for the last 15 years.  "I'm very lucky to have so many right at the moment" he said this afternoon, "Toy Story does not have a great amount of experience but he is very talented and he really took me by surprise today!" he pointed out.
FIRST TRANCHE
It is not often that double FEI World Cup™ Dressage champion Isabell Werth finds herself competing amongst the first tranche of riders in a Freestyle class, but she stormed into the lead when last to go before the half-time break with her beloved "Hannes" when scoring 78.475%.
"He was much better today" she said of Warum Nicht. "Yesterday in the Grand Prix he was stopping in the corner like a little pony!  It was better today and he is in better shape than ever, so I'm quite sad that we couldn't show that" she explained.  Warum Nicht spooked during the Grand Prix, but, typically determined, Werth was in no mood for dithering this afternoon and the chestnut was forward and elevated throughout.
Lying second as the final group of riders got underway was Sweden's Cecilia Dorselius whose pleasing test with Lennox had earned a mark of 71.09% - so there was a big gap to be filled between herself and Werth as the competition progressed, and Finland's Mikaela Lindh quickly stepped in with a charming ride on Skovlunds Mas Guapo.  Everything about their test was forward and full of confidence - they were a picture of team-work and pleasing to the eye as they registered a score of 75.475.  And the race to match Werth's score was ratcheted up another notch when Denmark's Sidsel Johansen squeezed in with 75.500 showing on the scoreboard after an equally attractive performance from Schianto whose overall rhythm and fabulous extended trot drew enthusiastic applause from the 7,290 spectators.
CLOSING EVEN FURTHER
The gap was closing even further when, two horses later, Helen Langehanenberg and Responsible earned 76.200 for an accurate if conservative performance, while Helljesen continued to impress when putting 75.175 on the board.  She took all her chances with the nine year old mare Dorina with which she placed third at Falsterbo, Sweden and eighth in Hickstead, Great Britain earlier this year, and it paid off admirably.  Trained by British coach, Paul Fielder, this partnership is putting Norway firmly on the Dressage map.
But, third-last into the arena, it was Vilhelmson-Silfven who was the first to seriously challenge Werth's supremacy, overtaking her for the lead when registering 79.375 with Don Auriello to confirm the very reason why she is the leading rider on the Western European League leaderboard.  The five-time Olympian showed her wealth of experience with a flowing, extravagant test that featured some seamless directional changes in half-pass and a wonderful final extended trot.  The question now was - could the last two riders do better than that?
Sole Dutch representative, Christa Laarakkers, steered Ovation to a score of 75.900 to leave only Kittel between Vilhelmson-Silfven and success.  And, to his own amazement, he produced the best performance of his horse's life. Starting out with big passage, Toy Story demonstrated high-quality movement throughout to return with 79.475 - a fractional advantage over his fellow-Swede.
IMPRESSED
"I must say I'm impressed by Toy Story" he said afterwards.  "He is my wife, Lyndal's, Horse but he is a bit big for her and so he is for sale. In the meantime I'm riding him and happy about that.  I won the Grand Prix at Falsterbo with him but after that I had to concentrate on Scandic so Toy Story has not done a whole lot this year.  I came to Stockholm with no great expectations at all - I hoped maybe to get in the top five, but it all went perfectly for us today!" he explained.
Kittel says he still needs to build up the strength of this horse which he has had for the last two years, but he believes Toy Story has huge potential and plenty of room for improvement.
Runner-up Vilhelmson-Silfven said she was "super-happy" with Don Auriello.  "We had a couple of mistakes but this is the first time he is in an arena like Ericsson Globen and he took it well".  She now plans to take Don Auriello, Favourit and Divertimento to Florida, USA in the new year - but her big target is the World Cup™ Dressage final in 's-Hertogenbosch, The Netherlands next April.
And that is Kittel's target too.  "I'm going to Frankfurt and after that I will take Scandic to Mechelen and Gothenburg - my main goal right now is the World Cup Final" he explained.  But, for today, he could simply bask in the glory of a surprise win on home territory which leaves him second on the series leaderboard and well on the way to achieving that goal.
Facts and Figures:
Stockholm presented the third of 9 qualifying rounds in the 2011/2012 Reem Acra FEI World Cup™ Dressage series.
The venue was the Ericsson Globen Arena.
The series final will take place at 's-Hertogenbosch, The Netherlands 18-22 April 2012.
The judges of today's Grand Prix Freestyle were - At E: Maria Collander, At H: Gustaf Svalling, At C: Ghislain Fouarge (President), At M: Katrina Wust, At B: Annette Fransen-Iacobaeus).
Sweden's Tinne Wilhelmson-Silfven and Don Auriello won Saturday's Grand Prix with a score of 74.77%.
This is the second year of sponsorship from Reem Acra for FEI World Cup™ Dressage.
World-renowned fashion designer Reem Acra sponsored the Athlete of the Year Award which was presented to Adelinde Cornelissen from The Netherlands during the recent FEI General Assembly 2011 in Rio de Janeiro, Brazil.  Adelinde was dressed in a fabulous Reem Acra creation when accepting the award.
Riders from 7 nations - Sweden, Belgium, Germany, Denmark, Finland, Norway and The Netherlands - competed.
Quotes:
Isabell Werth (GER) - "The piaffe and passage was OK but I was a little too fast out of every movement.  I'm going to keep this Freestyle for him.  I love the music, and I think it suits him".
Patrik Kittel (SWE) - "I really love to ride Grand Prix Freestye.  As soon as I hear my music it's a special feeling".
Ground Jury President, Ghislain Fouarge (NED) - "It was a very good competition.  It's very unusual to have eight riders with scores over 75%".

World Cup Dressage 2011/2012 - Standings after Round 3 in Stockholm:
1. Tinne Vilhelmson Silfvén, SWE - 53
2. Patrik Kittel, SWE - 41
3. Valentina Truppa, ITA - 33
4. Isabell Werth, GER -  32
4. Hans Peter Minderhoud, NED - 32
6. Helen Langehanenberg, GER - 30
7. Catherine Haddad, USA - 26
8. Richard Davison, GBR - 25
9. Marc Peter Spahn, BEL - 24
10. Sebastian Duperdu, FRA - 23
11. Siril Helljesen, NOR - 22
12. Aat van Essen, NED - 21
12. Rose Mathisen, SWE -  21             
14. Ulla Salzgeber, GER - 20
15 Peter Gmoser, AUT - 17
15 Mary Hanna, AUS - 17
17 Monica Theodorescu, GER - 15
17 Nars Gottme, NED - 15
19 Ulrike Prunthaller AUT - 13
20 Daniela Groenke GER - 12
20 Lone Jörgensen DEN - 12
20 Jenny Schreven NED - 12
By Louise Parkes - Photo © Roland Thunholm
Related Links
Scores 2011 CDI-W Stockholm
Eurodressage Coverage of the 2011-2012 World Cup Season