The Assistant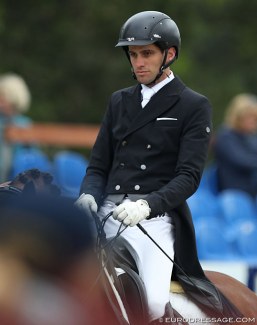 Spaniard Ivan Nieto Sanchez has been the assistant trainer at Hubertus Schmidt's Fleyenhof in Paderborn, Germany, for five years. He is a good example of the important role the "bereiter" fulfills in a high performance dressage stable for the development of the horses, while at the same time learning from the master.
Nieto is originally from Portugalete, a small town near Bilbao, Spain. He started riding at the local pony club at age 8. Born with the horse gene but in a non-horsey family, Ivan went to a local stable after school and soon realized that a life with horses was essential for him. He took his riding more serious at stable Manás de la Hoz before moving to the Royal Cavalry Masters of Ronda, to get a formal education as a dressage rider. 
His first professional job was at at the dressage breeding farm Gestut Sonnenhof in Belgium. He was then drawn back by the sun and worked for a year at Yeguada Mile in Spain until in 2014 he realized that he had to go north for bigger opportunities. Nieto was hired as an assistant rider by Hubertus Schmidt in 2015 and got the chance to ride and compete famous breeding stallions, talented dressage horses, as well as client's horses. 
Don't Sit Around, Grab the Opportunity
Great opportunities do not come knocking at your door, but are taken by the bold. In 2014 Nieto moved to Irina Zakhrabekova's yard near Düsseldorf, Germany, to work for the Russian for a year and a half, under the watchful eye of trainer Jan Bemelmans. However when he heard that Hubertus Schmidt's assistant rider Emma Kanerva was leaving Fleyenhof, Nieto jumped at the opportunity. 
"I had to try," Nieto told Eurodressage. "To work and train for Hubertus was a dream for me. I spoke with Jan and he put me in touch with Hubertus, because he knew this was my wish and he wanted to help me get in. Without Jan it wouldn't be possible. I started with Hubertus and his wife Doris five years ago. Time flies!"
At Fleyenhof there is no time to rest, but ride and learn. Nieto rides around ten to eleven horses a day, a steady group so he has time to connect with a horse and help develop it.  
"It's quite busy here," Nieto laughs. "It's good that I have my own list of horses that I train and compete. When Hubertus is not at the stable I also ride some of his horses."
In the Wings, Yet Moments to Shine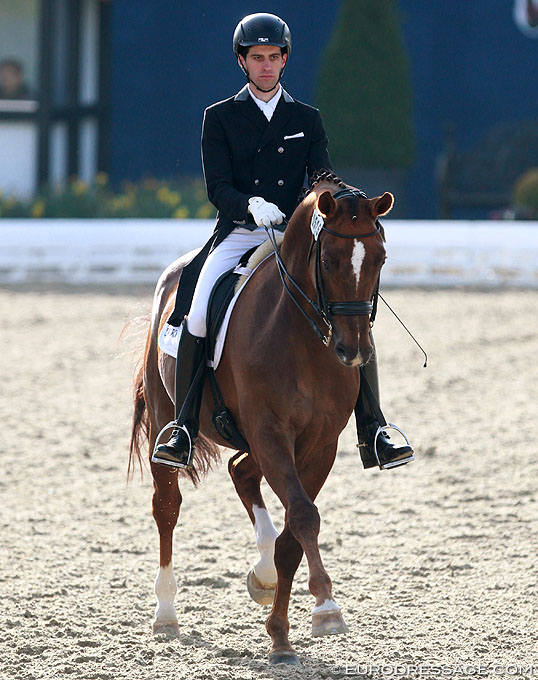 Although Nieto stands in the wings, Hubertus has the spotlight with top stallions to compete at Grand Prix level. Nevertheless, Ivan gets his moment to shine at national level. 
Since his arrival at Fleyenhof in Paderborn, he has received a string of horses to show and has been active at local events. The first horse he got to compete was Delicato at A-level, immediately followed by So What a Feeling at Prix St. Georges level. Over the years, Ivan has competed stars such as Bonamour, Estobar, Sacre Fleur, Sammy Deluxe, La Macchiata, Flovinos Feiner Kerl, and Sonnentanz, amongst others.
He was rewarded for his success in the show ring with the German "Golden Rider Badge" after scoring 10 S-level victories. His top rides at the moment are Grand Prix horses Attraktiv (by Ampere x Damon Hill), owned by Claudia Kohl, and Dünensee (by Dancier x Davignon), owned by American Terri Kane. 
"Actually with these two young Grand Prix horses, we're getting 71 - 72% scores at the end of last year. It was their first year at Grand Prix level," said Ivan. "I also have nice up and coming ones." 
Waiting for His Time to Come
While Ivan is busy in the national arena, his international career is on the back burner. He made his international debut in April 2015 while still working for Zakhrabekova, but under Hubertus' tutelage he has only once shown internationally. He rode So What a Feeling in the small tour at the 2016 CDI Hagen.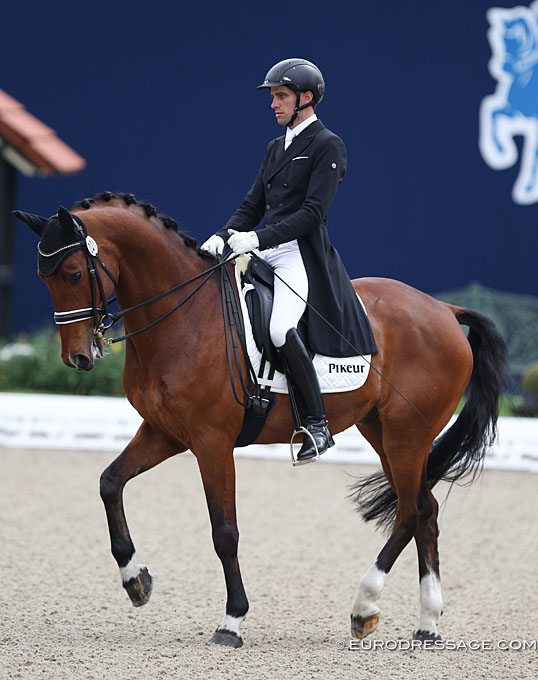 "Of course I miss the CDI's, but I want to first focus on becoming good enough. I don't want to run. For me is not about being there fast. I want to get there first and then stay, so I'm a little cautious. My time has not come yet. Of course we all want to break through at international level and shine, but for me it has to be step by step. I came to Germany to learn and I can learn much from Hubertus. I focus on this. 
Ivan is very appreciative of the horses he's been allocated, particularly the ride on Sammy Deluxe. The now 14-year old Westfalian (by Sir Donnerhall x Florestan) competed at international Grand Prix level with Hubertus in 2014 and 2015, their last start being the 2015 CDI Munich Indoors. Afterwards Sammy became Ivan's Grand Prix schoolmaster and the pair showed at national Grand Prix level in 2016 and 2017. 
"I've had the change to ride great Grand Prix horses," said Ivan. "Hubertus give me the ride on Sammy Deluxe, which was an incredible gift to  me. He wa not easy, but we cracked the border of 70% in Grand Prix and Grand Prix Special. Right before we started to plan to make the step to international shows, he passed away. This was really hard for all of us."
The Learning Curve
As a professional Ivan has learnt to roll with the punches. 
"As a professional I also learnt that when a horse is ready, it gets sold," he admitted. "After Sammy's death I got Flovinos Feiner Kerl to ride and right before we would make the step to international shows, he got sold to one of Hubertus' clients (Anush Agarwalla)."
Nieto also rode the licensed breeding stallion Estobar (by Ehrentusch x Ferragamo) to scores over 70% in the Short Grand Prix classes, but the stallion had to focus more on breeding than sport.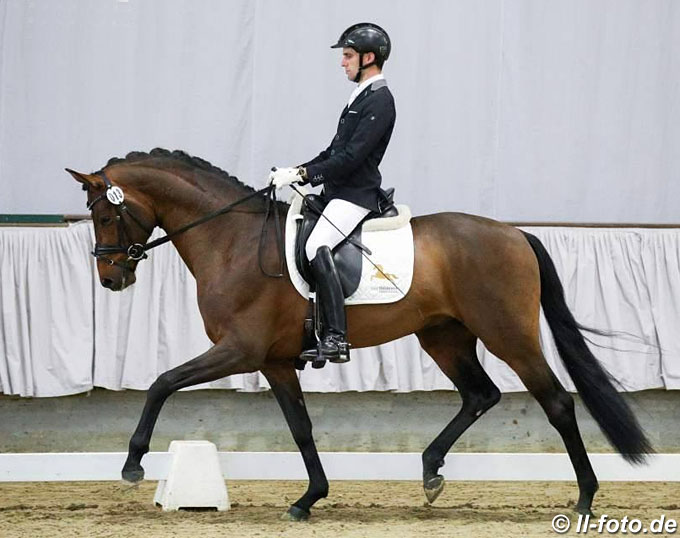 "This is something I understand," said Nieto. "I have learnt a lot, as a person and as a professional. First I learnt that I can reach my goals. Secondly, I must surround myself with the people who push me to be better and cast aside those that push me down. I learnt to appreciate the time I have with the people I love, even if it is short, and to have my priorities in life clear.  Finally I learnt that with horses from one day to the other all can change and your biggest dream can disappear. You must be happy in the daily life. The rest are extras."
Many aspiring professionals wonder how they will make a living working a rider in the business. Nieto says that you don't have to do it to get rich. 
"My financial situation is good now, but I don't came to Germany to get rich. I'm comfortable and that is good. I have been in worse places, where the conditions were bad, even slightly abusive. For me there are other priorities in life than to be rich," he said.
Ivan has not stopped dreaming of the big time though. 
"My goals are like every rider to be at the top and ride the big shows," he confessed. "But overall I would like to get the respect of other riders and horse people, even if i don't win. I want to be happy with the daily work and how I train my horses. I think if I earned that respect, I have won."
Text by Astrid Appels - Photos © Astrid Appels / LL-foto
Related Links
Jil Marielle Becks Makes Inter II Debut on Daley Thompson
Hubertus Schmidt's Sammy Deluxe Euthanized
Estero and Well Dark Win 2019 Bettenrode Bundeschampionate Qualifier
Sonnentanz and Greek Air Win 2017 Hof Bettenrode Bundeschampionate Qualifier
Carmen Naesgaard Wins 2015 Spanish Grand Prix Championships
Ules VDOS, Doctor de Encinasola, Mango Statesman Win 2013 Spanish Young Horse Championships