2015 Spanish Dressage Championships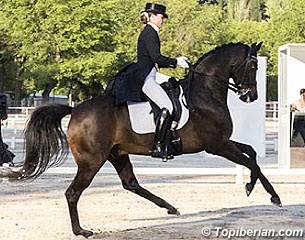 A country known for its afternoon siestas, Mediterranean beaches, and Paella, Spain hosted its 2015 National Dressage Championships in Madrid on 28-31-May 2015. The event welcomed some tropic weather, and saw some well known local champions rise up to take out the titles. Carmen Naesgaard became Grand Prix champion and Jose Antonio Garcia Mena was crown small tour champion.
Carmen Naesgaard Rodriguez-Passolas and her 12-year old Hanoverian Ricardo (by Rosentau) were the overall champions of the big tour. Winning the Grand Prix Kur with 79.500%, the pair were second in the Grand Prix and Grand Prix Special finishing behind  Beatriz Ferrer Salat and Delgado, who opted not to contest the Kur and dropped out of the running.
Jose Anotonio Garcia Mena and the Portuguese owned 7-year old Lusitano Dragao (by Unico) made a clean sweep in the small tour with scores of 72.974%, 70.053%, and 74.450%. 
"The weather was rather hot and windy but the Club De Campo is a very nice place, and Top Iberian created a super atmosphere," Jose told Eurodressage. "Dragao made a super small tour. The Prix St Georges was a very nice test. However in the Intermediaire I I felt him a little bit tired in the canter tour. Overall, the best feeling I had on him was in the Intermediate 1 Kur."
Trained by Rafael Soto and Jan Bemelmans, Jose also enjoys his regular training trips to the stable of Isabell Werth in Germany.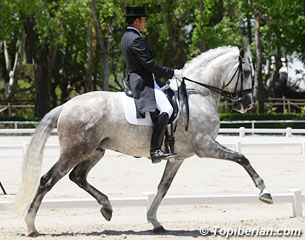 "Hipica Alazana is my new training place. It is a lovely stables 60 km from Jerez, Spain.Our plan for the next few months is to continue our training, as we believe that Dragao will be a very good Grand Prix horse," he stated.

International 4* judge for Spain, Juan Carlos Campo says that while the weather was very hot, the facilities at the Villa Club De Campo da Madrid still made the experience amazing. it is built right in the heart of Madrid and in the middle of a huge natural park.
"It is an exceptional venue to host the championship, and we had a high level of participants in all categories, Juan Carlos Campos told Eurodressage. "For the Small tour, Jose Antonio Garcia Mena showed some very good riding, particularly in the Intermediate 1 Kur. At Grand Prix level, Beatriz Ferrer Salat and Delgado were the best combination but she did not start in the Grand Prix Kur. Carmen Naesgard (also) made a fantastic presentation."

Juan considered it a pleasure to judge the national championships of his home country. He is certain that dressage in Spain will continue to evolve.
Photos © Top Iberian
Results - 2015 Spanish Dressage Championships
Small Tour
1. José Antonio García Mena - Dragao - 72.974% - 70.053% - 74.450% --- 72.492%
2. José Daniel Martín Dockx - Oxido - 71.447% - 69.342% - 71.225% --- 70.672%
3. Cristina Duran Vicens - Manchego - 69.658% - 69.974% - 70.950% --- 70.194%
4. Jordi Domingo - Statesman -  69.000% - 68.553% - 68.425% --- 68.659%
5. Antonio Verdejo Pérez - Kafu III - 69.316% - 67.921% - 67.600% --- 68.279%
6. Miguel Ruiz Olmos - Roscatelli - 66.526% - 65.553% - 69.300% --- 67.126%
7. Artur Álvarez Pou - Blue de Rouet - 67.500% - 65.658% - 67.050% --- 66.736%
8. José Gálvez González -  Fiederglanz - 65.684% - 64.526% - 69.250% --- 66.487%
9. Sergio Martí Pérez  -  Robin Hood - 66.474% - 64.895% - 67.125% --- 66.164%
10. Antonio Seguí Sintes -  Fandango - 65.000% - 64.316% - 68.400% --- 65.905%
11. David Marín Garrido - Cazurro MG - 66.053% - 64.500% - 66.475% --- 65.676%
12. Adrián Martín Pascua - RMR Atalaya - 65.553% - 64.290% - 65.850% ---- 65.231%
13. Valvanera Palacios Ortuño - Flash -  64.053% - 63.842% - 67.600% --- 65.165%
14. Ivan Nieto Sánchez - Armas Balago II - 63.158% - 65.053% - 66.375% --- 64.862%
15. Mario Gómez Morcuende - Tango LVII - 64.447% - 63.053% - 65.775% --- 64.425%
16. María Teresa Ortiz Carpintero - Pancho - 62.395% - 64.053% - 64.625% --- 63.691%
17. Patricia Arjonilla Fernández - Uncle Joey - 63.842% - 61.921% - 64.275% --- 63.346%
18. Andrea Rueda Parache  - Rohon -  63.026% - 62.500% - 63.100% --- 62.875%
Big Tour
1. Carmen Naesgaard - Ricardo - 70.660% - 70.902% - 79.500% --- 73.687%
2. Claudio Castilla Ruiz - Alcaide - 68.980% - 69.922% - 75.025% --- 71.309%
3. Jordi Domingo - Wonder - 68.560% - 68.941% - 73.000% --- 70.167%
4. Cristóbal Belmonte - Diavolo II de Laubry - 67.920% - 69.294% - 70.525% --- 69.246%
5. Juan Matute Guimon  - Don Diego -  67.560% - 67.588% - 72.025% --- 69.058%
6. Beatriz Ferrer-Salat Serra - Sir Radjah - 66.580% - 66.804 - 71.800% --- 68.395%
7. Juan Manuel Vidal Testal   - Utopia H - 64.900% - 68.098% - 69.100% ---- 67.366%
8. Lucia Gallardo - Symphonie  - 66.240% - 67.294% - 67.025% ---- 66.853%
9. Juan Antonio Jiménez - Zinco - 65.440% - 64.667% - 68.650% --- 66.252%
10. Cristina Khamidoulin - Tribaldi - 64.760% - 64.882% - 69.100% ---- 66.247%
11. José Ignacio López Porras - Jimeno IA - 64.680% - 64.706% - 67.100% --- 65.495%
12. Adin Rodríguez Peinado - Papelero - 65.460% - 64.961% - 65.900% --- 65.440%
13. José Manuel Lucena Estrada - Wolk - 66.400% - 60.314% - 66.175% --- 64.296%
14. Miguel Ruiz Olmos - Excellent - 62.820% - 63.510% - 63.275% --- 63.202%
15. Rosa Mª Martínez Fernández  - Quality Gold - 61.600% - 63.039% - 63.325% --- 62.655%
16. David Presa Alonso  - Vadio III - 61.540% - 62.608% - 63.450% --- 62.533%
Beatriz Ferrer-Salat - Delgado - 75.240% - 75.843%
Juan Francisco Fernandez Muñoz - Belmonte da Broa - 59.860% - 62.118%
Lauro Aguiló Miquel - Hierro - 67.460%
Related Links