F.O.C.U.S.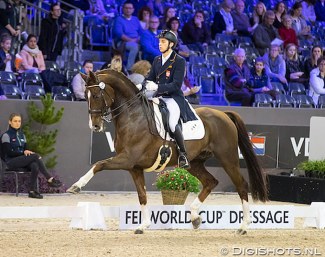 For Polish Under 25 Grand Prix rider Tomasz Jasinski life is like a box of chocolates, he never knows what he is going to get.
As the son of Polish horses dealers, his barn is filled with horses to pick and chose from but long-term connections are not often made. Mom Katarzyna Milczarek is a multiple Polish Grand Prix champion and team rider, while dad Stanislaw Jasinski is a former international eventing rider. 
Tomasz has been pendulating between show jumping and dressage from the start. 
From Eventing to Jumping and Dressage
As a young boy, Tomasz following in the footsteps of his father and shared a passion for eventing, but that was only short lived. 
"In 2007 I started my career in eventing, which I loved, but after an accident my parents forbade me doing this. So then I switched to show jumping and dressage," Tomasz told Eurodressage. 
His international dressage career began in 2011 when he was a junior rider. He immediately represented Poland a the 2011 European Junior Riders Championships in Broholm (DEN) on Florencia B (by Florianus x Contender - horse is now renamed Rhythm and Blues). In 2012 there was only one international on Equinox (by Ekwador x Gluckspilz); but in 2013 he took Contendor (by Contendro x Compliment) to the European Junior Riders Championships in Compiègne. 
In the autumn of 2013 Jasinski made his international debut in show jumping on Quo Vadis and Cativo. In 2014 he stuck to jumping at a national level. 
"In jumping I like the adrenaline and speed," Tomasz admitted, "while in dressage I like the harmony and grace. Overall I just love the connection between horse and rider, so every equestrian discipline attracts me a lot."
Heart Horse Shososloza
In 2015 Tomasz made the transition to Young Riders level and took his heart horse Shosholoza (by Sir Donnerhall x Furioso II) to the 2015 European Young Riders Championships in Vidauban, where he achieves his best results so far, finishing 13th in the Kur to Music finals. 
The same year he also rode sales horse Teo (by Democraat x Uniform) in his first international Grand Prix tests at the CDI Zakrzow and in 2016 they tackled the Under 25 division with several CDI starts and finally making it to the inaugural European Under 25 Championships in Hagen, Germany, where they were 25th in the Short Grand Prix. Teo sold to Canada soon afterwards via an ad on Eurodressage.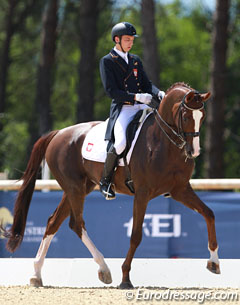 Riding sales horses has its ups and down. While there are plenty of horses to choose from, it is difficult to make an emotional connection with a horse as they came and go in the barn at a steady pace. 
"I always make an emotional connection with my horses so every one of them I like a lot and it's always hard to say goodbye," he admitted. "But there is one special one for me and that's Shosholoza. I have been riding her since she was 4 years old and she has taught me the most. I also had my best results on her, including winning the Polish Championships and reaching the final at a European Championship. You cannot not love her."
Shosholoza is still in the barn and is competing at national Under 25 level in Poland
In 2017 Tomasz mainly did show jumping again, but he also did his first U25 Grand Prix tests on his mom's top horse Dzeko (by Dimaggio), which in 2018 he took to the European Under 25 Championships in Exloo, to finished 26th in the Short Grand Prix.
In 2019 there were only international show jumping starts at CSI's in his country alongside some national dressage shows. 
Standing on Own Feet
In the past nine years of his international sport career, Jasinski has competed no less than 12 different horses in dressage and show jumping. On top of that Jasinski has recently graduated as a Master in Law, but horses seem to pave his professional path for now.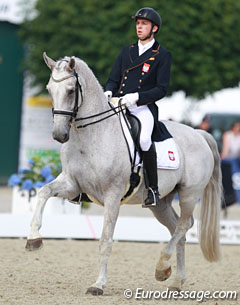 "At national level I competed even more horses," Tomasz told Eurodressage. "Riding many different horses teaches you flexibility so it gets easier each time there's a next one."
Jasinski began studying Law at University of Szczecin in 2014 and graduated after completing his Master's Thesis in 2019. A career in Law, however, has been put on the back burner as Tomasz wants to concentrate on equestrian sport.
"I'm focused on building my own business, Yosin Equestrian, which is an equestrian clothing brand and I want to ride my young horses, which I have a lot now. But in the future I would like to set up my own law office," he explained. 
Jasinski wants to stand more on his own feet, even though he still lives and trains at his parents' yard in Poland .
"I always understood that my parents live by selling horses, so even when I didn't like to sell a horse, I had to accept the transaction. Now I have my own horses and I can decide if I sell the horse or not, that's much easier. I have my U25 mare Shosholoza and four young horses, two jumping and two dressage."
Text and Photos © Astrid Appels
Related Links
Eurodressage Photo Database: Tomasz Jasinski
Polish Grand Prix Champion Dzeko Sold to the U.S.A
Photo Report: World Cup Action at Inaugural 2016 CDI-W Augustowek
Austrian, Polish, Russian, Portuguese, Norwegian Teams for 2016 European Under 25 Championships
Haber, Jasinski, Cichon, Szulc Win 2016 Polish Dressage Championships
Gawecki and Lukasik Win 2015 Polish Dressage Championships
First Ever Dressage Competition on the Beach at 2016 CSI Kolobrzeg
Photo Report: Scene Shots from the 2014 CDI-W Czosnow
Polish Teams Selected for 2013 European Junior and Young Riders Championships