Where are They Now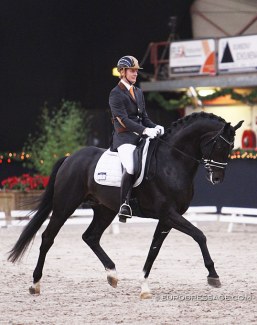 Once hailed as Edward Gal's successor for Totilas, the Oldenburg stallion Jack Sparrow followed a winding path to obtain licensed status in Oldenburg and with the KWPN society. He disappeared for two years, then returned in Patrick van der Meer's barn and then disappeared again. Where is he now?
Jack Sparrow is a 2007 born Oldenburg bred stallion by Johnson x Wolkentanz II x Don Primero.
He is bred by Hugo Schmidgall from Wüstenrot, Germany, and was owned by the breeder in partnership with Wolfgang Tschöpe before Dutch Carolyn De Roo acquired him. 
Licensed in Germany
He was originally licensed at the 2010 South German Under Saddle Licensing on 6 October 2010, where only two out of a collection of 19 were approved. However he did not get fully approved as he did not complete the mandatory 30-day performance test.
Between May 2010 and May 2011, Björn Steigauf showed Jack Sparrow in riding horse tests at five local shows in Germany, winning two of them and placing second twice.
In September 2011 De Roo announced that she had given the rode on the 4-year old stallion to Edward Gal. The news got a publicity in the equestrian media as after the sale of Totilas, Gal got a new black stallion to ride.
Licencing Woes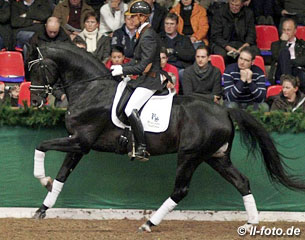 In 2012 Jack Sparrow got accepted for the third phase of the 2012 KWPN Stallion Licensing after competing successfully on the 2011-2012 KWPN Stallion Competition show circuit.  The Oldenburg stallion was the leader in the provisional ranking after four qualifiers but did not have to compete in the Finals as they are restricted to KWPN bred stallions.
The Oldenburg Society also licensed him in 2012 on the basis of his performances in the KWPN Stallion Competition and under the condition that he would do the Stallion Performance Test either in The Netherlands or Germany. 
At the 2012 KWPN Stallion licensing in February 2012 he was accepted and ordered to do a shortened 21-day performance test to obtain a full breeding licence for the KWPN. The black never showed up for the KWPN performance testing.
In March 2012 Edward Gal explained why Jack Sparrow was not sent to the testing: 
"Jack Sparrow arrived in my barn five months ago as a green horse," said rider Edward Gal who will be training and competing the stallion under contract until 2016. "In a short period of time he had to learn and perform so much. After his good performances in the KWPN Stallion Competition and first stallion show in Germany we have received so many requests for breeding and he's covering every day now. This is very fatiguing for a young stallion and we prefer him to be trained only a little to spare his body. It's my opinion that it's unfair to present the stallion  for the performance test."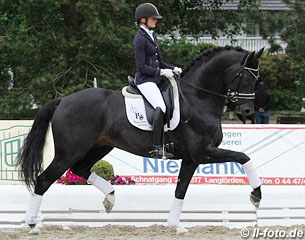 However, on 27 May 2012, Gal trailered Jack Sparrow to a small local show in Iserlohn, Germany, where they surprised the Germans with their presence. They rode in a dressage horse A-test but were sent home with just 6.9. Two weeks later, on 13 June 2012 the stallion  made a surprise appearance at the Bundeschampionate qualifier in Hagen under Gal's assistant trainer Marieke van der Putten. They were taking the German route to get approval not via a performance test, but through sport. But Jack Sparrow did not make it to the 2012 Bundeschampionate either.
At that time Jack Sparrow had already received so much publicity as the horse of crowd favourite Edward Gal that he had a busy breeding book in 2012. Breeders paid a whopping stud fee of 2000 euro to use Jack Sparrow, but when their foals got born in 2013 they could not get full studbook papers as the stallion did not fulfill stallion duties, either in Holland or Germany. 
Owner De Roo made a unique gesture and offered to buy any Jack Sparrow foal for a generous amount of 7,000 euro to compensate breeders.
Move to Van der Meer
Although Jack Sparrow was under contract with Gal until 2016, he did not stay there that long and was never competed by Edward.
After Jack Sparrow's appearance in Hagen with Van der Putten, the stallion sustained a hoof injury and spent some time at the owner's place to recover. He went back in training with Gal later on, but was not competed. It is unclear for how long he actually stayed in Harskamp.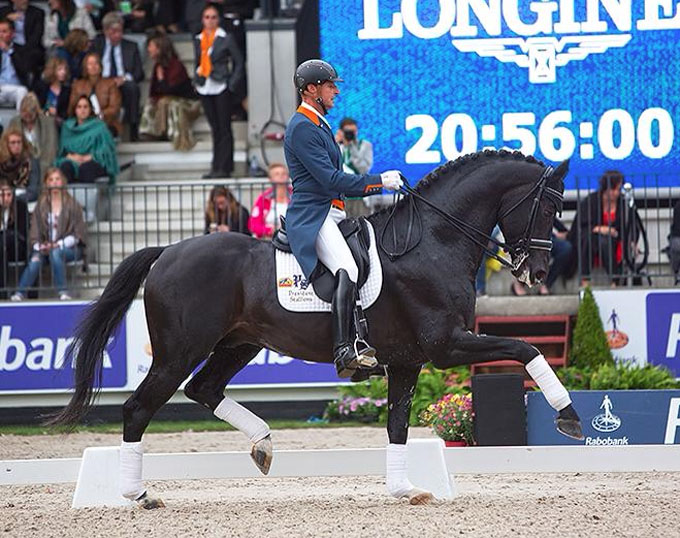 In April 2015 the stallion moved in training with Dutch team rider Patrick van der Meer. The new plan was for the Oldenburg stallion to achieve 3 placings at S-level in order to get licensed status in Germany.
Patrick van der Meer competed the stallion only a few times. They made their show debut at the regional show in Maassluis in September 2015. Patrick had entered his mare Coco Chanel in the Prix St Georges but showed up with Jack Sparrow instead, scoring 70.33%.
Two weeks later the pair competed again at a regional show in Oud-Beijerland, but got eliminated. Judge Jacques Van der Harst argued that the stringhalt of the horse in walk gave the impression of lameness and the judge rung the horse out. At the show in Maassluis the horse got 4 and 5 for walk.
Judge Van der Harst told Horses.nl at the time: "in walk the horse was very irregular. One time or a few times pulling with the hind leg is not so bad, but it worsened and it looks like the horse was in pain. I immediately rang the bell. My colleague judge fully agreed."
Jack Sparrow never returned to a show after that.
Where Is he Now?
In December 2019 Eurodressage already inquired with owner Carolyn de Roo-Kooijman about Jack Sparrow's whereabouts. 
She replied: "Jack Sparrow is here with my in my stable. I don't exclude that next year (2020) he might return to the ring again, but we don't have an exact date. The plan was to make a come back much sooner, but due to private circumstances it couldn't happen sooner. 
In 2019 Jack Sparrow was ridden by stable rider Stephanie Kooijman, but she left De Roo's yard in March 2020.
Photos © Astrid Appels - LL-foto - Sjoert.com
Related Links
Patrick van der Meer Receives Ride on Jack Sparrow
Jack Sparrow Not Participating in 2012 Schlieckau Winter 30-Day Performance Test
Jack Sparrow to Aim for Autumn Stallion Performance Test in Schlieckau
2013 Born Jack Sparrow Foals to Be without Breeding Papers?
Diamigo, Domenikus, High Lane Win 2012 Hagen Bundeschampionate Qualifier
Jack Sparrow Not to Particpate in 2012 KWPN Stallion Performance Test
Jack Sparrow Accepted, Vitalis Rejected for Third Phase 2012 KWPN Stallion Licensing
Vitalis and Jack Sparrow to Continue KWPN Licensing Process
Jack Sparrow, New Ride for Edward Gal