KWPN Breeding News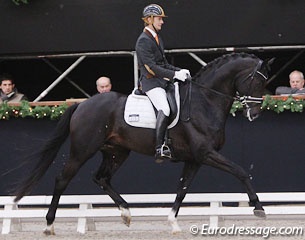 Following the four qualifiers of the 2011-2012 KWPN Stallion Competition, the KWPN society has decided to accept Jack Sparrow and reject Vitalis for the third phase taking place at the 2012 KWPN Stallion Licensing in 's Hertogenbosch, The Netherlands.
The Oldenburg branded and South German licensed Jack Sparrow (by Johnson x Wolkentanz II) won three out of four stallion competition qualifiers under Edward Gal. The black colt was the crowd favourite and has been seriously hyped in the media as the next Totilas, despite the limited walk he has so far shown (but outstanding trot and canter).
Jack Sparrow's breeding rights' representative Semira Norman has announced that the stud fee for the 2012 breeding season would be a smashing 2000 euro for this talented, young but unproven stallion.
The Dutch warmblood bred and Westfalian licensed and Westfalian reserve licensing champion Vitalis (by Vivaldi x D-Day) finished third in the qualifiers in Deurne (81 points), fourth in Zuidbroek (81 pts), third in Roosendaal (81.5 pts) and fifth in Hengelo (75.5 pts).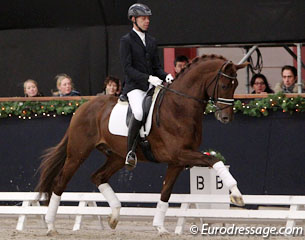 The KWPN society explained to Eurodressage that "Vitalis is a nice dressage horse in our opinion. The standards we demand for a breeding stallion exceed the quality of movement of a horse. In the second phase pedigree plays an important part. Many sons by Vivaldi have been offered to the stallion licensing process and it is expected that many will follow. Vitalis' blood line is, therefore, not unique. In that case the performance of the stallion - if exceptional - can stimulate a positive verdict. Vitalis produced a good result in several stallion competition shows, but it is our opinion that especially in trot the power of the hindleg is focal point and the stallion has the tendency to go wide behind in the trot extension. Therefore we concluded that Vitalis is a nice dressage horse, which does not excel enough with his pedigree and strength of the hind leg in order to continue to the third phase of the KWPN (licensing process)."
Photo © Astrid Appels
Related Links
Vitalis and Jack Sparrow to Continue KWPN Licensing Process
Jack Sparrow, New Ride for Edward Gal
Hans Peter Minderhoud to Ride Vitalis