2012 Bundeschampionate Qualifier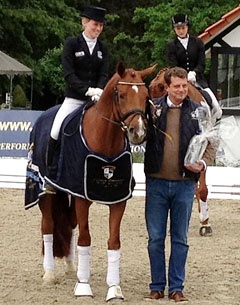 At the Future Champions CSIO/CDIO-PJYR at Hof Kasselmann in Hagen, Germany, a national Bundeschampionate qualification class was being held on Wednesday 13 June 2012. The 5-year olds Diamigo, Domenikus and High Lane were the group winners, outdoing the L-level competition.
The 5-year old division was divided into two groups. Helen Langehanenberg and Gabriele Mertens-Gahlen's dark bay Diamigo (by Dimaggio x Freudenprinz)  scored an 8.4 total  to win group 1 and become the high scorers of the day. The pair received 8 for walk, and 8.5 for trot, canter, submission and general impression.  Tessa Frank and the Hanoverian gelding DJ Nymphenburg (by Don Frederico x Wolkenstein II) finished second with 8.1., earning 8s for walk, canter, submission and general impression and 8.5 for trot.
In group 2, Holga Finken steered the chestnut Hanoverian gelding Domenikus (by Don Marco x Rosentau) to a winning score of 8.2. He got 7 for submission, 9 for canter, 8.5 for trot and general impression and 9 for walk. Finken also placed first with Ullrich Kasselmann's bay Hanoverian gelding High Lane (by Hotline x Brentano II). He got 7.7 for submission, 8 for walk, and 8.5 for trot, canter and general impression to total 8.2.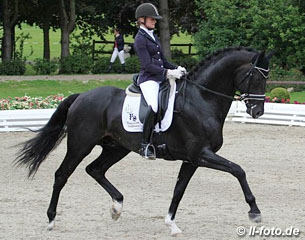 A remarkable entry in Hagen was the Dutch owned Oldenburg stallion Jack Sparrow (by Johnson x Wolkentanz II) under a new rider. Marieke van der Putten took over the ride from Edward Gal in an attempt for the unlicensed stallion to obtain a high enough qualification score. In order for the stallion to get permission from the Oldenburg society to cover mares he needs to scores a 7.5 in dressage horse test (minimum A level) this year as well as do a 30-day performance test, for which he is entered in Schlieckau in the autumn. Next year Jack Sparrow will need to qualify himself for the Bundeschampionate in order to get the life-long licensed status. A month ago Gal competed the black stallion in an A-level dressage test but only got a 6.9 score. Van der Putten, however, earned a 7.8 in Hagen, with the stallion scoring 9.5 for trot, 8.5 for canter, 8 for submission and general impression and once again hardly showing any walk, for which he got a 5.
Photos © LL-foto.de (Image gallery at the bottom of this page)
Results - 2012 BuCha Qualifier - Hagen
Judges:Anja Lübbert zur Lage, Ulrike Nivelle, Michael Wassmann
5-year olds - Group 1

1. Helen Langehanenberg - Diamigo - 8.4
2. Tessa Frank - DJ Nymphenburg - 8.1
3. Helen Langehanenberg - Filaro - 8
4. Tara Schneider - So Dark - 7.8
5-year olds - Group 2
1. Holga Finken - Domenikus - 8.2
1. Holga Finken - High Lane - 8.2
3. Claudia Ruscher - Quam Libet - 8.0
4. Marieke van der Putten - Jack Sparrow - 7.8
5. Ilka Boening - Dissertation - 7.6
5. Ann Christin Wienkamp - Showman - 7.6
7. Claudia Ruscher - Dynastie - 7.5
7. Stefanie Wolf - Dornenstern - 7.5
9. Tanja Krampe - Fairy Tale - 7.4
10. Heiko Klausing - Stanwell - 7.3
11. Tessa Frank - Dandy Nymphenburg - 7.2
11. Therese Nilshagen - Dante Weltino - 7.2
11. Maren Kools - Special Qualityt K - 7.2
14. Anna Sophie Fiebelkorn - Secret Love - 7.1
14. Johanna von Firkcs - Eisprinz von Nymphenburg - 7.1
14. Anna Sophie Fiebelkorn - Summer Girl - 7.1
17. Marilena Gerdes - Fleuraison - 7.0
17. Thomas Soboll - Hello Kitty - 7.0
19. Insa Hansen - Descendant - 6.9
20. Borja Carrascosa - Dono di Maggio - 6.8
21. Christina Hammann - First Stepp - 6.3
Back to the 2012 Bundeschampionate Index