Austria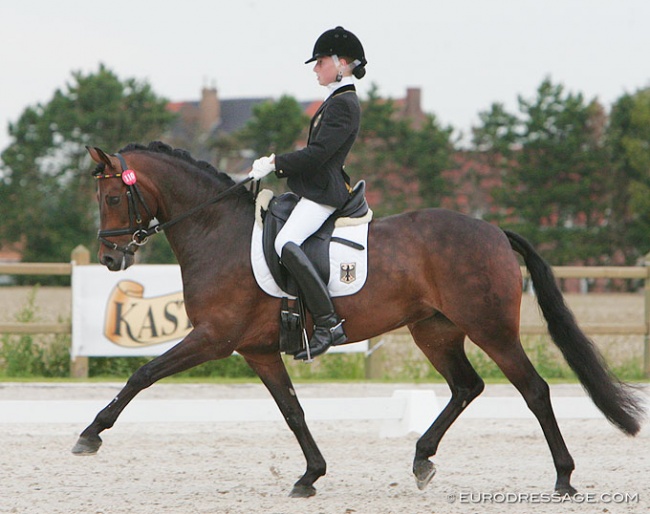 After a long, illustrious career as a team pony for two nations at international FEI pony level, Cinderella M has been retired from sport.
Cinderella M is a 17-year old Weser Ems registered mare by Constantin out of Belle Fleur (by Donnerhall x Campari M x Raphael). She is bred by Guenter Meyer and is now owned by Stephan Jöbstl. 
Between 2009 and 2020 she was listed as owned by four different families according to the FEI database: Siemers, Ahorner, Henglein, and Jöbstl. However, Cinderella M has been competed by no less than eight different riders in her sport career
First Success with Linnemann
As a young pony mare Cinderella M immediately sparked the interest with her gorgeous looks and high class gaits. 
She was first competed as a 3-year old by Lucia Bünker, winning the 2006 Oldenburg Young Pony Championships in Rastede.
In 2007 Grete Linnemann climbed on board and took the pony from A-level to international FEI pony level. The mare's first Bundeschampionate were in 2008 and she won silver in the 5-year old riding pony class.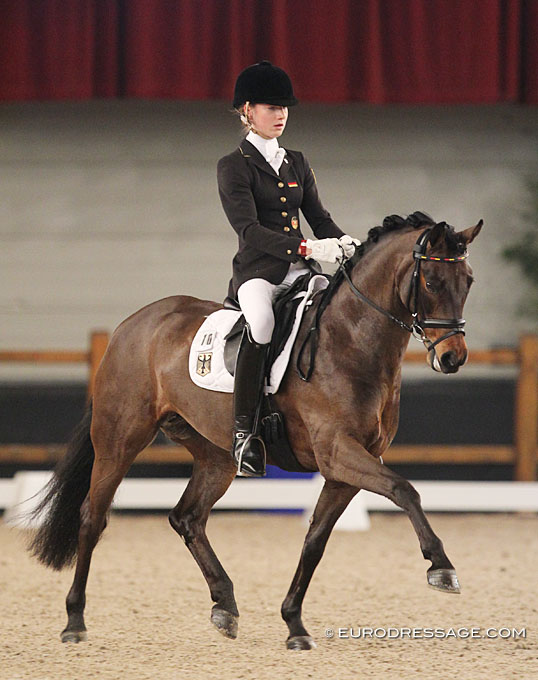 The pony's international career began in 2008 when she was 6 and had reached minimum age to compete internationally at FEI pony level. They started off straight away at the 2009 CDI Zwolle in January, won the Preis der Besten in Warendorf, did several national shows that year as well as the CDI Bonn and were selected on the German team for the 2009 European Pony Championships in Moorsele, Belgium. In Moorsele, Cinderella M won team gold but had to be withdrawn from the rest of the competition as she turned lame at the Europeans. 
Linnemann and Cinderella returned to the arena nine months later at the 2010 Preis der Besten, where they were third. They also rode at the CDI's in Hagen, Neubeeren and a national show in Hannover, but did not make it back on the German team because of an injury. As a consolation they returned several months later and got silver at the 2010 German Pony Championships and won the CDI Odense in October 2010.
In 2011 Linnemann gave it her all and after victories at the CDI Zwolle, the 2011 Preis der Besten, national shows in Vechta, Wiesbaden, and Neubeeren, German pony team trainer Connie Endres selected her for the team again for the 2011 European Pony Championships in Jazkowo, Poland, where they won team and individual test gold. In the kur they were fourth.
Kampmann, Ahorner, Schenk, Henglein, Riegel 
After the Europeans in Jazkowo, Cinderella M immediately moved to a new rider: Sophie Kampmann. However, she was only able to ride two shows with her, Verden and Vechta.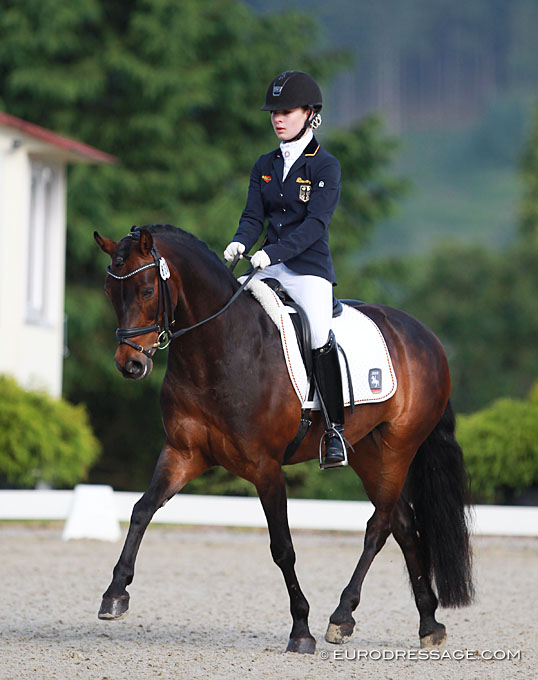 For almost two years "Cindy" disappeared from the scene, partly because of injury. In January 2013 her ownership changed to the Austrian Nicola Ahorner, but she never competed the mare. Ahorner had leased the mare from the Siemers  family at the time, but ended up opting to ride Nice Blue Eyes, which the family had bought from Estelle Wettstein. 
In November 2013 Cinderella M resurfaced in Germany with Jacob Schenk, but he only competed the mare for half a year.
In June 2014 Eileen Henglein made her show debut  at the local show in Herrieden and all the way through 2015 they just did national shows. At the 2015 German Pony Championships they were 19th.
Henglein's first international was in March 2016 at the CDI Stadl Paura where she was second in the Kur. They also went to the CDI Saumur where they won the team test and at the 2015 Preis der Besten they were 7th. At the next German team qualifier, they grabbed their spot on the team by finishing fifth in the team test and third in the Kur. At the 2016 European Pony Championships in Vilhelmsborg, they won team gold and placed fifth in the individual test. As fourth best German rider they did not qualify for the Kur. 
Henglein stopped competing Cinderella M in May 2017 and in the autumn of that year, she returned with a new rider: Laura-Franziska Riegel, who rode her at the Indoor CDI's in Eloo and Aachen. In 2018 Riegel made her attempt to get on the German pony team and competed in Munster, Ankum, the CDI Nieuw en St. Joosland, the Preis der Besten (10th and 13th), and the team qualifier in Hagen, where they were second three times but not picked for the European Championship team. At the 2018 German Pony Championships they were fourth. 
Final Sport Year in Austria
In November 2018 Austrian Stephan Jöbstl bought the pony as a schoolmaster for his children.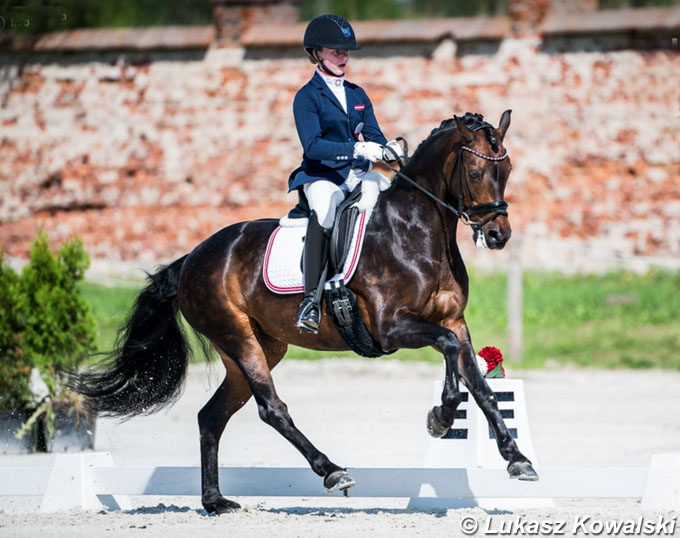 Cinderella M was matched to daughter Florentina, who made her CDI debut in Ornago in March 2019, winning two classes. They went on to show at Wiener Neustadt, Lipica, St. Margarethen to get selected on the Austrian team for the 2019 European Pony Championships in Strzegom, Poland, where they were 16th in the Kur to Music finals. The pair ended the season with silver at the 2019 Austrian Pony Championships.
Florentina and Cinderella M did the CDI Aachen Indoor in November and also rode at the 2020 CDI Le Mans in February, right before the corona crisis started. It turned out to be the pony's last international.
"Together with the Henglein family we decided that Cindy has shown enough and will no longer be used for sport," the Jöbstl family told Eurodressage. "She has gone back to the Henglein family and will be bred this year."
"It was always agreed with the Henglein family that she would be sold back to them for retirement," Fanny Jöbstl added. "We have stayed in very close contact with them. Florentina is very grateful for her time with Cindy and misses her very much.
Photos © Astrid Appels - Lukasz Kowalski
Related Links
Simoncic, Ochsenhofer, Grabenwöger, Ahorner, Porsche, Bacher Win 2019 Austrian Dressage Championships
Treffinger and Top Queen H on Song at 2017 CDI-PJYR Aachen
Rothenberger, Abbelen, Niemann Win 2015 Preis der Besten Qualifier in Kronberg
Maike Mende In Front at 2014 Preis der Besten Qualifier in Verden
Sophie Kampmann to Ride Cinderella
Linnemann and Cinderella Team Up For Individual Test Gold Medal at 2011 European Pony Championships
German Triumvirate Rules 2011 CDI-P Zwolle
Cinderella Withdrawn from 2009 European Championships
German Pony Team Announced for 2009 European Pony Championships