2019 PSI Auction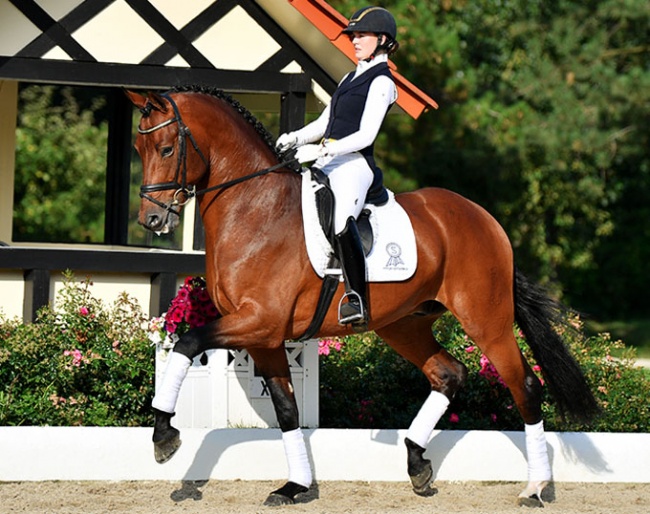 The 2019 PSI Auction, hosted by Paul Schockemöhle and Ullrich Kasselmann, celebrated its 40th anniversary on Sunday 8 December 2019 and became a gigantic success. 
The 2019 P.S.I. Auction delivered the highest total turnover in the 40-year history of the event setting a new record at 19,159,000 euro after selling 49 horses of which 26 were dressage bred. The average price for a dressage horse was 383,960 euro.
V-Plus Gold, Price Highlight
The top seller of the 2019 PSI auction was the 4-year old stallion V-Plus Gold (by Vivaldi x Furst Romancier), which Grand Ducal Dressage from Luxembourg acquired for 1.3 million euro. The Luxembourg dressage company has purchased at PSI before (Ferrari, Quel Filou).  V-Plus Gold is the full brother to V-Plus, which sold last year to Harmony Sport Horses in the U.S.A. for 1.2 million.  Frederic Wandres will continue to ride this exceptional stallion with the goal of qualifying for the World Championships for young dressage horses.  
V-Plus Gold was also one the personal highlights for P.S.I. founder Ulli Kasselmann. "I know all the horses very well, but V-Plus Gold in particular has developed enormously over the past few months and is now going into the best of hands. They have been great friends of the P.S.I. and have also given us the opportunity to continue his further training and preparation for the big sport."  
The second most expensive dressage horse was Brisbane (by Bordeaux x Sir Donnerhall) which sold to American Leslie Malone of Harmony Sport Horses for 1.05 million euro. They also bought Zomancier (by Zonik x Furst Romancier) for 350,000 euro.
Two jumpers also sold for 1 million euro or more: Chacco's Lando sold for 1.25 million euro and Chadonia PS for 1 million.
Mega Money for Super Stars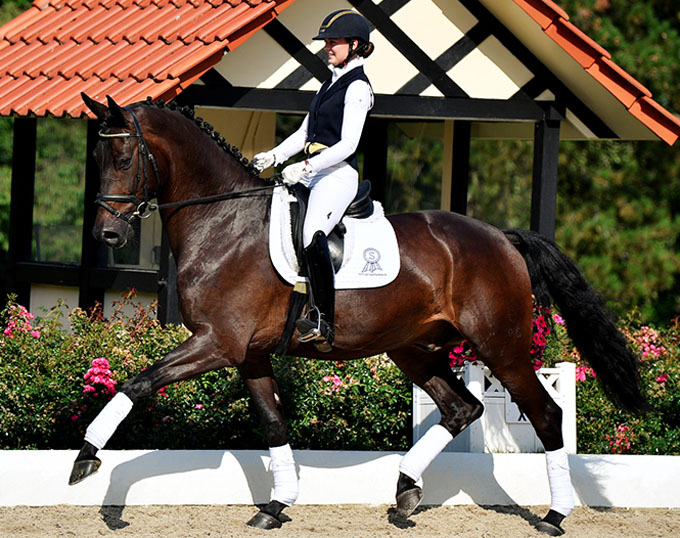 Dressage mare Zantana (by Zonik x Sir Donnerhall) fetched 955,000 euro and will move The Netherlands to RS 2 Dressage, where also the 2017 PSI Auction price highlight Zum Gluck (by Zonik) relocated to. 
The 2019 Bundeschampion in the 3-year old mares and geldings class, Saniola (by San Amour), sold for 700,000 euro. She was bought by a Swiss jumping horse owner who is venturing into dressage.
The Oldenburg licensed stallion For Romance II (by Furst Romancier x Sir Donnerhall) sold for 700,000 euro. Michelle Filsinger, an American client of U.S. Grand Prix rider Jennifer Hoffmann, purchased the stallion, but will keep him at Hof Kasselmann in Germany for the moment.
Gin Tonic (by Governor x Diamond Hit) was acquired by American Jamie White and German Markus Gribbe for 400,000 euro. The bay mare Foundizia (by Foundation x Hotline) sold for 370,000 euro.
International Grand Prix Riders Get New Horses
Swiss Beatrice Burchler-Keller acquired Today's Hit (by Totilas) for 320,000 euro. She sponsors German team rider Jessica von Bredow-Werndl.
Danclair (by Danciano) sold to Swedish Charlotte Haid-Bondergaard for 215,000 euro.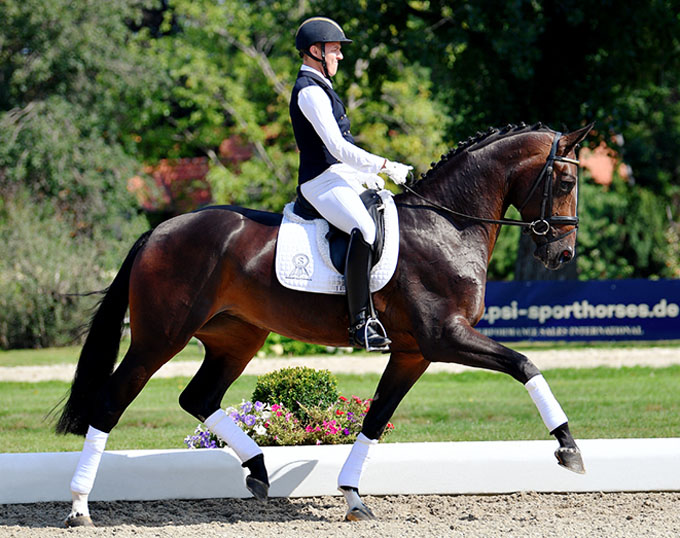 Madeleine Winter-Schulze has purchased Darkozy (by De Niro x Sarkozy) for Isabell Werth to ride for 190,000 euro.
The mare Scoletta sold for 100,000 euro to Vanessa La Vie, wife of Christoph Geibel-Böhn, who owns the website Dressursport Deutschland, managed by Kim Kreling. 
Prices for the dressage horses were:
V-Plus Gold - 1,300,000
Brisbane - 1,050,000
Zomancier - 350,000
Saniola - 700,000
Gin Tonic - 400,000
Zantana - 955,000
Fantastica - 140,000
Furst Ampere - 300,000
For Romance II - 700,000
Darkozy - 190,000
Mentalist - 275,000
Bon Gregoria - 320,000
Foundizia - 370,000
Dinay - 270,000
Flavour - 320,000
Today's Hit - 320,000
Furstin Donatella - 280,000
Bella Bicolour - 210,000
Belle Petit - 370,000
Dreamball - 130,000
Scoletta - 100,000
Dolcetto di Maggio - 170,000
Danclair - 215,000
Deriano 90,000
Dowing Street - 74,000
The founders of the famous P.S.I. brand can be proud of their achievements tonight, Paul Schockemöhle commented, "The horses are getting better and better, prices have changed, the sport is evolving and we have to keep up with the times. But looking back at how the P.S.I. Auction has progressed, I think we have achieved that!"  
Related Links
Stakkariealla, Price Highlight of the 2018 PSI Auction
Zum Gluck, Price Highlight of the 2017 PSI Auction
Ferrari, Price Highlight of the 2016 PSI Auction
Stalognia and Fasine, Price Highlights of the 2015 PSI Auction
SPH Dante Sells for Record Price of 2.8 Million at 2014 PSI Auction
Lannaro and Bluetooth, Million Euro Horses at the 2013 PSI Auction
Sa Coeur, Price Highlight of 2.3 Million Euro at 2012 PSI Auction
Der Designer Breaks One Million Euro Barrier at 2011 PSI Auction
Balsandra, Price Highlight of the 2010 PSI Auction
Diamonit, Price Highlight of the 2009 PSI Auction
St. Emilion, Doletto and Lawito, Price Highlights of the 2008 PSI Auction
Fine Time, Price Highlight of the 2007 PSI Auction
2006 PSI Auction Horses Sold for More Than 10 Million Euro
620,000 € for Price Highlight at the 2005 P.S.I. Auction
Santa Cruz, Dressage Price Highlight at the 2004 PSI Auction
Poetin Sold for World Record Price of 2,5 Million at 2003 P.S.I. Auction
Love Parade, Price Highlight of the 2001 PSI Auction 
Highest Price for Weltclassiker and H.S. Europa at 2000 PSI Auction