2019 CDI-W Herning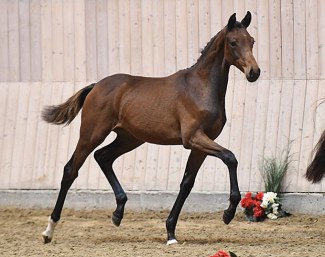 The Danish Warmblood Society is hosting a special auction of Danish Warmblood dressage and show jumping foals during the 2019 CDI-W Herning World Cup qualifier on Friday 18 October 2019. 
Spectators and riders attending this World Cup event, which is the Western European League season opener for 2019-2020, can shop on the spot for their future stars in sport and breeding.
Of course interested parties can also bid on the foals by phone as the auction as well the presentation of the collection will be streamed live on Zibrasport.tv.
The presentation of the foals is on 18 October at 12h30 and the auction starts at 17h00. 
Hand-Picked Future Stars for the Demanding Dressage Lover
The collection includes 21 hand-picked elite dressage and show jumping bred foals that have all the qualities the demanding horse owner looks for: beauty, top basic gaits and a proven pedigree of the most coveted genes.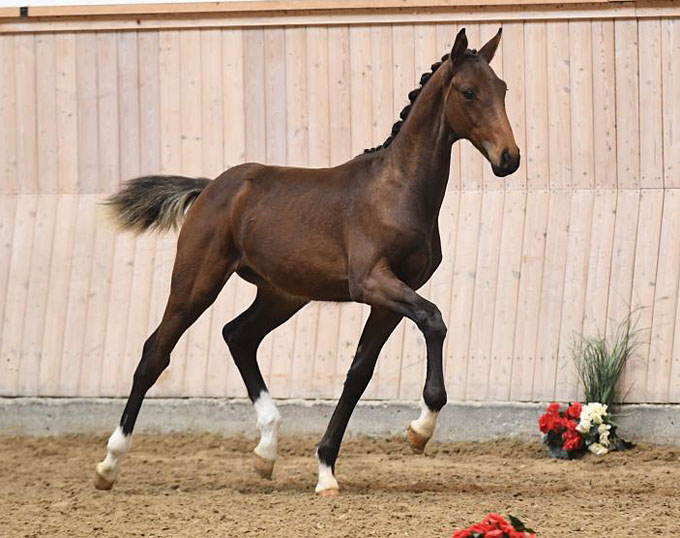 A few highlights in the collections are French Marigold (by Franklin x Don Frederico x Roncalli xx). This gorgeous bay filly is a real eye catcher. She is elastic and chique with a strong topline and an uphill tendency in her gaits. Her dam is main studbook mare Donnablue, which was purchased at the Hanoverian auction in Verden. Donnablue achieved dressage status as a B-horse but a trailer accident ended her sport career. French Marigold is her first foal. The paternal origin of this pearl is the top KWPN stallion Franklin.
The bay colt Treldegårds Spirit (by Foundation x Blue Hors Don Schufro x Chopin Dane) is a complete and extremely well moving colt. He stands tall, with a big harmonious frame and is endowed with three well functioning and elastic gaits, with uphill tendency. His dam; Treldegårds Safran produced the licensed stallion Treldegårdens Samourto. His grand dam and great grand dam has also produced colts for the licensing. Treldegårds Spirit is out of a fascinating dam line with a vast amount of merit: S-level dressage horses, World Championship for young horses-finalists, and top competition horses, amongst them Senoir and Santorini, as well as the medal winning mares Shiva (EBRDS), Treldegårds Sasha(EBRDH), Treldegårds Shantina(ESRDH), Treldegård Santana(EBRDH) and Treldegårds Santerre(ERDH) to name a few.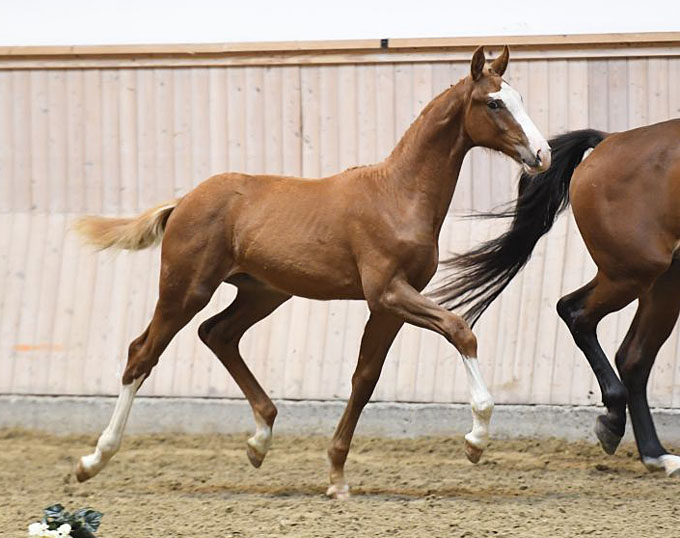 The chestnut colt Alby's Tempting Springtime (by Springbank II x Tailormade Temptation) is a lovely, big framed colt, extremely dynamic and elastic in all three gaits. Alby's Tempting Springtime is from the Dybvadholm dam line, which produced elite mares, medal winning mares and licensed stallions. Tempting Springtime is by the high ranking, premium stallion Springbank II, who proved his eminent qualities by placing fifth with a score of 9.18 at this year's World Championship for young horses. Tempting Springtime's dam sire is elite stallion Tailormade Temptation, who sired vast numbers of medal winning mares, finalist foals and competition horses on the highest levels for the Danish warmblood society. 
The black Pari-Reza Nexen (by Revolution x Jazz x Astaire) is a gorgeous, elegant and extremely balanced filly. She naturally places her point of balance on the hindquarters and moves gracefully with much ease. She comes from the renowned Danish performance blood of the Pari dam line. Sire is 2019 World Young Horse Championship silver medal winner Revolution, who scored 9.44 points with a 10 for trot, 9.0 for walk, 9.6 for canter, 8.8 for rideability and 9.8 for potential. Pari-Reza's dam sire is the renowned elite KWPN stallion Jazz, that has sired an indescribable  amount of Grand Prix horses for the world of dressage.
Bid On Your Foal of Choice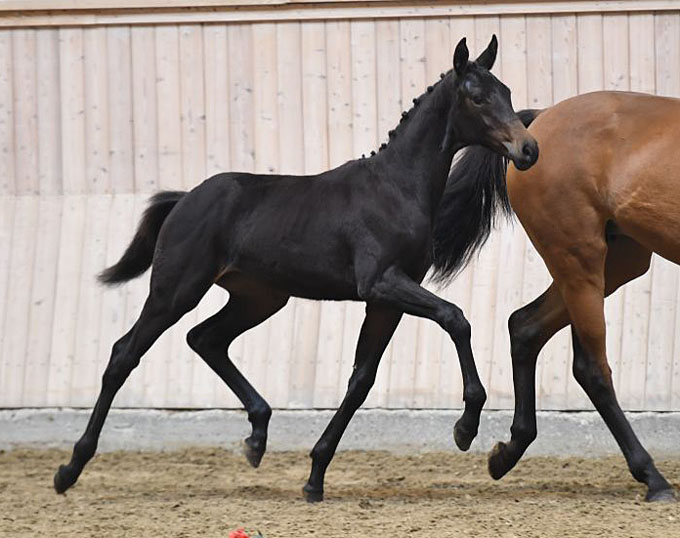 Explore the complete collection of 21 dressage foals that will be auctioned at the World Cup Qualifier in Herning on Friday 18 October 2019. 
To bid by phone, sign up with mf@varmblod.dk.
For any questions or details about the auction foals, do not hesitate to contact Louise Ringsbo  at +45 61679493 or lrb@varmblod.dk.
More information at www.varmblodauktion.dk